Fall is a wonderful time of year to have a bridal shower as there is so much to draw inspiration from and the colors are gorgeous.
We are going to have a look at 12 aspects of a bridal shower that you can incorporate fall themes into for a fantastic autumnal celebration. 
Invitations
The first thing to get stuck into are the invitations for the bridal shower. Make sure that you send them out in plenty of time so that everyone can save the date.
This should be between 4 and 6 weeks before the shower and should include the location, date and time. 
Remember to include a phone number or email address so that people can respond to the invitations.
You can also include the registry information for the wedding gifts as the last line on the invitations as this is not typically put on the wedding invitations. 
The style of the invitations can include fall leaves or harvest time themes such as pumpkins.
You can also have a bridal shower invitation set which includes not just the fall themed invitations and envelopes but also thank you notes and game cards. 
Depending on the theme of the shower and subsequent wedding you can have rustic bridal shower invitations or  traditional floral invitations. 
Indoor Setting
Choosing a location for the bridal shower will be the next job. If you decide to have the celebration indoors you'll have plenty of choice about how to set up the venue.
At this time of year there are lots of options for fall themed decorations including great balloon colors. 
Add some delicate lighting with fairy lights in jars alongside some pretty fall floral arrangements and interesting centerpieces.
Depending on the size of the location you can include different areas for food and drinks, games and a table for the bridal shower gifts. 
If you have hired a hall for the event you can add some decorative touches to the furniture and perhaps hand some fall colored tulle backdrop to soften the look.
Or create a wall of leaves as a DIY photo booth for the bridal shower guests. 
The only limits to an indoor fall themed bridal shower are your budget and your imagination. 
Outdoor Setting
Having a fall wedding outdoors is extremely popular, and it is also the perfect setting for a fall themed bridal shower.
You can save a lot of money on decor by having the shower in a countryside setting surrounded by the beautiful, natural autumnal foliage. 
Of course, you will need to add some elements to make the setting special. Use some hay bales as seating and some barrels with wooden planks as a rustic bar. 
Some pretty fairy lights will look wonderful as the sun goes down or add some strings of lights to mason jars and bottles to scatter around the venue.
Pop some autumnal blooms and foliage in there as well for a beautiful feminine touch. 
Add some fruit and produce in pails and fall flowers in burlap wrapped containers around the venue as centerpieces. 
Finally create a seat of honor for the bride to be complete with balloon arch and fall inspired floral arrangements. 
Decor
Fall is full of great ideas for decorating a bridal shower. The season is overflowing with warm colors, luscious textures and beautiful flowers and foliage. 
When it comes to the colors for the decor they practically choose themselves, orange, gold, yellow, as well as rich brown and deep green shades. 
There are some wonderful fall bridal banners and maple leaf garlands that can act as backdrops.
To save some money you can use things like stacked wooden crates for displaying party food, cupcakes or cookies. 
Jars and bottles wrapped in string or burlap and filled with fall foliage, pampas grass or sunflowers will look great and don't cost a lot.
Scatter groups of different sized pumpkins around the venue for a real fall feel. 
Deep rich red, orange and brown autumnal flowers in vases for the tables will make wonderful centerpieces. Add some bare twigs and acorns to the arrangements to save some money. 
Table Settings
Arranging the tables for a fall setting means you can draw from the sumptuous colors around you. For an indoor venue try a deep orange tablecloth with a rustic burlap runner. 
To save some money fill large wooden bowls with pine cones with a glass enclosed candle in the center. Be aware that pine cones are highly flammable so keep away from open flames.
For the dinnerware use plain white if the tablecloth is a strong color as a nice contrast but add gold charger plates underneath to help them stand out. Flatware can be in gold too.
As white tablecloths are typically less expensive one of these with a fall colored runner is an excellent choice.
Simply add napkins which match the runner for a coordinated look. 
Outdoor table settings can be more rustic and allows you to keep things simple. Wooden tables and stacked hay bales can be used to great effect and keep costs down. 
Food
With an abundance of produce at this time of year finding inspiration for food to serve at a fall bridal shower is not difficult.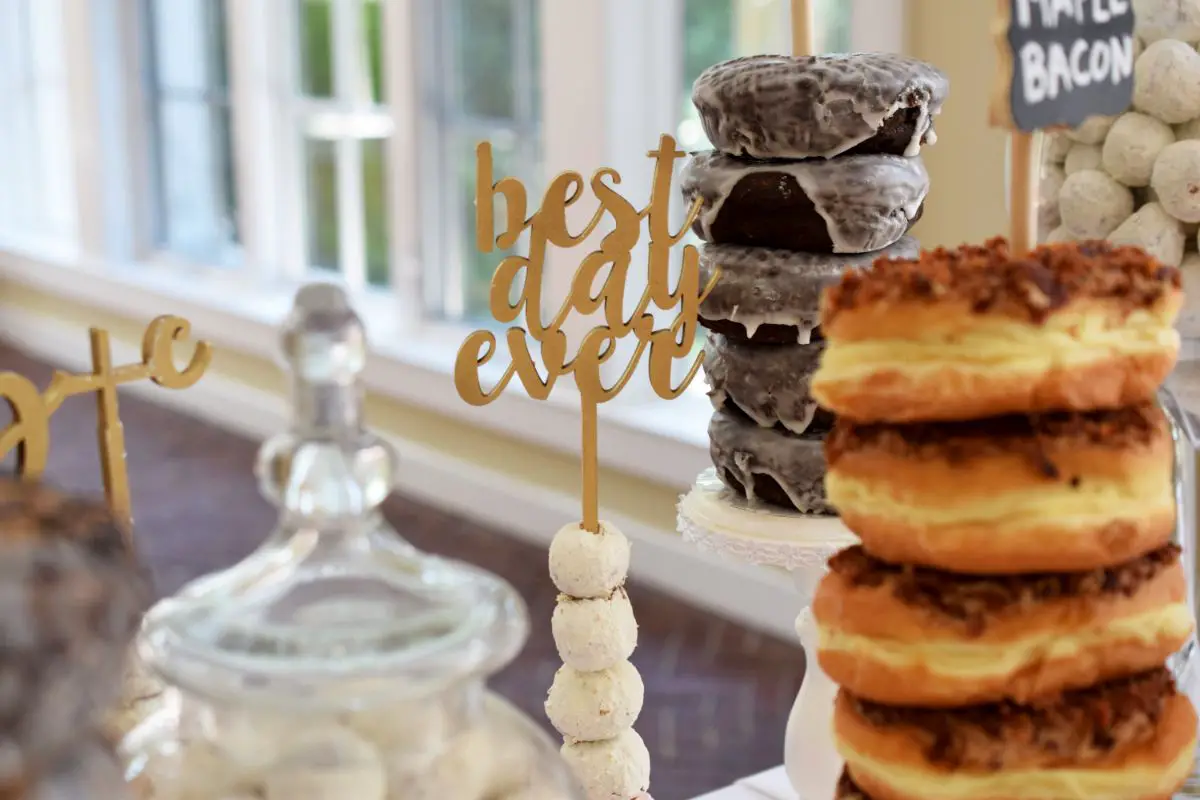 Savory dishes can include warming winter soup such as pumpkin or vegetable.
For small party food items choose things like apple cider maple meatballs or loaded potato slices that can be cooked in batches. 
A fall inspired charcuterie board will be an easy to prepare addition to the bridal shower food, and you can add so many different things to it including cheese, nuts, fruit and bread. 
For the dessert table you will be spoiled for choice. Mini pecan pies are ideal as party food as are apple pies and individual pumpkin pies.
Adding some cookies and snickerdoodles will also be a great hit with your bridal shower guests.
Dipped apple slices on a stick are an absolute must for a fall themed bridal shower. Put a display of fruit, berries and nuts on our bridal dessert table as a healthy alternative. 
Drink
A fall themed bridal shower would not be complete without some amazing drinks. You will not be short of ideas for some fruit punch including pomegranate, apple and cranberry. 
There are lots of recipes for alcoholic cocktails as well as some wonderful mocktails for those who are avoiding alcohol.
Fall harvest sangria is another great addition to the bar menu for this autumnal bridal shower. 
With apples being at their most abundant in this season it makes sense to serve some apple cider or make an apple cider champagne cocktail or fall mimosa. 
If you want to serve shots at the bridal shower choose from apple pie jello shots, caramel apple Fireball whiskey shots.
To get everyone in a party mood try the hilariously named  Duck Fart shot  made with Baileys, Kahlua and warm whiskey. 
A warming idea for the end of the night would be a boozy hot cocoa or caramel pumpkin spice lattes. 
Games
A bridal shower wouldn't be the same without some crazy and fun games.
These are a great way for the guests to interact and for those who don't know each other to get acquainted in a fun environment. 
Activities such as the ring game is a classic bridal shower icebreaker.
Everyone gets a ring and if someone says one of the forbidden words such as 'bride' or 'wedding' they get their ring taken away.
The person with the most rings at the end of the game is the winner. 
Guess the Dress is another fun game where each guest has to draw what they imagine the bride's dress will look like. The person with the closest drawing wins. 
How well you know the bride is put to the test in the Bride-to-be Trivia and Musical Bouquet is a take on the classic musical chairs.
Use a list of the bride's favorite songs to play this game. 
Prizes
Of course for all these fun games you will need appropriate prizes for your guests. One of the best prizes is a gift card or certificate that can be used for whatever they want.
Mini boxes of cupcakes is another great prize that everyone will love. 
Buy some small autumnal scented candles and wrap with ribbon as beautiful fall themed game prizes.
Bottles of wine are also widely popular as gifts and can be decorated with some ribbon or burlap. 
Homemade treats in little boxes are also another favorite for prizes or some delicious chocolate bars.
Novelty fall themed soaps are another cute idea or miniature succulents wrapped in burlap and lace. 
Party Favors
You will want to give all your bridal shower guests a party favor as a thank you and there are lots of great ideas to choose from. 
The point of a party favor is that it is an inexpensive way to express your gratitude for the guests attending so homemade edible favors are a perfect choice.
Cookies, caramel apples, and cupcakes will be very popular. Macaroons are another great party favor. 
Small mason jars filled with pretzels, candy or popcorn will be easy to put together and shouldn't cost too much.
Label with each of your guests names and decorate with some burlap, lace or fall colored ribbon. 
If you're good at jam making, mini jars of jam will be cute party favors or small pots of honey are equally sweet. 
For those who are good at arts and crafts some wooden tealight holders make excellent mini gifts or buy them online. 
Cake
One of the highlights of the bridal shower will be the cake. For a fall inspired cake there are many choices, but perhaps the most popular is a naked cake with lots of fresh fruit.
Drip cakes are another favorite especially when topped with autumnal fruits and berries. 
Frosted cakes are also a wonderful choice for a fall inspired bridal shower and can be decorated with autumnal flowers and greenery. 
If a cake feels too wedding like for a bridal shower you can have something different like a macaron tower instead. Or a donut or cupcake tower. 
For something special why not have a croquembouche, which is a tower of puff choux pastry traditionally bound with threads of caramel. It looks amazing and chances are your guests will not have encountered it before. 
Ditch the cake and sweet treats altogether and go for a cheese wheel tower complete with fall fruits. 
Gifts
Before buying a gift to bring to the bridal shower guests should check if there's a theme that they should be aware of. It's also a good idea to ask the shower host for registry information specifically for the shower that is separate from the main wedding registry. 
Bridal shower gifts are traditionally smaller and less expensive than the main wedding (see also: The Ultimate Guide To Bridal Gifts For Before The Wedding)present and there are lots of ideas to choose from. 
A ring dish with the bride's upcoming wedding date etched into it as well as the happy couple's initials is a beautiful bridal shower gift.  For the future bride a monogrammed coffee mug is a nice gift. 
Customized jewelry is a wonderful way to show the bride to be how much she means to you. Give her a bracelet with the date of her upcoming wedding incorporated into it. 
A wedding planner is a thoughtful and practical gift for the bride to be and can be personalized with her name or initials. 
The bride's best friend is typically the matron of honor and should give her something special for her bridal shower.  A unique piece of jewelry is the perfect gift for the bride from her best friend. 
Final Thoughts
A fall bridal shower will be so much fun for the bride and her guests as they come together to celebrate her upcoming wedding. 
We hope that our guide to a fall themed bridal shower has been helpful for you and that it has given you some inspiration.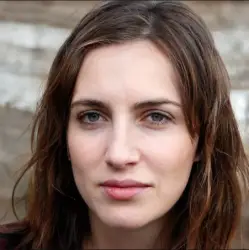 Latest posts by Anna Ingham
(see all)