There are plenty of reasons why you might want a rainbow cake for your wedding. You might want to show your support for the LGBTQ community, or demonstrate your pride of being part of said community.
Or maybe you just love rainbows and want something super colorful for your wedding cake! Whatever the reason might be, there are various ways that you can incorporate that bright and bold rainbow color scheme into a wedding cake.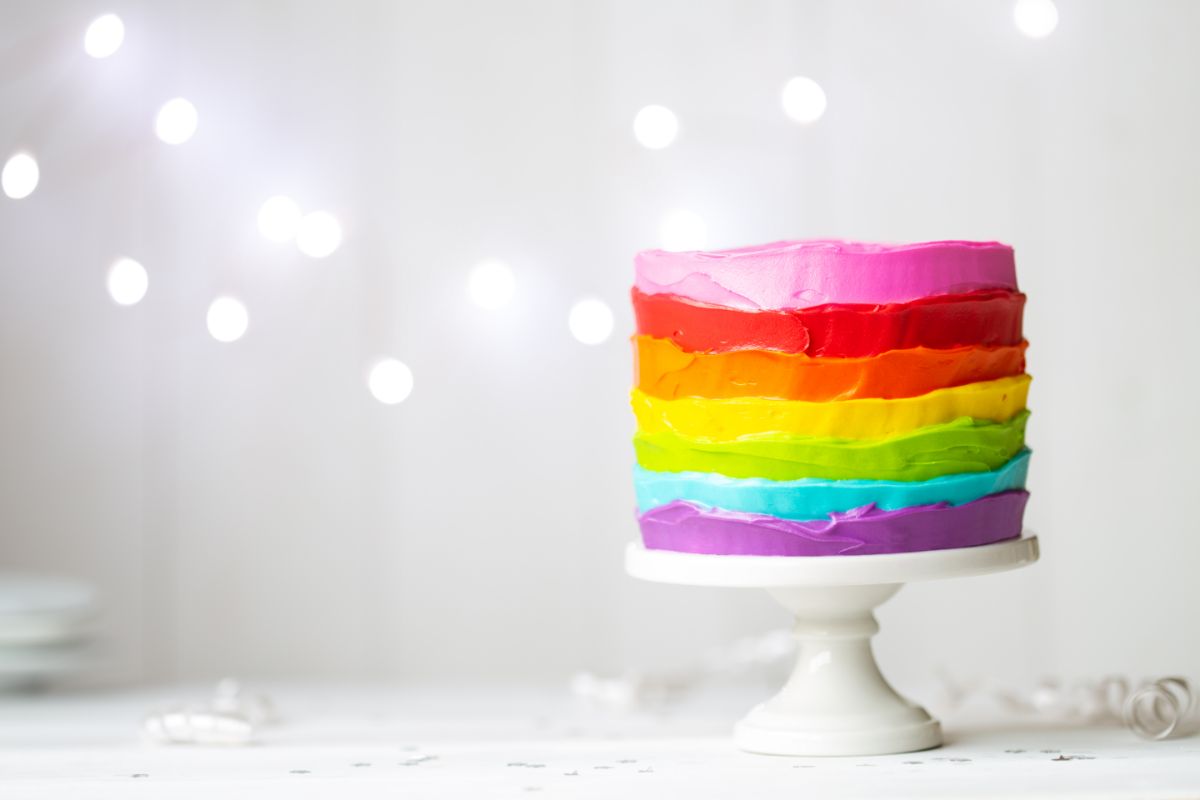 With this in mind, we are going to be looking at ten particular recipes that would make for amazing cakes for your special day. Let's get started. 
Layered rainbow cakes are truly showstopping, with the beautiful rainbow colors springing to life as soon as you cut into it.
These layered rainbow cakes make for amazing wedding cakes thanks to how beautiful and attention grabbing they are, and that's exactly what you get with this particular recipe. 
The colors inside the cake come from concentrated gel food colors (which have no effect on the taste so don't worry!), whilst the vanilla cake itself is sandwiched with thick and velvety cream cheese frosting to make for a tasty and sweet choice of rainbow wedding cake.
You'll need baking powder, milk, vanilla extract, self-raising flour, caster sugar, and eggs to make the cake itself, rainbow-colored gel food coloring for the colors and cream cheese, butter and icing sugar for the frosting. 
Made with three layers, this rainbow cake features rainbow swirls on the inside and rainbow frosting piped on the top and bottom of the cake exterior. 
To get that swirled look just right, you need to make sure that your batter is the perfect consistency and thickness. If it is too thin, then the colors will mix together rather than stay separate, and you will lose that swirled design. 
For the vanilla cake base, you will need vanilla extract, unsalted butter, salt, all-purpose flour, eggs, sugar, vegetable oil and buttermilk and for the buttercream, you'll need shortening, milk or water, vanilla extract, powdered sugar, and butter.  
You will also need gel food coloring in each rainbow color to make the rainbow swirls in both the batter of the cake and in the buttercream frosting. 
Another extravagant cake that is sure to make a statement at a wedding, this choice of a rainbow cake features rainbow-colored frosting piped on top of the white frosted exterior, but it is the inside surprise that will blow away your wedding guests!
This particular cake features colorful candy that will pour out of the cake once you cut into it, making for a delicious treat that also doubles as a centerpiece.
Mix up the candy with your favorite choice of sweets to further personalize the cake.
For something a little bit lighter for a rainbow wedding cake, this rainbow citrus cake could be just what you are looking for. 
This is a tri-colored cake with orange, lime and lemon layers, so even though you don't get that full spectrum of rainbow colors, you do still get a fair amount of prettiness as well as a great, refreshing citrus taste.
The frosting of the cake is orange flavored, but you can always change this up to your chosen citrus flavor. The cake is then filled with lemon curd in between each of the layers to emphasizes that fresh taste. 
To make this cake for yourself, you will need milk, salt, baking powder, all-purpose flour, white sugar, shortening, vanilla extract, grated lime, lemon and orange zest, yellow, green and orange food coloring and orange cream frosting along with lemon custard filling. 
If you want your rainbow wedding cake to be as attention grabbing as possible, then this rainbow rosette cake is definitely an amazing choice!
The cake features rainbow-colored layers on the inside and roses made from rainbow buttercream frosting that cover the outside, making for a striking look that is as tasty as it is pretty.
You will need salt, sugar, all-purpose flour, butter, baking powder, vanilla extract, eggs and gel food coloring in each rainbow color to make the cake itself, whilst the buttercream frosting will need salt, butter, vanilla extract, powdered sugar, heavy whipping cream and those aforementioned food coloring. 
Drip cakes are becoming increasingly popular thanks to their beautiful and almost artistic look, and this rainbow drip cake is no exception and could make for an incredible wedding cake for your big day. 
The cake has rainbow layers inside the cake as well as that gorgeous drip look which also features rainbow colors.
This particular recipe includes rainbow candies and rainbow lollipops that decorate the top of the cake. If you want to go all out with a rainbow cake for your wedding, then this recipe is definitely one that you will want to consider.
There are three part to this cake: the rainbow cake layers, the vanilla buttercream frosting and the colorful drip (as well as the additional candy decorations). 
The rainbow cake layers will need gel food coloring in rainbow colors along with buttermilk, vegetable oil, unsalted butter, all-purpose flour, baking powder, granulated sugar, salt, egg whites and vanilla extract, whilst the frosting will require vanilla extract, salt, powdered sugar, unsalted butter, salt and heavy cream or whipping cream. 
The drips themselves will need that gel food coloring to get the rainbow look, along with white chocolate chips and heavy cream. 
It can be difficult to cater to the various dietary restrictions that you might find at your wedding, particularly when it comes to the wedding cake.
This can be even more tough when you are trying to make a rainbow cake for your wedding cake. 
If you want your wedding cake to be vegan friendly whilst also being chock-full of rainbows, then this recipe is the one for you.
The great thing about this recipe is that it also allows you to turn the cake into a rainbow unicorn cake, offering an extra dose of fun and color to proceedings!
For this cake, you'll need food coloring in rainbow colors, vanilla extract, sugar, vegan butter, vegetable milk, and self-raising flour.
The frosting will require vegan butter, egg whites or aquafaba, salt, vanilla extract, powdered sugar and an optional pinch of purple and white food coloring.  
This next rainbow cake is perfect for a summer wedding thanks to it being a cake that you freeze, but it is also one that is a bit lighter in terms of flavors. 
This is another cake that is more subtle in terms of rainbow colors. It doesn't feature the full spectrum of the rainbow, with only pastel orange, green and pink to be found inside the treat.
This makes it well suited for those looking for a more subtle rainbow cake for a wedding. 
The whipped cream frosting makes for a super sweet cake that looks very much the part of a wedding cake, whilst the rainbow sherbet offers that sprinkling of color for a more muted rainbow dessert. 
Grab yourself a prepared angel food cake to make this recipe, as well as three cups of rainbow sherbet. You will also need confectioners sugar, heavy whipping cream and vanilla extract for the whipped topping. 
Who says that a cake can't be made from crêpes?? With this recipe, you will get a super unique and delicious crêpe cake, which is essentially stacks of crêpes layered together in the same style as a cake. 
Cake isn't always for everyone, so if you want something a little lighter to enjoy at your wedding rather than cake, a crêpe cake could be the way to go. 
This rainbow crêpe cake is made pretty easily too, only needing food coloring in each rainbow color as well as milk, flour, butter, eggs and whipped cream. 
Simple yet effective, this rainbow cake features vanilla, raspberry and chocolate flavors alongside softer, pastel rainbow colors, all of which come together to create what could easily become a gorgeous and subtle wedding cake. 
The cake itself is made up of homemade raspberry cake filling along with moist chocolate cake and a cream cheese frosting, whilst the rainbow colors are piped on later and then smoothed down. 
You can also add on some rainbow sprinkles and some rainbow stars- made by piping out the frosting- for that finishing splash of color. 
Final Thoughts
So there you have ten recipe ideas for rainbow wedding cakes (see also: 10 Best Disney Wedding Cake Recipe Ideas For Your Special Day)that are sure to attract some attention whilst also being incredibly delicious!
No matter what kind of cake you are looking to have at your wedding and how you want to weave the rainbow theme into it, you are sure to find a cake that suits your taste from our extensive and varied list.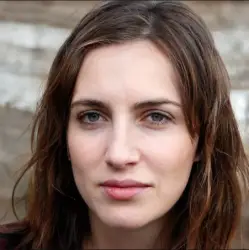 Latest posts by Anna Ingham
(see all)