Let us just get something off our chests… pumpkin isn't just for Halloween!!!
These awesome orange vegetables can be used to make some truly magnificent sweet treats from mid-September, all the way through to November, especially where donuts are concerned.
The beauty of pumpkin is that it's a very diplomatic flavor that shares synergy with countless other delicious ingredients, meaning the possible pairings for pumpkin donuts are virtually endless, and we're delivering you the best of the best here today.
Let's kick this list off with the best general pumpkin donut recipe.
Well, we say "general", as if there are no fancy embellishments, but technically, this is a pumpkin and cinnamon recipe, with some lovely toasted coconut sprinkles to elevate both the taste and appearance of the final products.
Sounds tasty, right? And guess what… as this is a baked donut recipe, they're actually kind of low fat, so you can really, really indulge — Woo!
That said, there is still quite a lot of sugar in these donuts, so it's best to maintain a little bit of self-control, something we're not particularly well-versed in here at Sweethaus, but we trust you're a little more responsible.
If you're looking for some healthy pumpkin donuts to enjoy with your little pumpkins, you can't go wrong with this pumpkin and chocolate recipe.
The two flavors merge beautifully, and as these donuts are baked and packed with protein, they're actually pretty darn good for the health of your little ones, in moderation of course.
In a stroke of pure genius, the composer of this recipe even switches out the sugar-packed glaze of traditional deep fried donuts with a generous drizzle of Greek yogurt frosting, for all the deliciousness and none of the guilt — Yum!
Here's one for all you cruelty-free, plant-based warriors out there fighting the good fight.
This recipe proves that being vegan really doesn't mean missing out on your favorite treats, nor does it mean making peace with less flavorful or strangely textured food.
These donuts are as soft and fluffy as the clouds above, and you don't even need an expensive mixer to whip a batch up. 
However, if you're one of those vegan-for-health peeps, you're barking up the wrong tree here, as in place of traditional glaze, these things are coated in a thick layer of dark sugar. 
Are they worth the calories? Absolutely. They make for a devilishly decadent treat for those with noble diet-based morals.
At the risk of sounding a little too much like Joey from Friends… Orange? Good. Pumpkin? Good. Cake? Good. Donuts? Gooooooood.
This is a dynamite recipe for cake donuts, which, for the uninitiated are donuts leavened with baking powder and baking soda instead of yeast, quite literally making them donut-shaped cakes.
The two primary flavors here are of course orange and pumpkin spice, a tasty team that sends the tongue to heaven, especially if you powder these donuts with cinnamon sugar as is called for in the recipe.
In our opinion, this is the ultimate fall sweet treat, sure to soothe the soul in the most colorful of the seasons.
For those of you who like a little tipple in your pumpkin spice latte to perk you up, we've found you the ultimate boozy pumpkin donut recipe. 
Positively drenched in RumChata glaze, these donuts will satisfy your sweet tooth and inner party animal simultaneously.
And if you're unsure what exactly RumChata is, it's a combination of rum, Mexican spices, and dairy cream. You can almost think of it like an Irish cream liquor but with a touch more cinnamon.
Here's a little-known fact for you… Pumpkin and coconut are a delight together! Don't believe us? Then may we draw your attention to this miraculous pumpkin spice and coconut glaze recipe?
Yep, that's right, we said it, miraculous!
The donuts themselves are alive with heartening fall flavors and spirit, while the sweet coconut topping adds a summery hint that has you remembering hot days gone by and gets you excited for when they come back around again. 
These donuts are a celebration of the past, the present, and the future!
If you're one of the unlucky ones that struggle with gluten or perhaps can't eat it at all, you'll be happy to hear that you can still partake in some scrumptious pumpkin donuts.
Now, as we all know, sometimes gluten-free recipes are missing a fraction of the magic you'll find in the real glutenous deal, especially if you buy your gluten-free products from a store. 
But, this recipe turns that notion on its head, producing super soft, fantastically fluffy donuts that you'll love to eat as you slurp your morning cup of Joe, observing the shifting hues of the trees out your window.
If you liked the sound of the orange and pumpkin cake donuts detailed earlier, then you should also give this pumpkin-cranberry recipe a try.
Using the same cake-y technique, you'll get some wonderfully fluffy and deliciously decadent donuts suitable for breakfast, birthday parties, seasonal get-togethers, dessert… whatever really.
We know pumpkin and cranberry isn't necessarily a tried and tested pairing, but therein lies the genius of this recipe.
It takes two delicious ingredients that we rarely see together and forges a new marriage of flavors, something magical for our taste buds to discover.
But beware!!! We call these "wedding ring donuts", as once you try just one of them, you won't want to use any other recipe ever again — Are you ready for a monogamous sweet treat relationship?
This recipe produces some of the most stunning pumpkin spice donuts you've ever tasted, but it kicks things up a billion notches with an additional mini recipe for salted caramel cream cheese frosting.
Of all the recipes on this list, we'd say these are the most moreish, so be careful.
You may begin this recipe with the intention of sharing your creations with your nearest and dearest, but it's going to take every ounce of will you can muster not to gobble them up one after the other… sometimes two at a time if you're anything like us.
For pumpkin donuts with a swashbucklin' twist, give this groundbreaking recipe a try. Whoever came up with the idea for mixing cider and rum for a glaze deserves a Nobel Prize, straight-up!
We're not exactly sure what field this prize would pertain to… Flavor physics? Booze biology? Culinary chemistry? You decide!
They're only little, so you'll find it difficult to eat just one in a sitting, but seeing as they're baked donuts rather than deep fried, you can indulge without needing to hit the gym for a week straight — Woo-hoo!
We're not done with the pumpkin-caramel combo just yet, folks, oh no, no. For we have the recipe for the stickiest, finger-licking-est donuts of all here for your viewing and eating pleasure.
There's no cream cheese in the frosting this time, just 100%, unadulterated caramel glaze — Mmm; we're drooling just writing about it!
And like many others on this list, these donuts are baked, so they're a much healthier option than your typical nut of dough, meaning you can get away with eating more of them, which I think we can agree is what we all really want in this life.
Because we care for your health as much as we care about your sweet tooth here at Sweethaus, we're hitting you with yet another baked pumpkin donut recipe, this time with lots of tasty blueberries — Yum!
The donuts themselves are bursting with fall spices, heartening flavors, and energizing blueberries, keeping your spirits high as the leaves get low, but it's the criminally creamy frosting that really makes these snacks pop.
It's not loaded with tons of additional flavors. It simply adds a sweet layer that elevates the core ingredients in the donut and, of course, makes every single one look divine, especially with a few whole blueberries embedded as a garnish.
You keto-heads thought you'd been forgotten about, huh? But fret not; for our final entry in this staggering list of sweet treats, we bring you a recipe for keto pumpkin cream cheese donuts.
These super low-carb donuts are the not-so-indulgent snack you've been dreaming about since the first leaves changed color and all your non-keto friends were breaking out the comfort foods.
And as a bonus, they're super easy to make!
Final Thoughts
There's something about a pumpkin donut that's really special.
Maybe it's the way the flavor seems to perfectly fit the most colorful season, or perhaps it's that we only treat ourselves to pumpkin-infused treats for one-third of the year. 
Whatever it is, you'll get your fill of the magic with these, the best 13 pumpkin donut recipes in the land.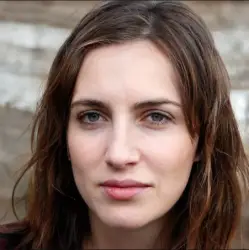 Latest posts by Anna Ingham
(see all)