Although we normally obsess over making our food look great, Halloween provides an opportunity to throw the rule book out the window and get a little spooky with our culinary endeavors.
This is the time of year to embrace the strange, the ghoulish, and downright terrifying, and donuts are the perfect easy-cook blank canvas for our sinister experimentation.
So, to get your creative juices (and blood) flowing, we've curated this list of the 12 best Halloween donut recipes on the spiderweb — Proceed if you dare!
Starting with an easy-to-make classic, we have the spiderweb pattern, sure to make the hairs stand up on the back of the eater's neck!
However, despite their quintessentially scary appearance, as they're baked rather than fried, they're really quite friendly where nutrition is concerned, meaning everyone at your Halloween party can chow down with a clear conscience.
They take a minuscule 8–10 minutes to cook, so they're a great homemade snack option in a time-sensitive situation, and the spiderweb icing is easily applied, saving on stress before the guests arrive.
These Funfetti donuts lean more towards the general aesthetic of the spooky season rather than any individual scary trope.
Topped with a homemade night-black glaze, revelers instantly understand these aren't your average every day donuts, and the orange and black sprinkles reinforce this notion, nodding to the infamous orange jack-o-lantern and its black, carved-out eyes.
As there are no intricate designs to worry about, you can have these donuts ready for devouring in no time at all, meaning you can spend even longer on the frightening finishing touches of your costume.
There are so many ways to acknowledge Halloween through the medium of donuts.
We've already looked at a specific spooky design and a general seasonal approach, but here we have a donut recipe that celebrates the scary season through flavor.
With a touch of sweet pumpkin flavoring and a ton of chocolate, these donuts are sure to get everyone in the festive mood, but don't eat too much; you've got to save room for your trick or treat bounty!
Nothing says Halloween like a vampire donut, and that's exactly what you'll be able to make with this spooktacular recipe.
Requiring only a simple glaze and a pair of iced eyes, this is one of the quickest and easiest options for injecting some fun, fear, and, of course, deliciousness into a Halloween party, or simply to make the most of this wonderful time of year.
You can go rogue and make the vampiric teeth yourself with edible components, but the recipe suggests you simply insert some costume teeth into the holes of the donut.
This is a wise move if you want to boost the scary-factor whilst also saving on prep time, but the last thing you want is a trip to the hospital, so it's best to remind any hungry monsters that the teeth must be removed before they tuck in.
This monster donuts recipe takes a similar approach to the vampire donuts detailed above in that it utilizes fake teeth to create the monsters' scary maws in the holes of the donuts.
Aside from that small detail, however, these donuts are very much their own spine-tingling snack!
The trick to this treat is to get weird with your sprinkles. Forget pinks, whites, golds, and silvers… you're looking for bold, bright, and brash color sprinkles to form the horrific skin of your monsters' faces.
Finish them off with some pre-made candy eyeballs and some pointy eyebrows and hair made out of licorice pastels — These aren't donuts diners will soon forget!
This recipe is simultaneously the most simple and creative of the lot. You don't need any glaze or sprinkles; you don't even need any oil to cook them!
For these ghoulish nibbles, all you need is an air fryer, standard donut ingredients, and a little bit of powdered sugar to finish.
What's so scary about that, I hear you ask? Well, the genius of this recipe is that it expands upon the holiness of the donut to create a wickedly scary effect.
Instead of one central hole, two holes are made towards one edge of the dough, and another is poked into the other edge of the dough, collectively forming too wraithish eyes and a gaping mouth that seems to be releasing ghostly howls into the air.
They're sure to be a hit with adults and kids alike, and as they're air fried, you get a really tasty, crisp exterior, and a devilishly soft interior, all without the use of any fatty oils — Hooray!
Okay, so cards on the table; this isn't strictly a recipe, as it uses mini store-bought donuts, but you could follow its lead on the design front to give your homemade Halloween donuts a spooky makeover.
The foundation of this design is a rich chocolate glaze that covers the entire donut — Yum! Then comes some clever embellishments, such as bulbous candy eyes (red is best) and eight arching pretzel legs.
Of course, if you'd rather not bring pretzels into the equation due to their different texture and high salt content, you can simply ice some on in a matter of seconds, but you'll have to make peace with the fact that they won't be quite as visually arresting.
This recipe takes the zombie aesthetic and artfully applies it to the humble donut, and the results are delicioufying, which is a portmanteau I just this moment made up by combining the words delicious and terrifying. Feel free to use it where necessary come Halloween.
You're really going to dig into your green shades to make these treats as gross as inhumanly possible — We're talking green Jell-O mix, green chocolate glaze, and sparkly green gel icing to make them extra gooey and messy.
Don't worry about being neat with these sweet treats. When your donuts look like a spill of zombie guts, you've nailed it!
Witches are synonymous with Halloween, so we had to include them somewhere in our shiver-inducing list, and here they are!
This recipe pays homage to the infamous Krispy Kreme Bewitched Broomstick Doughnut and tastes pretty similar too.
So, if you're a lover of Krispy Kreme donuts but don't have a store nearby, give this recipe a shot and get the Krispy Kreme experience at home.
Pretzel sticks form the broom handles, while some bunched chocolate frosting handles things at the other end.
Positioned over some vibrant, gunge-green glaze, these donuts will enchant all that see them, sweeping people into an eating frenzy that won't stop until every last crumb has been consumed.
Eyes are said to be the windows to the soul… the hell bound soul, that is!!!
This off-the-wall recipe will transform your homemade donuts into bloodshot eyeballs so horrific that you might find them completely untouched at the end of your spooky soirée.
It's a shame that your scaredy-cat guests were too chicken to indulge, but that just means you get to eat all the yummy eyes yourself!
Ah, red and white, blood and bandages, the perfect Halloween marriage of hues. This recipe, though simple, amounts to some of the most disturbing and striking Halloween donuts of all.
The white glaze provides the perfect backdrop to flick red food coloring blood splatters on every which way (a super fun part of the recipe!).
The stark contrast between the colors emphasizes the gruesomeness of the design, almost as if these donuts witnessed a gory chainsaw murder.
No word of a lie, this recipe is our absolute favorite. It's creative, simple, frightfully elegant, and insanely attention-grabbing — The glass on these donuts looks so real, people may wonder if they're actually safe to eat.
Well, yep, they're absolutely safe to eat. The glass is made out of colorless candy that you make as a sheet and subsequently shatter to create your shards.
After coating your donuts in a white glaze, topped with a spill of red food coloring, all that's left to do is stab a shard into the middle of each one.
Just wait until you see the looks of horror and intrigue on your guests' faces when they see these lining the snack area of your gruesome get-together, an event sure to go down in Halloween history!
Final Thoughts
We've seen some splendiferously scary donut recipes here today, each taking a unique angle on Halloween-themed sweet treats.
Can't decide which one to give a go? Well, it would be a crying shame to choose only one.
Why not make a few and see which spooks your guests the most? Our money's on the broken glass recipe, but fear is like any emotion; we all have different tastes.
So, if you want to scare and amaze the masses, a diverse approach will work best.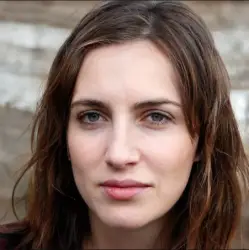 Latest posts by Anna Ingham
(see all)