A wedding is never complete without a cake, but if you want to switch it up a bit, why not have a donut cake instead?
Doughnut cakes are a brilliant alternative to a classic wedding cake, and they will definitely make your wedding a lot more unique. 
Finding the perfect donut cake can be quite a challenge, especially if you haven't got any inspiration to get your creative juices flowing!
Luckily, donut cakes are incredibly versatile, and regardless of what theme you are going for, you can definitely make a donut cake work for your wedding. 

We have put together a list of 15 of the best donut wedding cakes that work for every wedding.
You are sure to find something that will suit your wedding perfectly on this list, so let's take a look at them! 
From classic wedding colors to rustic and outdoorsy designs, there is a donut wedding cake out there for every (see also: 15 Best Wedding Cake Tables For Every Wedding)single wedding.
Once you have seen the options available on this list, you will know exactly which ones would suit your wedding best. 
Each of the donut wedding cakes on this list is beautiful and incredibly unique and you will definitely take the plunge and switch out a classic wedding cake for one of these! 
1. Elegant Donut Cake
The first donut cake on our list is classy and elegant, decorated with beautiful foliage and stacked on a wedding cake stand.
The donuts themselves are all standard glazed donuts, which are complemented by a small classic cake on top and beautiful white macarons.
This donut wedding cake will work with any wedding theme and you can mix and match the donuts and colors as you see fit!
This is a great design to start off with and your guests will absolutely love it. 
2. Rose Donut Cake
Simple, but effective, this donut cake is made up of iced donuts and beautiful orange roses and makes for an incredibly unique centerpiece for your wedding.
The donuts are layered on top of each other in a tower that looks beautiful. 
You can swap out the roses for a different color or even different flowers if you desire.
This is a very versatile donut wedding cake that can fit into your wedding perfectly, regardless of your theme! 
3. Wedding Cake & Donut Cake Combo
If you can't decide between the classical wedding cake or the quirkiness of a donut cake, why not have both?
This wedding cake and donut cake combination are perfect for anyone who is on the fence about what sort of cake to introduce into their wedding. 
It's subtle enough that it doesn't break tradition, but it is unique enough that it is sure to get a lot of attention.
It is classy and full of character, and you and your guests will love it on your special day. 
4. Donut Tower Donut Wedding Cake
A simple tower of donuts is usually the most classic way to go about having a donut cake, and this particular design is incredibly effective.
Instead of ringed donuts, you will be using an assortment of filled donuts using jams, custards, and of course, chocolate! 
You can decorate the cake tower with an assortment of flowers and foliage, which give the whole donut cake a bit of a rustic and natural feel.
This donut cake is nice and tidy as well, so your guests will be able to help themselves without making a mess.
5. Rustic Log Donut Wedding Cake
If you like the idea of a rustic design, then you will love this rustic log donut wedding cake.
Separated by cake tiers fashioned out of logs, there is a small cake placed on top and the bottom layers are decorated with beautiful donuts of all colors and shapes. 
This design gives you the best of both worlds, and the logs make the whole design incredibly natural and rustic.
This design is incredibly unique and will really make an impression on your guests. 
6. Foliage Donut Wedding Cake
Another simple design, this foliage donut wedding cake fits perfectly into any type of wedding, and it doesn't require much effort to put together.
You just need a cake stand and some classic glazed ring donuts to bring this donut cake to life. 
To further decorate your donut cake, simply choose some beautiful foliage and/or flowers and arrange them as you see fit!
You can really get creative and think outside the box with this idea because the initial design is so simple! 
7. Giant Donut Wedding Cake
This donut cake is a bit different from usual donut cakes because instead of using regular donuts, you will instead be using giant donuts in their place!
The giant donuts are stacked on top of each other and coated in a beautiful frosting or icing of your choice, before being decorated with beautiful flowers. 
This is a great idea if you love the idea of a donut cake, but you want to try something a little different.
This donut wedding cake will certainly leave a fantastic impression on your guests and you will be so glad you chose it! 
8. Stacked Donut Wedding Cake
Using a cake stand for this design, you will create the illusion of a set of donut towers that cannot fall over!
This illusion of a huge donut tower gives this cake an incredibly grand presence and will definitely be a talking point for your guests.
You can stick to the original design of decorating it with pink flowers, or you can change up the flowers for other foliage, or even add icing to the donuts.
Whatever works for you and your wedding, you can mix up the look of this donut tower however you wish! 
9. Classic Wedding Donut Cake
Here's a donut wedding cake design that is incredibly traditional, but the inclusion of donuts gives it an incredibly modern feel at the same time!
You also get a small white cake to use as a topper for this donut cake and the donuts themselves are coated in a delicious white frosting/icing. 
To finish off this donut cake, simply add some flowers or foliage, which will give the whole cake a bit of extra depth. 
10. Rustic Natural Donut Wedding Donut Cake
This rustic-esque donut wedding cake is perfect if you want a cake that blends natural vibes with classic wedding tradition.
The donuts are covered in a beautiful icing/frosting that is white and the cake stand is decorated with various flowers and foliage to really bring it to life.
Even if you don't have a rustic wedding, this donut cake will still work incredibly well. It is an incredibly beautiful donut cake that you and your guests will love! 
11. Gold & White Donut Cake
Gold and white is a wonderful combination that works for any wedding, and this donut cake is no exception!
Like some of the other options on this list, you also get a little cake as part of the design too, which is also gold and white. 
The gold-coated donuts are extra special as well and will wow all of your guests and look great in pictures.
This donut cake is so glamorous that it almost looks like it isn't edible… but it definitely is! 
12. Boho- Art Deco Inspired Donut Cake
This donut cake is inspired by both boho and art deco aesthetics and it works for both traditional and more rustic weddings.
It is quite simple in its overall design, but that is what makes it so versatile. 
Your guests will love this donut cake as well and it will look fantastic in pictures! 
13. Decorative Donut Cake
This option is great if you want to go completely against traditional cake decor.
The donuts on this cake are covered in beautiful and loud designs and the overall vibe of this donut cake is incredibly artistic! 
14. Donut Wedding Cake
Here is another classic wedding cake that uses donuts in a complementary fashion.
The white cake is topped with a plethora of wonderful sugar-coated donuts and there are also more donuts scattered around the cake. 
This cake sticks to tradition but also stays unique thanks to the inclusion of the donuts. 
15. Grand Donut Pyramid Cake
It doesn't get grander than this donut cake!
The donuts are arranged in a sort of pyramid shape and it towers high off the table, making it impossible to miss, regardless of where anyone is stationed at your wedding. 
Your guests will certainly remember this cake long after your wedding is over! 
Conclusion
You will definitely wow your guests if you choose any of these donut cake designs for your wedding. If you didn't have any inspiration before, you certainly will now! 
All of these donut wedding cakes are incredibly delicious and versatile, and they will work well for your wedding, regardless of your theme. 
Have a look at these donut wedding cakes and see which one you enjoy the most!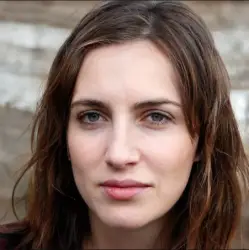 Latest posts by Anna Ingham
(see all)