Everybody loves a good donut, whether it's a perfectly soft ring donut or one that's got a mouth watering filling.
However, there are so many different flavors that you can get your donuts in that it can often be difficult narrowing down all the options to find the very best. Well, we're here to make the case for apple donuts!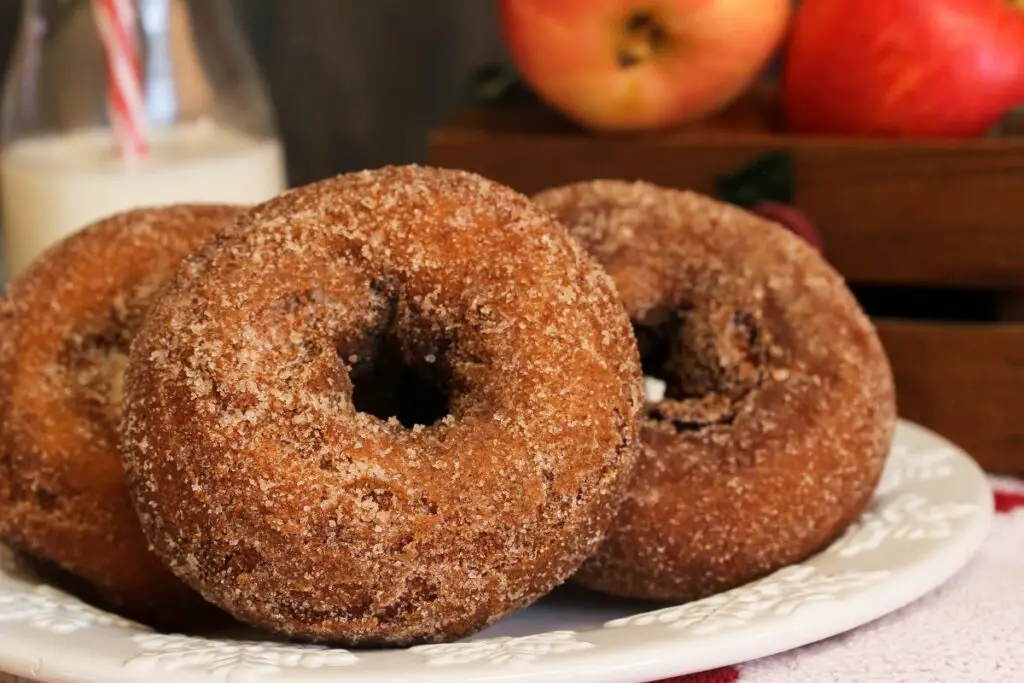 Apple is one of the best fruits there is, deliciously crisp and refreshing, with their unique blend of a little tartness and a little sweetness.
They're great on their own, but they're even better in sweet treats and desserts, which is why apple donuts are an absolute must-try.
In our delicious guide below, we've got the 10 best apple donuts recipes that you will simply love. Read on!
10 Best Apple Donuts Recipes You Will Love
We're beginning our list with a classic apple ring donut, which is packed with a supremely fruity inside, simply oozing with apple and apple sauce that will make your taste buds tingle.
On top of that, the donuts have a hint of cinnamon in them, as well as a cinnamon sugar coating that's crunchy and warm.
Even better, the recipe is quick and easy to follow, and you should get around 22-24 donuts out of it! Delicious.
For the donut itself, you'll need a variety of ingredients. The fantastic apple flavoring comes from two sources: some peeled fresh apple and some unsweetened applesauce.
These help to make the donuts extra fruity, and you can even include some further unsweetened applesauce in the coating if you want even more!
The donut and the coating also both use cinnamon and nutmeg, which offer the sweet treat a hint of spicy warmth.
These flavors go especially well with apples, perfectly pairing with the sweetness and tartness.
Our next pick are these brilliant ball donuts which are absolutely stuffed with delicious, sweet apple filling, which contrasts perfectly with the crunchy, doughty exterior.
Even better, the donuts have been brushed with melted butter and then rolled in sugar, giving them a n extra crispness and crunchiness. 
The doubt of these donuts only requires a small handful of ingredients, and many of them are baking staples like eggs, milk, and flour.
Meanwhile, it also uses some ground cinnamon, giving the dough a hint of spicy warmth that'll pair really well with the fruity apple filling.
Speaking of the filling, the filling is incredibly easy to make, yet packed with flavor! All you'll need is some apple sauce, caster sugar, and melted unsalted butter. Simple! 
If you thought the previous two apple donut recipes on our list were easy to make, wait until you see this next recipe!
These apple donuts are about as simple as it gets, because you'll only need two ingredients to make them.
That's right, you won't need any butter, yeast, or eggs here, this is simple and streamlined baking with fantastic end results. Better still, it's a recipe that should take less than 15 minutes to make!
So, what are the two ingredients? Well, it's simply some applesauce and some self-rising flour. That's it! Additionally, you'll need some canola or vegetable oil to help with the frying. 
The applesauce and flour are combined in a large bow, mixed until a sticky dough has formed. After that, the dough is scooped onto your saucepan in balls, leaving you the chance to fry them.
Of course, anyone who has enjoyed some apple desserts or sweet treats will know how well apple goes with caramel.
People regularly dip their apples in caramel, coating the refreshing fruit in a deliciously sweet sauce.
As a result, it's a great idea to have apple donuts that are covered in delicious, oozing caramel sauce! These are a great treat to make during the fall, but they'll work all year round too.
You'll need a variety of different ingredients for these supremely scrumptious apple donuts drizzled in caramel sauce, but they're still quick and easy to make.
For the donuts themselves, you'll need various baking staples, as well as some cinnamon and nutmeg.
We've already stressed how well these go with apples, but they go especially well here, because their spicy warmth is a quintessential fall flavor!
Meanwhile, you'll also need to make your own homemade salted caramel sauce from the recipe. It's a great sauce to know how to make, and it's one you'll surely be using again and again afterwards!
Our next pick is something a little different, because these aren't donuts in the traditional sense!
Instead, these are slices of fresh apple that are shaped to look like donuts, then covered in mixed berry yogurt for extra fruitiness and sprinkled with rainbow sprinkles to give it a texture closer to a classic donut.
Naturally, these donut-shaped apple slices are extremely quick and easy to make, and they're also much healthier than regular donuts!
After all, they're basically slices of delicious and healthy fruit, with a few sweet treats put on top for extra flavor.
This next donut recipe features another brilliant blend between apple and caramel, a perfect combination of sweetness and fruitiness.
However, these caramel apple donuts go one step further by adding a hint of alcohol to them in the form of unfiltered apple cider.
Apple cider is an extremely popular drink, a delicious alcoholic refreshment that's got the unmistakable flavor of apple added into the mix. As you can imagine, it lends itself to donut-form brilliantly!
The donuts themselves use various baking-staple ingredients, as well as some nutmeg, cinnamon, and allspice to give the dessert a hint of spicy warmth that'll delight your stomach.
Meanwhile, the donuts also use some unfiltered apple cider, but this isn't the only time you'll be using it because it's also needed for the wonderfully sickly caramel cider glaze.
On top of all that, you also make a crunchy streusel topping that adds real texture to the donut.
Up next is the recipe for mouth watering apple pie donuts with a homemade salted caramel sauce. These are every bit as good as they sound, and it's a dessert treat that you'll keep making over and over!
The dough for these donuts is made simply with a small handful of baking staples, like eggs, butter, caster sugar, and more.
Meanwhile, there's a fantastic apple pie filling that you'll be making, packed with fruitiness and sweetness.
Finally, you then need to make a salted caramel sauce, which will work wonders on the already-delicious apple pie donuts.
If you're a vegan, then you'll love this recipe for some vegan-friendly apple cider donuts!
These sweet dessert treats are going to go down well with the whole family, and they've got a brilliantly moist and fluffy texture to them that will simply melt in your mouth.
Better still, they've got a fantastic flavor, mixing warm spice with fruity sweetness and tartness.
To make these apple cider donuts vegan, you'll be using soy milk (or another non-dairy milk alternative) and either melted vegan butter or coconut oil.
Other than those, it's a standard list of baking staples that you need. Apple cider and unsweetened applesauce give the donut its perfect fruitiness, while ground cinnamon in the donut and the topping add extra warmth and spiciness to it.
Perfect!
Our next pick is something a little different, combining the delights of a great chocolate donut with the fruity goodness of an apple donut!
However, these donuts aren't the traditional donuts you'd expect, rather slices of fresh apple that have been shaped like a donut and covered in a mouth watering coating.
This way, they're extra quick and easy to make!
To make these sweet treats, simply wash, core, and slice your apples. After that, put them in a bowl of water and lemon juice, then prepare your melted chocolate dip while they're soaking.
Once you've got your chocolate covered apple slices, you can add extra toppings to make them even sicklier!
For example, you can add chunks of chocolate and plenty of chocolate chips, giving them extra texture and taste. 
We're finishing our list with a really exciting recipe! While some people may enjoy their donuts with a serving of ice cream, not many will have tried donuts that actually have the ice cream INSIDE them!
These delicious donuts combine a brilliant apple cider flavoring (along with warm spiciness from cinnamon and nutmeg) with a refreshing, cold filling of flavorful vanilla ice cream.
Perfect! The crisp dough and the soft ice cream pair perfectly. 
Final Thoughts
Apple donuts are delicious, with their brilliant blend of fruity sweetness and tartness! Find the best apple donut recipes with our guide.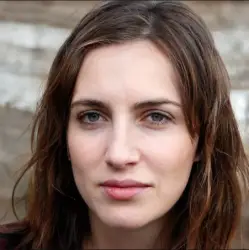 Latest posts by Anna Ingham
(see all)