If you are a big fan of wedding cakes, then no doubt you'll have seen plenty that are white and plain with maybe a pink or blue bow around the base.
But what if you want something a little different from the normal white wedding cake? Maybe you're ready to try a marble wedding cake.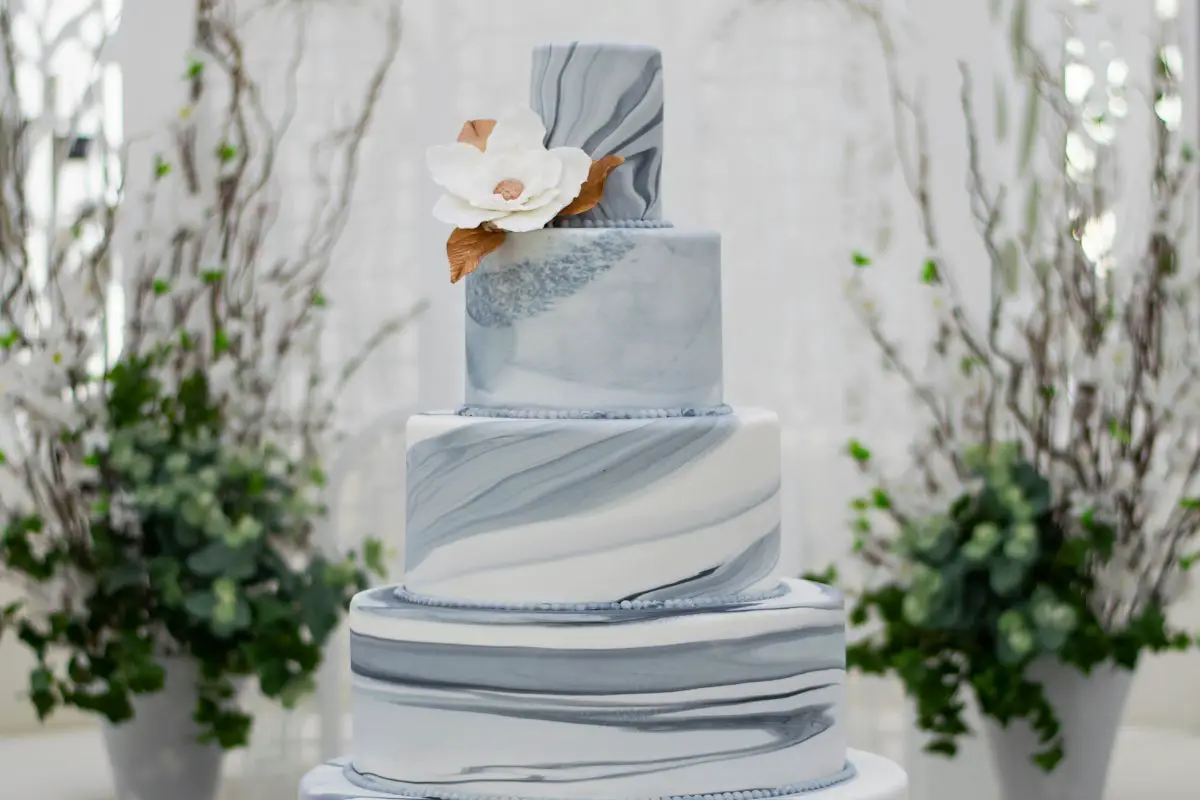 Marble wedding cakes come in lots of different styles and designs. You can get blue and black veins running through them or you can go for much more subtle patterns and swirls that are pink or light yellow.
You really are spoiled for choice with this type of cake.
So where can you find the best marble cakes for your wedding day? What designs and patterns will fit in with the color scheme of your wedding? How easy are they to bake yourself?
Well, we'll cover all these details and more, with our list of 13 great marble wedding cake recipe ideas.
First up, we have a cake that is extremely impressive, reaching up three tiers and riven with a jagged gold vein. This cake looks more like a solid work of art chiseled out of stone. It is extremely straight and neat in a modernist design.
This is great for a regal wedding or you can actually have it as a contrast to a much more floral and soft design of furnishings. We can imagine this kind of cake as a centerpiece with flowing curtains on either side of it.
The great thing about marble wedding cakes is that they can look both severe and beautiful and this is really personified in this geometric marble wedding cake. It comes in three tiers, with the marbling effect confined to the top two.
At the bottom are the geometric rivets that are rendered in gold. To soften the whole layout, flowers have been placed towards the central point of the cake.
However, you don't have to have any flowers on your cake if you want to avoid anything too ostentatious.
This next cake is really a marvel to behold, subtle, classy and eye-catching. This is a stunning three-tired cake that is smooth and comes wrapped in a layer of thick icing.
Towards the top of the cake is a peeled effect that reveals a darker marbling layer below.
On the top of the cake are flowers that give this very linear cake more drama, drawing the eye from the bottom of the cake to the top.
It is important that the look of your cake really has a flow and think of the journey that your guests' eyes will take.
Next up, we have a very simple cake with one tier that is nonetheless extremely impressive and artistic. This has purple and blue rivulets running through it, with splashes of gold near the top of the cake.
You won't want to eat this cake, that's how good it looks. It is circular and comes with a larger pose of flowers at the top that is darker to match the color scheme and brightness of the cake itself.
This sits on a very simple wooden plinth, which is great for vintage wedding themes.
Gold and gray might not be a color combination that you might first think of when you are baking your cake, but as you can see from this design, it really can work.
You can add swatches of gold to really liven the whole thing up and add that touch of class to your final piece.
The floral pattern around the sides adds just enough to keep this cake looking interesting. This cake has subtly rounded edges that are complemented by the gentle gray swirls running through it.
You will have to really get up close to this cake to notice the intricacies.
This is another deceptively simple cake that requires some scrutiny to see all the finer details on it.
Gray goes very well with pink, so if you have a wedding that is predominantly pink in color, then this is a great option for you to choose from.
This has minimal decoration, but you won't need that much. All this has is a ring of flowers around the edges that break up the geometric design and add a bit of spring and life to the cake.
Make sure that you have the right plinth to mount this one.
This is another cake that utilizes darker colors with a white base color. It also adds dashes of gold to really give this cake that splendor that other cakes simply do not have.
The gold flecks run down the dark seams, almost like stitches on a wound.
Towards the lower portion of the cake, there is a clutch of flowers that really gives this cake that much-needed expressiveness.
It will go well with a brass or gold plinth, but if you cannot get your hands on one of these, you can always opt for wood.
Now we have something that is guaranteed to get the guests at your wedding talking. With multiple colors running through it, this cake will bring life to your white wedding.
These colors are subtle and will be able to blend in with most color schemes. This also comes with gold tinges, which again adds that element of sophistication to it.
This is a single-tiered design, so you won't have to worry about sourcing a lot of ingredients if you are going to try making this one yourself.
Now we have another very elegant cake that is mainly white but has veins of different colors running through it to create a rainbow effect.
The dominant color here is blue, giving the cake a marine-like quality. This is great for a beach wedding.
However, if you still want to stay true to the wedding tradition, then you can add classic pink and white roses and lilacs to the side of your cake.
This is a three-tiered cake, but if you don't consider yourself a confident baker, you can always have fewer tiers.
This next cake has an amazing honeycomb design that pairs pink with grey marble. Each tier is different, yet the whole thing coalesces into one singular tone and theme.
There is a tag in the middle that you can customize with wedding initials or your own insignia.
This cake demonstrates that you can pair marble with plain colors to great effect and it makes your wedding cake look far more interesting.
You can separate the different sections of your cake with colored borders, in this case, they have gone with a tasteful and classy gold.
Now we have another cake that is dripping with opulence, with a massive shotgun splash of gold that really takes the viewer by surprise.
It also comes with faint swirls of pink that swipe vertically across three tiers, creating a sunset-like hazing effect.
The gold marbling is very stylish and helps to break up the uniformity of the cake, along with the bouquet of flowers that are situated at the top of the cake.
You can also adorn it with painted gold leaves or you can opt for edible sugar flowers.
This is a great cake if you literally want to put your own stamp on the wedding cake.
It comes with a badge that is embossed with hand-piped lettering, allowing you to put the initials of you and your partner on this centerpiece.
The marbling itself is very traditional, almost the same as the kind that you might find on the pillar of a town hall or a museum.
But you can offset the formality of this cake with some white or red roses and place it on a plain glass plinth for that added touch of class.
This is another cake that requires closer inspection to see the contours, however, once you do, it will really wow you and your guests. This comes with a grey, black and white marble effect, placed on a high marble plinth.
This also has patches of gold tailored through it, making it seem like one of the most solid cakes in the world. You could suggest that a rock-solid cake like this indicates a rock-solid marriage, one that will last for decades to come.
Conclusion
We hope that our ideas for marble cakes have given you plenty of inspiration when it comes to designing your own wedding day.
The sheer diversity of cakes in this list is amazing and there'll definitely be something to suit the summer, vintage, or winter wedding.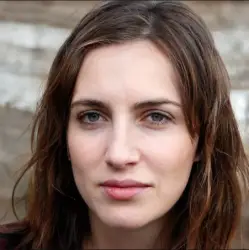 Latest posts by Anna Ingham
(see all)