We've all heard the song "It's a nice day for a white wedding" but what about a black and white wedding? Is there a nice enough day for that?
Well, for most people, the idea of a monochrome wedding cake is daunting, but we're here to change your mind.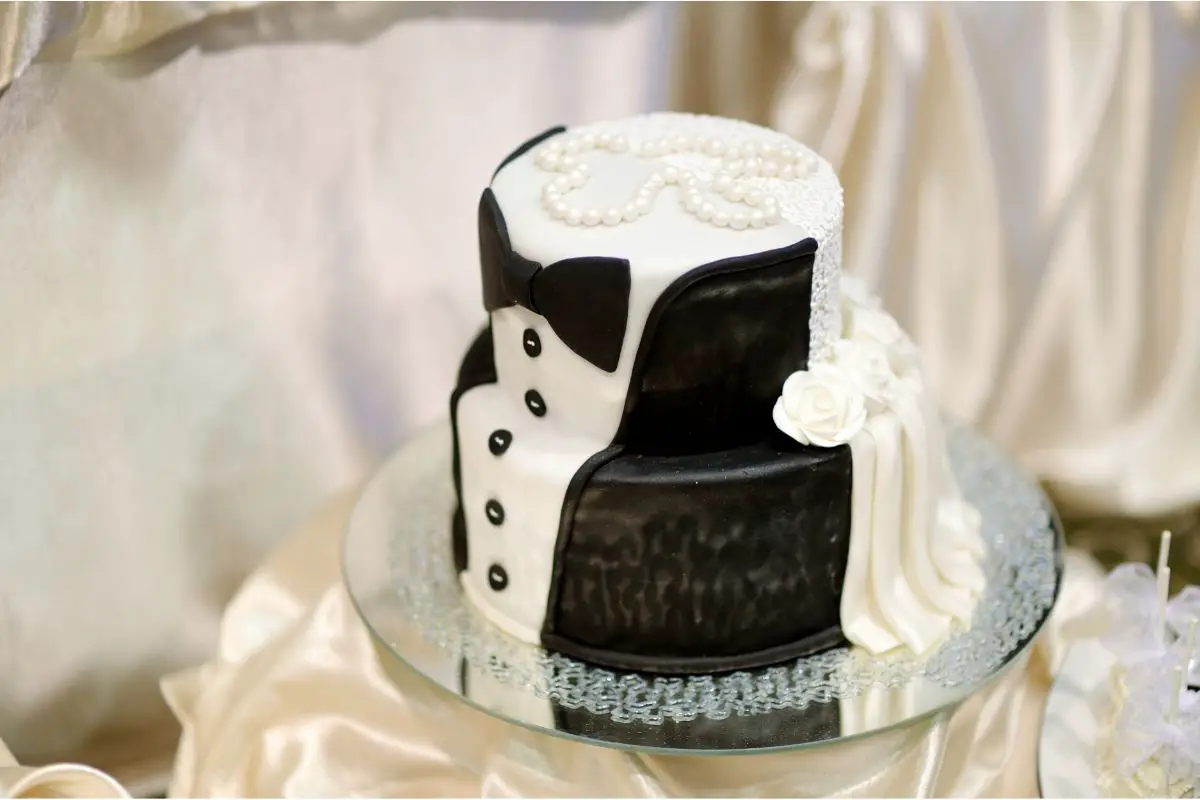 Because black and white cakes can come in many different styles and variations. You can get a cake that is majority white, or you can get a black cake with white trimmings.
You can get a white cake with black spots or a cake that is evenly black and white right the way through.
But what other ideas are there for black and white wedding cakes? How can they fit in with your wedding décor? What other accessories can you add to them to really elevate them to the next level?
Well, we have compiled a list of some of the nicest black and white wedding cakes that we can find. So, what are you waiting for? Let's get stuck in!
This first cake is a very bold choice for a wedding and will only appeal to the most adventurous. As you can see, the main body of this three-tiered cake is jet black, making it look dense and solid.
But on its own, this cake would look slightly ominous. This is why it has been given the added light touch with some white flowers. This brings some much-needed life to the whole thing, resulting in a cake that is hard to ignore.
This next cake is hard to ignore, being very tall and white like a lighthouse. However, this cake is not that conventional, as it comes with a black bow tied around the middle.
It is such a simple design that you might want to add more, but trust us, even by itself this will still make an impact.
There are also smaller satellite cakes surrounding the main centerpiece. These are optional, but they are different sizes and are black with white bows on them.
This forms a great contrast and makes the whole cake set up a lot more artistic.
This is another cake that is purely white with a single black bow running around the bottom tier. However, one of the main selling points of this one is the insignia in the middle.
You can personalize this cake to suit your wedding, having the initials of you and your partner on the crest.
This has a white flower at the top that gives it that regal touch. It also comes with white piping around the bottom of each tier. This cake is wonderful to look at and is one of the more traditional-looking cakes on this list.
This next cake is another one that is primarily white in color, except it is a few tiers bigger and comes with two bows.
This has bunches of white flowers at the side that add an extra flair to what could be seen as a strait-laced wedding cake.
This type of cake will match most traditional white and black bride and groom outfits. If you like to keep things traditional, then this is a great cake to have.
You can have a sponge batter or even fill it with jam for that extra surprise when your guests cut into it.
Now this cake is one of our personal favorites: a regular white cake that appears to be oozing black oil. This is a semi-naked wedding cake, so there is little frosting on it and the batter on the underneath is exposed.
The final effect is one of artistic grandeur, rather than a mess. This is a great cake if you like that goth flare for your special day.
This is also a very modest cake, so if you want a go at making it yourself, you won't have to source that many ingredients.
This next cake really exudes mystery and class, with a primarily black base with white rivets running through it.
This gives the cake an overall hazy effect, which takes off the harshness that a totally black cake would normally have.
This is a tall cake with spikey leaves and red flowers around the edges to break up the severity of the cake's overall shape.
Some people would prefer their cake to look menacing rather than inviting and if you want a classy wedding, then this is the centerpiece for you.
This next cake is perfect for the traditionalists that want something a little edgy. It's a semi-naked cake with a thin layer of white frosting that exposes the darker batter underneath.
This cake is very sophisticated too, with sharp edges and linear vertical lines.
This is also garlanded with flowers, which really breaks up the rigidity of the cake. Floral decorations are important for these tall and straight cakes as they add a bit of dynamism.
Without touches like flowers and fruit, your cake runs the risk of looking plain and drab, even with a nice pattern.
Okay, we've slightly cheated with this one, as it is cream rather than white. However, that does not mean that it isn't spectacular in its design and contouring.
This has a crosshatch design on the top tier, which creates a plush and luxurious cushion-style effect.
The bottom tier separates in a wave which gives into a much darker color. It also has golden veins running through it, which again break up the monotony of the main cake itself.
It has golden studs on the top of the second tier, which transforms an ordinary wedding cake into something miraculous.
This is a standard wedding cake with a little elegant touch of black ribbon around the edge of each tier, which really draws the eye in.
This is a cake that you must get really close to so that you can appreciate the variegated exterior. This has a textured surface, which is much more unique than a smooth cake.
You might have to get a little help with this design if you are making the cake from scratch yourself.
This next wedding cake is like another work of art, with black and white tiers sprayed with a silver border to add that extra electricity and excitement to the design.
With a ring of white flowers and green leaves, this cake catches the eye and doesn't let go.
The bottom and second tiers of this cake are white with a textured design, which is a nice contrast to the darker elements of the cake.
This is set on a modest plinth, set in the center so that the cake looks like it is floating above whatever surface it is resting on.
This next cake is like no other wedding cake you'll have ever seen before. It looks like a work of modernist art, with raised oblongs that cascade down the side.
Most of the cake is black, and only the top tier is white like a beacon.
This cake is also adorned with a garland of green leaves and a hexagonal ring, all of which enhance the otherworldly vibe of it.
Despite how strange it looks; this cake will be able to blend in with both eccentric and conventional weddings.
Next up, we have some black and white cupcakes that will certainly get tongues wagging, perhaps for good and for bad.
However, if your intention is to ruffle a few feathers on your wedding day, then you can't go wrong with these jet-black bite-sized beauties.
These have white flowers on the top with black buds in the center. However, why not alternate these cupcakes and have some with white icing and black flowers on the top?
You can even add some strawberry or plum jam in the center for that extra delicious surprise.
This final cake is one that could easily be part of a conventional wedding celebration, that is until you take a closer look. This has light smears of black and gold splotches on the side, which certainly gives this cake its edge.
Add some more traditional flowers to this cake and you have something that exudes life and energy. This is a hefty cake, so you would have more than enough to go around.
Conclusion
We hope that our ideas have converted you to the idea of black and white wedding cakes. They don't have to be garish, and you can mix the colors to whatever shade and lightness that you want.
Just make sure that you get the balance that you think is right.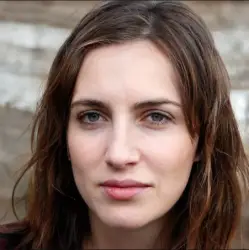 Latest posts by Anna Ingham
(see all)