Whether you're getting married around Halloween and want to get into the spirit of the holiday, or you love to be spooky all year round, incorporating Gothic motifs like skulls into your wedding day is a great way to celebrate Halloween, your nuptials, and your spooky self.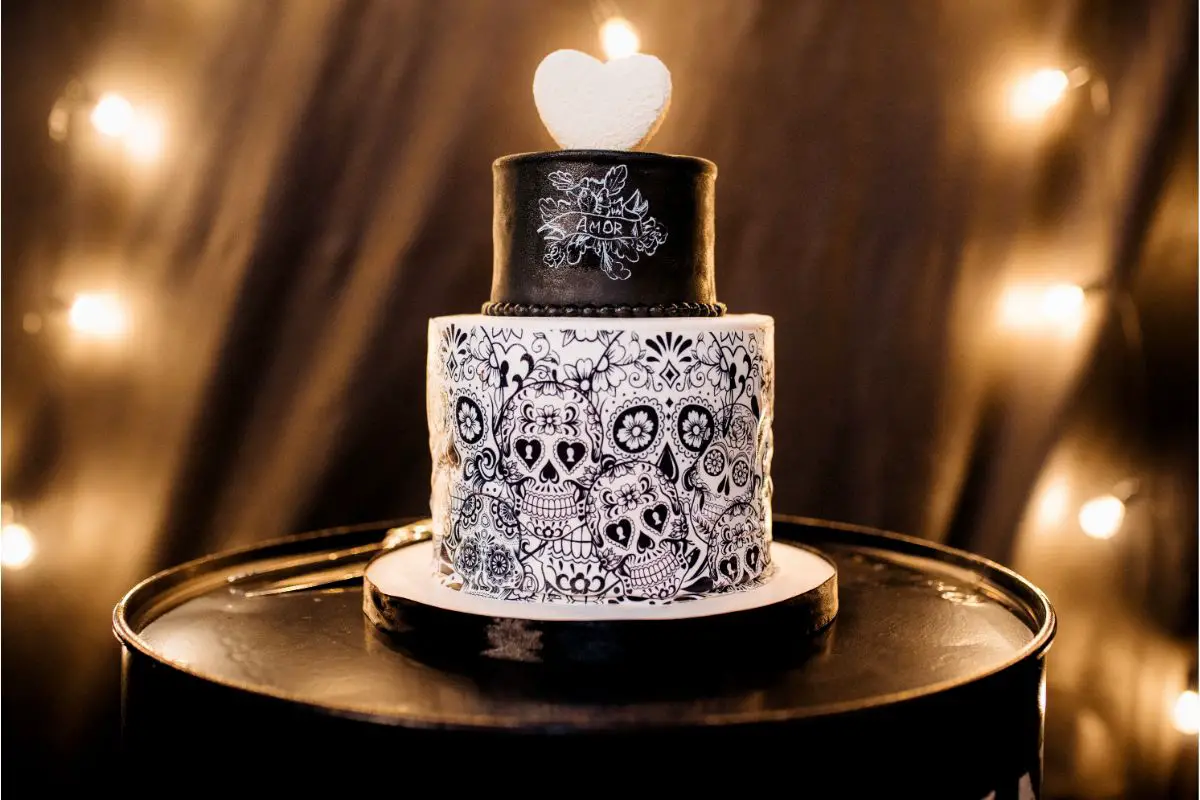 Skull cakes look as scary as they do delicious! (A combination you rarely hear about when it comes to food). But where do you start?
And how do you incorporate skull wedding cakes into your wedding theme and decor? Look no further than this article because we have the answers!
This is the epitome of a sophisticated skull wedding cake! The black and gold keeps things understated and elegant and is perfect for a decadent wedding.
Til Death Do Us Part is a popular refrain found on skull wedding cakes. How can cake designers resist making such a cute, perfect pun? We love the detail on this one, and the beautiful cream, black and lilac color scheme. 
Put a fun, macabre spin on the classic bride and groom wedding toppers! We love the trail of gold and purple roses from the creepy couple, not to mention the Day of The Dead inspired skulls at the bottom of the cake.
A drip effect and a skull wedding cake seems like the perfect combination! It just adds to the cool creepiness.
What we particularly appreciate with this example is that the cake designer went for black rather than the obvious red to evoke blood. We also love the mini pumpkins and the tombstone at the bottom.
Now this is one bold skull wedding cake! It also celebrates Dia de los Muertos in all its colorful glory with beautiful sugar skulls and vibrant flowers.
Wear your love of skulls on your sleeve with this bold stencil wedding cake! The deep red roses give the cake a more darkly romantic vibe suitable for a wedding. 
Another beautiful, unique wedding cake with Dia de los Muertos motifs, the red roses contrast beautifully with the unique blue frosting.
This simple naked wedding cake is magnificent! We love the skull topper and the dark fruits. 
Just one look at this purple wedding cake with cobweb decorations, spiders and skulls immediately transports us to a haunted mansion. 
Who said less is more? If you're a maximalist, go hard or go home with your skull themed wedding cake! The butterflies and black and red roses keep the cake beautiful and romantic.
There's so much going on with this cake it's hard to know what to focus on! But we'd like to draw your attention to the unconventional tiers that really make this cake spectacular. 
If you're a goth who likes pink, celebrate the duality of man with this sugar sweet pink skull wedding cake, complete with red, white, and pink roses.
This wedding cake not only incorporates skulls but the iconic Frankenstein and his bride! We love the triptych mirror, the gnarled tree stands holding up the bottom tier, and the Frankenstein inspired skulls. 
We've had black skull cakes, red skull cakes, and purple skull cakes, why not orange? It is the color of Halloween after all, and this cake is perfect for an October wedding.
This all-black cake complete with black roses, a cameo featuring a raven's skull and detailed piping proves that a goth skull wedding cake can be elegant. 
We love this topsy-turvy skull wedding cake with skulls, cobwebs, roses, and a bride in a red dress that looks like she's wandered out of a Tim Burton movie. 
We love this cute and simple wedding cake! The black and white makes for a stunning color contrast and we love the bats and cats detail. Perfect if you and your partner have a fur baby of your own!
This is great for those who love skulls but are not into the whole goth vibe. From a distance these skulls may even look like piped flowers, until you get up close!
There is so much detail with this ultra-gothic cake inspired by the king of goths himself: Edgar Allan Poe!
We of course love the skull, but we're just as obsessed with the writing on the cake, the drip effect reminiscent of ink, and, of course, the famous raven! 
The skeletal bride and groom in this cameo makes this cake quirky and vintage, while the sparkly details add a touch of glitz. 
'Love Never Dies' is a popular tagline for skull wedding cakes. We love the unique shape of the cake, the deep purple icing, and the skulls at the center of the roses.
This may be the most glamorous wedding cake on our list! The black shards and the bejeweled skull add some edge to the glamorous pink icing. 
Why break tradition even further by going for a cupcake tower rather than the standard tiered cake, topped with black piping, and a skull sprinkled with gold?
Why not go medieval on your skull wedding cake? The metallic detailing, cool tones, crucifix and skull coolly perched on top of the cake sporting a crown is a powerful statement. 
For a slightly more playful cake, why not go for this chalkboard skull wedding cake?
Everything about this cake is so kooky and charming – from the black flowers, to the bright green buds that provide a pop of color, to the white, playful piping on the black icing that gives it a chalkboard effect. Inspired!
We've had bejeweled skulls, so now let's turn our attention to lace covered ones! The lace adds a touch of decadence and romance, while the bright red roses stop it from being too drab. 
If you're a little reluctant to incorporate colors like black, purple, red and orange into your wedding cake then this is the perfect compromise!
It's your standard mouth-watering wedding cake in many ways while also incorporating skull motifs. 
Final Thoughts
So there you have it! 27 ideas for a spookily beautiful skull wedding cake!
Whether you want to go all-out with a pitch black cake complete with skulls, or add softer, romantic details such as flowers, there are many skull wedding cake ideas out there for you to take inspiration from.
This article is only the start!
Frequently Asked Questions
What Is The Most Popular Wedding Cake Flavor?
Vanilla is the most popular wedding cake flavor, as many bakers report it to be their most requested flavor. This is because vanilla is a versatile flavor and is a great blank canvas for many frostings and fillings.
What Are Other Gothic Wedding Cake Ideas?
Like the idea of a gothic wedding cake, but want to avoid skulls? Let's take a look at some other ways to incorporate your goth self into your wedding cake. 
Black wedding cakes: This is the most obvious choice for a gothic wedding cake, and it can easily look super stylish and sleek.
Details such as traditional shapes, simple designs, sugar flowers and other delicate touches help make black wedding cakes look modern rather than tacky. 
White wedding cakes: Think you have to go dark to get a gothic wedding cake? Think again! With the right details, design, and textures you can have a white wedding cake that is also totally gothic.
Adding flowers with a pop of gothic colors can take a white wedding cake to a whole new darkly romantic level.
Red wedding cakes: Red is probably the second most gothic color after red. Just like black cakes, to avoid a tacky red wedding cake go for a traditional design and then add some gothic details.
For example, a simple red velvet cake with black frosting would be a great place to start! Add some sugar flowers and other simple decorations for a touch of gothic style.
Purple wedding cakes: Yet another popular color for gothic wedding cakes, purple has long been associated with wealth and royalty, perfect for an extravagant wedding!
It's also an amazing way to add color to a gothic wedding without going over-the-top.
Gothic wedding cake toppers: If a totally gothic cake is not for you, then why not go for a gothic topping instead? This gives your cake a gothic flair without going full hog.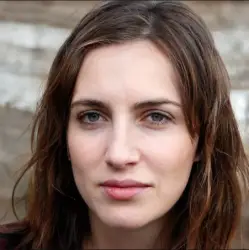 Latest posts by Anna Ingham
(see all)