In the past, green was not a color you would often find in a wedding color scheme. However, it has become more popular, and with shades like Sage green and Jade green, it is a statement worth making.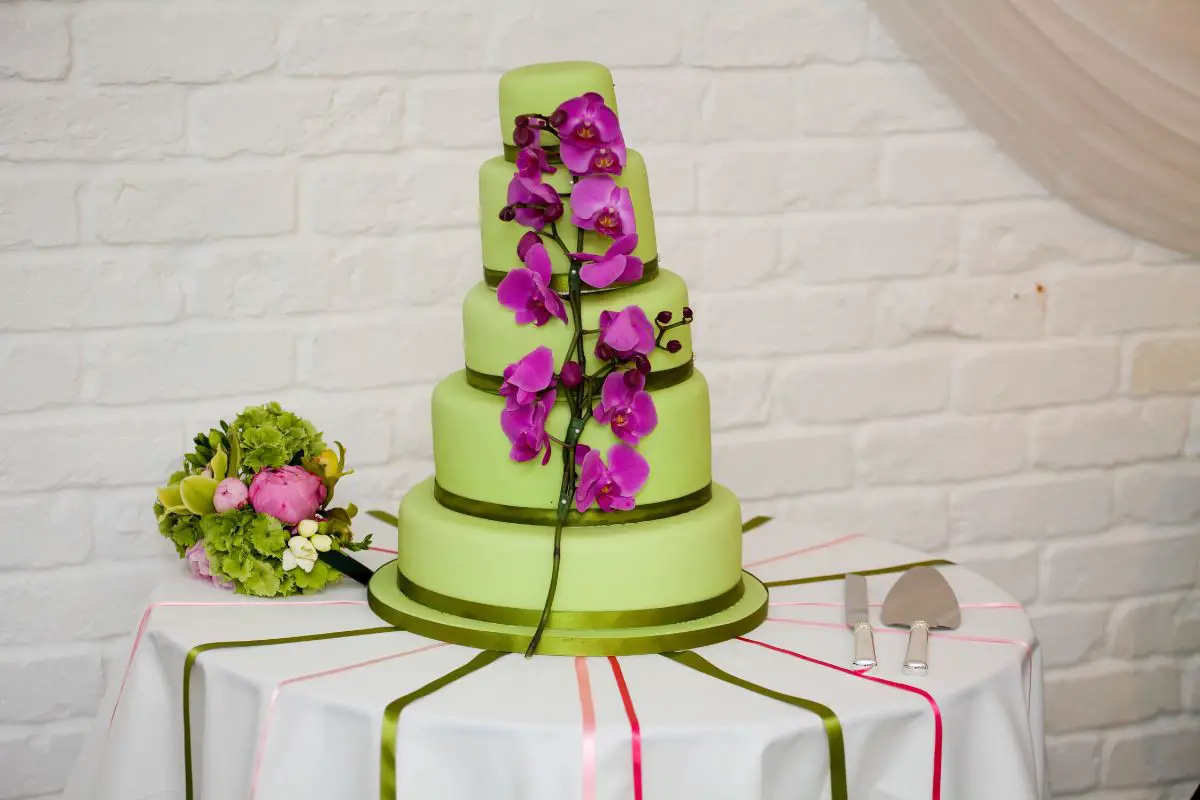 Since green symbolizes new beginnings, harmony, and balance, it is the ideal color to use on your special day. 
We have 10 of the best green wedding cake ideas that are going to bring your special day to life.
Whether you want to feel closer to nature, or simply love the color green, you can find a wedding cake that is going to complete your special day. 
Up first, we are starting simple. This three-tiered cake is simple yet just enough to make a statement.
The bottom layer begins as the darkest, going into an almost emerald green with the middle graduating into a gorgeous soft jade. The white tier on top offsets the green and completes the design. 
Finished with intricate gold bands and gold-dusted flowers for decoration, this cake is truly marvelous.
Depending on the size of your wedding party, you may want to have a small backup to ensure everyone gets a piece but for smaller parties, this is perfect. 
One color that goes perfectly with the green of any shade, is gold. And this Jewel Toned Wedding Cake brings the shades together like magic. 
The bottom tier is a blend of sage, mint, and white, with the middle being a solid natural green.
The top tier is small but strong with a covering of gold leaf that shimmers and shines like a crowned jewel. Much like a bride on her wedding day. 
Decorated with a simple white rose and small golden crystals around the end of the middle layer, this wedding cake design is magnificent. It is perfect for any small wedding with green and gold accents. 
Not all weddings require a bright or dark cake to make a statement. Sometimes going more muted is the ideal way to complete your special day. This sage green cake is tall, beautiful, and subdued. 
With light pink and white roses for accents, the colors complement the softness of the design. Now, the white bow is optional but we believe it brings everything together. 
You can use fresh roses or edible flowers for the decoration but either way, this cake is going to have everyone talking. 
This is a four-tier cake that is plenty to serve a large crowd and has a tier left over to keep. However, you can easily have this design turned into a smaller cake to ensure there is none left over at the end of the night. 
Ombre comes in and out of fashion every few decades. From hair colors to cakes, anything can have a fun twist with an ombre theme.
This wedding cake keeps things formal on the outside with a simple white fondant while all of the fun is on the side. 
Each layer is a different shade of green, fading until the top layer is a bright white. This, of course,  requires food coloring with any flavor of cake you desire. 
The only downside to this is that each slice must be whole in order to get the full effect. This means having a lot of cake to serve each guest. However, the wonder on each person's face as they see your cake is worth it. 
Complete with green edible crystals for a pop of color on the outside, this cake is great for anyone wanting to have to add some fun to their wedding cake!
Marble is a popular design for wedding cakes because who doesn't love marble? It looks and feels expensive whether it is on a cake or on a kitchen countertop.
Now, you can do a multi-tiered caked completely marble, but that may take away from the effect. 
This cake is only one tier and it makes just the right statement. With a simple decoration, you really do not need much to make this cake pop. 
You can also scatter some gold leaf for an interesting design. Or leave it completely bare to have your guests marvel as they walk by. 
A one-tier cake is great for aesthetic purposes but when it comes to feeding a crowd, you are certainly going to need a backup in the kitchen. No one wants to deny Grandma her slice of wedding cake. 
While green is a striking enough color on its own, you can also add some pattern or texture to your wedding cake. This Green Tiled Wedding Cake is peculiar yet eye-catching. 
With different shades of green tiles flowing up the cake, it is hard to walk by and not stare. The tiles can come from edible paper or even sugar glass for a glossy look. 
And you can forget the traditional roses and flowers for decoration. This cake does all of the talking on its own. All you have to do is slice it and enjoy the sweet flavors inside. 
Another great way to bring your cake together is to have your guests write their initials on each tile for a truly magical day. 
Prefer the look of sleek yet futuristic lines? This Green and Gold Geo Wedding Cake design is perfect for anyone who wants things sleek and in their place. 
With a body of dark green fondant and gold-trimmed windows of lighter green fondant, this cake is striking and polished.
The shimmering gold lines are designed with intent and is great for showing off a couples-driven personality. 
Paired with gold accents throughout the room and geometrical patterns, this is an incredible design for a wedding cake. 
You can easily change the lighter green for a light pink for a more feminine touch but if you enjoy straight lines that have a purpose, this cake is for you. 
While the rest of the world is off fighting for emerald greens or sage greens, you can enjoy something slightly more natural.
This pear green color is not common when it comes to weddings but with white and ivory accents, it is more muted and works perfectly. 
Layered with cream icing to create a leaf design, it is simple yet bold. Alternating layers of green and white frosting, this cake design is utterly gorgeous. 
You can add a cold band to the middle tier for a pop of shimmer or leave it as is to let the cake make its statement. 
Another alternative is to add yellow roses to bring out the lime tones of the green without being too overpowering. 
While gold is the most popular option when it comes to green, rose gold is also a great pairing. It is striking and feminine and goes perfectly with the Earthy, rich tones of green. 
You can add rose gold lead to the body of the cake or you can follow the design about and use rose gold painted leaves, pink roses, and a marble green cake.
The cake itself is subtle and subdued while the flowers and leaves draw in the eye. 
With the green popping through in certain areas, it is great for a range of color schemes. Especially for a more simple wedding theme. So, if your theme is fiery red, you may want to go in another direction. 
If you are a wedding cake designer or you are a bride that wants something truly out of this world, this Olive Green Wedding Cake is for you. 
Each tier has layers of edible rice paper that are being peeled back. Almost like tree bark pulled back from the trunk. With ruffled pink roses, this is the perfect Earthy wedding cake design. 
It has texture and color, and best of all looks utterly incredible. This design is going to take some time to perfect so make sure to give your baker plenty of time for trial runs. 
Pair with identical cupcakes on your dessert table for the most adorable spread on your big day. And make sure everyone takes a cupcake or slice of cake home to enjoy. 
Final Thoughts 
Green has become an extremely popular color in hairstyles, jewelry, and wedding cakes. With thousands of shades to choose from, it can be hard to know which is going to be best on your big day. 
Above are 10 incredible green wedding day cake designs that will have your wedding being an unforgettable day.
From gold accents to tiling, you can make your design as unique as you. Or keep things simple and elegant. 
Check them out and get to designing your perfect green wedding cake. Make sure to add your own flare and have an incredible day!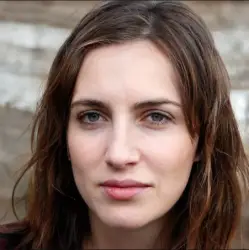 Latest posts by Anna Ingham
(see all)