Fruit desserts are perfect all year round, you can have them warm with plenty of cinnamon sprinkled on the top in the colder months or a light and refreshing creamy dessert in the summer.
No matter your preferences, there will be something you'll like in this list. 
In this article, we have included 15 different fruit desserts that are delicious and easy to make. 
A mixture between a cake and a fruit pudding, this easy recipe is quick to make and everyone will love it.
Using a premade angel food cake mix, you can save yourself tons of time and you can ensure that the cake will be of great quality. 
The cake is cut into chunks and mixed with Cool Whip or standard whipped cream if you prefer. To serve, place the mixture into individual serving cups or fancy glasses and decorate with strawberries however you like.
For a variation on this recipe, try using different combinations of fruit and even a fruit puree. 
Apples and pastry are a timeless combination. People have been cooking fruit in pastry for centuries, so it only means us humans have ended up perfecting recipes as much as possible.
These apple turnovers are a prime example of this in action. 
Pastry can be a difficult thing to make, so no one is going to judge you if you use store bought puff pastry here. Along with the pastry, you'll only need some apples, sugar, and an egg.
A simple yet tasty pastry dessert, they can be served with any accompaniment and for an occasion.
Blondies are a type of dessert bar that are similar to brownies, however, blondies use vanilla flavorings in place of chocolate flavors. Soft and moist with a brown butter frosting, these banana blondies won't last long in your house. 
Two bananas are needed for this recipe, so if you have any leftovers that are going to be tossed out you have the perfect excuse to make this dessert!
The brown butter frosting is as you may presume, made with brown sugar to help give a richer and more caramelized flavor. 
You might be wondering what this dessert could possibly be. For starters, it's a no-bake dessert that is perfect on a hot day as the creamy filling contains plenty of fresh blueberries for a sweet yet tart taste. 
Similar to a cheesecake, this recipe creates a graham cracker crumb base and a cream cheese filling. However, a lemon gelatin is used here to keep the shape of the filling along with some vanilla extract to flavor it.
A whipped cream topping finishes off the dish nicely. 
Strawberry Crisp is perfect in the summer but can also be enjoyed all year round. We recommend making this dessert when the fruit is in season as it will taste so much better.
Light and crunchy, this dessert comprises strawberries, rolled oats, and essential flavors like cinnamon. 
Although similar to a crumble, the difference is in the topping. A crisp tends to have oats and nuts in their toppings whereas crumbles are typically made of flour and butter rubbed together.
Nuts aren't added to this recipe, but there is nothing stopping you from adding your favorites to the mixture!
Clafoutis is a classic French dessert, but here the classic cherries are swapped for a tart and sweet raspberry. If you don't already know, this is a baked dessert that is made from a batter of eggs, sugar, milk, and flour.
The fruit is added to this batter so it can then be baked into the core of the dessert. 
This dessert is simple to whip up and only takes 30 minutes to bake which makes it ideal to serve at a dinner party.
Blueberry cobbler is a great comfort-food and a classic American dessert. This cobbler can be made with fresh or frozen blueberries, meaning it's perfect all year round.
We all know it's the quality of the fruit that makes the dessert taste so good. 
The batter calls for the use of ground cinnamon, you can alter the amount to suit your own tastes. We recommend pairing the dessert with some rich creamy vanilla ice cream. 
An English trifle is a popular dessert that contains custard, cream, and fruit.
Not only does it contain multiple layers of delicious and indulgent dessert elements, if you make the trifle in a clear container it can be an impressive centerpiece for the dinner table. 
Utilize any leftover sponge cake with this recipe or alternatively you can make your own sponge cake that can either be soaked in alcohol or left alcohol-free.
In this particular recipe, the fruits used are apples, bananas, figs, and pomegranates. A traditional trifle contains summer fruits such as raspberries, blackberries, and strawberries. 
A strawberry fool is a simple mix of cream and fresh strawberries, which can be made to celebrate a romantic milestone or made as a light refreshment after dinner.
We love this recipe as you'll likely have the ingredients at home. Strawberries are mashed with sugar, these can be frozen if the strawberries are out of season. 
Vanilla bean is an optional ingredient and enhances the flavors of the dish. To make this a more adult dessert you can add a splash of liqueur such as Chambord or Cointreau which adds a little kick. 
A beautiful warm crumble is the perfect addition to a lazy Sunday or after a nice long walk with a cup of tea. Crumble is usually associated with cooler months as it's typically packed with warming cinnamon and winter fruits. 
A frozen mixed berry mix is used here, with some lemon zest, sugar, and flour added to the filling.
The oat crumble topping uses brown sugar which helps cause it to caramelize and turn an iconic golden color that makes you want to get your fork stuck in. 
Sticky toffee pudding is another classic British dessert that consists of a moist sponge cake which includes finely chopped dates, a rich toffee sauce and is served with either custard or ice cream.  
This recipe has a slightly more fruit approach for a rich and indulgent treat. Bramley apples are used in the sponge to replace the dates and combined with the rest of the filling ingredients. 
A topping of dark brown sugar is mixed with boiling hot water and roughly chopped pecans before baking the whole thing. This creates a rich and gooey caramel sauce.
Add any accompaniment you like such as custard, pouring cream, or ice cream. 
Some people can find a traditional tiramisu quite rich and sickly, this fruity version is anything but. It's still delicious, but it has a light and fruity flavor which makes it easy to eat and perfect for the warmer weather. 
A layer of ladyfingers is covered with a creamy mascarpone mixture that contains the liqueur Chambord. Then a layer of tasty raspberry jam/jelly is spread over this layer and topped with the fresh macerated fruits.
There is no cooking involved here, simply cover and refrigerate before serving cold. 
The triple berry mix used in this recipe is made up of raspberries, blackberries, and blueberries. Change this combination if these choices do not suit you, but if you like all three types of berries then you'll be in for a treat. 
You'll probably have most of these ingredients already in your pantry as they are simple yet effective. A buttery mixture of flour, oats, brown sugar, cinnamon, and nutmeg are combined to make a delicious crunchy crispy topping.
Simply cover the berries and bake. 
Once baked, serve with lashing of whipped cream and some fresh fruit on top if desired for the ultimate comfort-food. 
Banana pudding is such a homely meal that will give you major cozy vibes. The pudding mixture is thick and sweet with plenty of vanilla in it.
Layered vanilla wafers are spread over the bottom of a baking dish with some of the banana sliced and some of the pudding mixture in continuous layers until you've run out of both. 
Once your banana pudding is assembled, refrigerate for at least four hours but for best results we recommend leaving it overnight.
To go the extra mile you can crush some additional vanilla wafers and sprinkle over the top before serving. 
Baked peaches? Is that it? Yes, but trust us on this one. Fresh, in-season peaches are simply to die for and when they are combined with maple syrup, brown sugar, and cinnamon they are even better.
Once they've been baked until tender, serve them with ice cream or caramel to make a more well-rounded dessert. 
The Bottom Line
There you have it, 15 different fruity desserts that you'll (see also: 15 Delicious St. Patrick's Day Desserts You'll Love To Make)love to make and are super simple.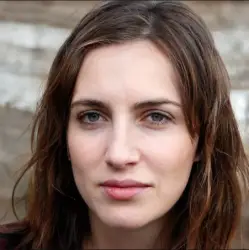 Latest posts by Anna Ingham
(see all)