Bananas are a fruit that fits perfectly into a dessert. They have a creamy texture that makes them easy to enjoy with other light trips.
They're also incredibly versatile, allowing you to combine them with different flavors to create the ultimate sweet treat.
If you have some bananas that you want some creative inspiration for, then take a look at 15 of our delicious banana desserts. You'll get the inspiration you wish to have, and before long, you'll enjoy a new world of flavor.
Nothing gets more traditional than the banana split. This is where to start if you want to start with a simple dish you know you'll love.
Transport back to your childhood by following this recipe, split your banana in half and scoop three different flavors of ice cream in between.
Traditionally, you would use chocolate, vanilla, and strawberry and then drizzle them with chocolate, strawberry, and pineapple sauces.
Include some whipped cream, cherry, and walnuts, and you'll find that this traditional sundae is super easy to make and enjoy. 
The great thing about bananas is that you can cut them into different shapes and eat them in various ways. A banana's shape makes it perfect for freezing and turning into a popsicle.
Of course, we can't forget the toppings to turn these banana pops into something more. Chocolate-covered banana pops are a popular take and easy to make but to turn them into a buster pop.
you need more. Using peanut butter to keep the banana on the stick, you then cover the banana with chocolates and roll on some crushed peanuts. 
There's no doubt that banana pudding is a staple of Southern desserts, but that doesn't mean you have to be down south to enjoy it. A classic banana pudding is similar to the English trifle because of its use of layers.
The recipe we've supplied you is for a baked banana pudding, as it's the most popular among those who have it at home.
You'll find that most banana puddings have layers of vanilla wafers, bananas, and custard, then finally topped with meringue. It's a great dessert to make ahead of time, and you can replace the custard with alternatives. 
Originating in New Orleans, bananas foster may appear as a simple dish, but what truly makes it unique is the flambé used to ignite the sauce.
However, that is the most complicated part of the recipe. However, it's not an essential part of the recipe, and you can still enjoy bananas foster without the flames.
To make bananas foster, you need butter, brown sugar, ground cinnamon, and rum, or rum extract or vanilla extract, to make the sauce. You cut the banana into pieces and put it into a pan, where you can flambé it if you want. 
If you've ever seen a comedy act, then there's no doubt that you've seen cream pies used for pieing. But you don't want to smash this pie into someone's face. Banana cream pie is a classic, and you can find it in any bakery.
However, they're easy to make at home. You don't even need to make the pie crust yourself, as anyone will do.
Just fill the banana cream pie with custard, add the sliced bananas on top, and finish it with a lot of whipped cream. Of course, you can add some shredded coconut to give it a tropical twist. 
Mousse is a simple, chilled dessert you can easily make. To make banana mousse, you need four ingredients: bananas, honey, cream, and lemon juice.
All you need to do is purée the bananas with a blender to have a smooth consistency, then add the other ingredients. This recipe is super easy to make.
Unlike other mousses, this banana mousse is vegetarian-friendly, as you don't even need eggs to make it. You can either serve it on its own or top it with whipped cream, banana slices, or some grated chocolate. 
Suppose you want to make this traditional British dessert, named for its combination of banana and toffee.
The origins of this dessert go back to the '70s when the chef and owner of a restaurant amended an American recipe for coffee toffee Pie.
But how can you make banoffee pie? You need to boil a can of condensed milk, so it becomes soft toffee.
You must crush digestive cookies to make the crust and spread the caramelized toffee mix into the pie. You then cover it with bananas and whipped cream, and you'll be able to enjoy this traditional treat. 
We can't have a dessert list without including banana bread, which has been around since the 1930s. While it didn't gain traction until the '50s, if you have bananas you need to use, then this is the perfect dessert to make.
You can easily adjust the recipe to include chocolate chips or make it without nuts. It's one of the most versatile banana desserts you can make, as you can change it for vegetarians and vegans.]
You don't even need the bananas to be ripe, as you can also use bananas that are just about to expire to eliminate food waste.
The banana cake is the next best thing if you enjoy banana bread. However, you shouldn't confuse it with banana bread, which is what banana cake is in the Philippines.
You can make it with everything you traditionally use to make a cake. It's even sweeter than banana bread and can be filled with cream cheese and topped with it.
You can make it with layers or make it as a muffin or cupcake instead. However you make it, banana cake is a recipe perfect for a quick dessert to share. 
Have you ever tried banana cream cheesecake from The Cheesecake Factory? If you haven't and don't live close to a Cheesecake Factory, you can make this delicious treat at home.
It's essentially a combination of banana cream pie and cheesecake. You have a cheesecake base made with crushed wafers, and you then make the cheesecake with some banana extract for extra flavor.
You then top it with some Bavarian cream, and you can also top it with some more whipped cream and banana slices. 
You may be looking for a healthier alternative to s'mores or a simple snack to enjoy for a small dessert. If so, these s'mores banana bites are quick to make and require minimal prep.
Slice up your banana to sandwich some yogurt and granola between them. Then, dip them in some chocolate.
While they may not be exactly like the s'mores we know and love, they offer a healthier alternative for the decadent treat.
We know that bread pudding is a perfect way to get rid of your stale bread, but you should consider adding some bananas to the recipe.
You can include raisins or chocolate chips in the pudding and get rid of some bread while at it.
Mash the bananas into the custard to get a strong banana flavor, and then place your bread and fillings to enjoy this delicious treat. Ideally, you should make it with brioche to ensure a sweet flavor, but any bread will do! 
These chocolate chip banana bars bring the best of both worlds. They're essentially blondies, but you make them with ripe bananas.
The chocolate chips and the color of these recipes stand out as chocolate chip bars, and the bananas sweeten the flavor.
You can make them in a batch so that you always have them ready for any occasion. All you have to do is freeze them, and you'll have dessert (see also: 15 Delicious St. Patrick's Day Desserts You'll Love To Make)ready for two weeks. 
What makes this banana magic cake different from your average banana cake is the use of custard in the recipe. Mix all your usual cake ingredients with mashed bananas and turn it into a three-layer cake.
In the center, you'll find that it's smooth and jiggly due to a custard center, and on the top layer, you just need to use more batter. With some powdered sugar dusted on top, this recipe is excellent for families.
Finally, we end our list with a staple classic: ice cream. Banana ice cream is easy to make, especially if you have an ice cream maker. You can use banana ice cream with a milkshake or a banana sundae.
This version of banana ice cream is even better for anyone who can't eat dairy, so it's not your traditional ice cream. 
Final Thoughts
As you can see, banana is a versatile dessert, and you can incorporate it into several recipes.
It has a sweet flavor, and it's easy to slice and crush due to its soft texture. It's no surprise that you can utilize bananas in desserts all over the world.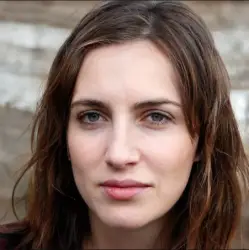 Latest posts by Anna Ingham
(see all)