Don't get me wrong, I'm not here for regular-donut slander, they definitely have their place in the world, and they are…nice.
But if you want people to describe your baking with a better adjective, and I'm sure that you do, then you need to think outside the box a little more and produce something super scrumptious.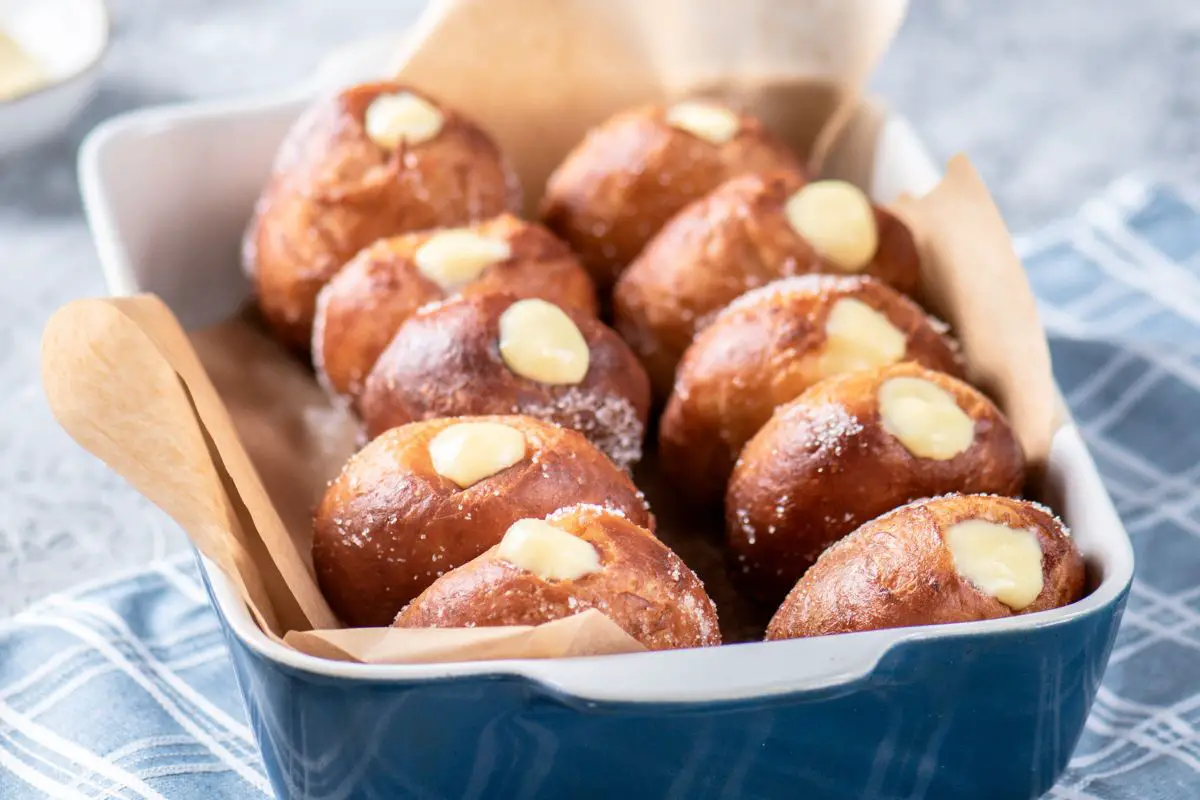 Enter cream-filled donuts.
I'm sure I don't have to tell you how divine these are. One bite and all that creamy delicious filling just starts oozing out.
Yeah, they can get pretty messy, but that's all part of the fun. You want them to be messy – it's usually a good indication that there's a delightfully delicious treat inside.
They're just so much more exciting and boast bolder and better flavors than an original glazed donut. And if exciting and delicious cream-stuffed donuts are what you want, who am I to stop you?
Below you'll find the best cream-filled donut recipes on the internet!
14 Best Cream-Filled Donut Recipes
I mean, the title really speaks for itself here. Do I need to say anymore? Well, I will anyway.
These donuts are stuffed to the brim with a cinnamon-flavored Biscoff cream custard and are then topped with some salted honeycomb to give you the most satisfying crunch to the texture.
You'll be sure to impress guests with this amazing bake if you can bare to share them. And what's great is that they take just 10-15 minutes to make, they can be prepped in advance, and store well for an extra day or two as well!
Cheesecake, Oreos, and a donut all rolled into one? Um, yes, please. These soft and fluffy brioche donuts are smothered in a vanilla glaze and topped with sprinkled Oreos. But it is the filling that really makes these an award-worthy recipe.
Using a mixture of heavy cream, cream cheese, powdered sugar, and Oreos, the most velvety and rich cheesecake filling is created.
And your donut is totally stuffed with the stuff so you can be sure that your mouth will be flooded with that creamy goodness with each and every bite.
Does ooey gooey salted caramel cream-filled donuts sound good? Of course, it does.
The brioche donuts are super light and fluffy and the filling is the perfect mixture of sweet and salty. The donut is then doused in sugar to ensure that you'll keep going back for more.
Now, it's worth noting that these delightful treats are definitely a labor of love, taking around two days before they're ready to eat. But trust me, they are definitely worth the wait.
These donuts have a more delicate and sophisticated flavor that is reminiscent of Eton Mess just without the meringue. I couldn't think of a better treat for a tea party or afternoon tea.
This recipe uses fluffy and delicious donuts that are filled with super creamy whipped vanilla ricotta cream which is mixed with sweet roasted strawberries.
Definitely don't forget to roast the strawberries as it makes their flavor bolder and much sweeter.
These donuts are scarily delicious. As in, it scares me that I'll eat the entire batch to myself. The dough is tender and melts in your mouth and that pistachio cream is absolutely delectable.
I find that this recipe is best for the festive season. They are a great Christmas option that the whole family is sure to love.
How could you possibly curate a cream-filled donut list and not mention the iconic Boston cream donut?
And honestly, this recipe will have you wondering if you bought these from one of the best bakeries around they're that good.
The dough is so fluffy and light and then that classic yellow cream is so moreish it's addictive. Then, of course, they are dunked in a delightful milk chocolate glaze that you'll be sure to eat by the spoonful.
Prewarning, they can take a bit of time to make – but all your efforts will be rewarded the moment you take that first bite.
Move out of the way blueberry muffin, there's a new breakfast baked good on the block, and it's so much better.
These blueberry cream cheese donuts are possibly one of the best donuts I have ever had the pleasure of trying. And if anything is going to get you up on a bleak and rainy Monday morning, it's these.
The donuts are light, crispy, and heartwarming. The filling? Fruity, sweet, tangy, creamy, delicious. And the secret ingredient of maple syrup just alleviates them to a whole new level.
If super sweet and sickly isn't your thing, then you need to try these delicious donuts. A baked good and a hit of coffee all in one – what more could you ask for?
These deep-fried donuts are lighter than air, smothered in chai-spiced sugar, and then generously filled with rich espresso cream with a blend of delicious fall spices.
It's the perfect winter warmer for those colder mornings.
Are you a fan of peanut butter cups? Well, then you're going to adore these peanut butter cream-filled donuts. The dough is delicate, light, and soft, and then drizzled in a chocolate and heavy cream mixture.
And then the filling. Wow. This creamy sweet yet salty mixture is unbelievably tasty.
And since it is so generously stuffed, be sure to keep a napkin to hand as it oozes out after each and every bite…I think things are about to get deliciously messy.
Apparently, no one does donuts quite like the Irish. This recipe is sure to be highly coveted by all that try your baking goods.
The donut melts apart in your mouth and is so fluffy and airy that you could actually mistake it for a cloud.
And then, of course, there is that Irish cream filling that will flood your mouth and tantalize your taste buds. It's creamy and has a hint of chocolate and then that slightly boozy taste from the Irish Cream liqueur.
These would be sure to go down a treat at Christmas, or St. Patrick's Day, but really there's no wrong time to sink your teeth into these delicious donuts.
If there were one ingredient that would automatically improve the already outstanding recipe of a donut, it's definitely chocolate.
I'll warn you now, though, that these are seriously addictive and are likely to disappear within seconds. So, it's probably a good job that this recipe makes 20 of them.
For this recipe, you'll be cramming your sugar powdered donut full to the max with a super rich and totally chocolatey cream that is finger-licking good.
Is there a better Fall flavor than Pumpkin Spice? I think not. Well, today we're going to put down the autumnal-spiced lattes and swap them out for creamy and delicious donuts instead. Sound good?
I actually think these make the perfect Thanksgiving treat for when you can't quite stomach a massive slice of pie after that big meal but still want a small sweet snack.
Plus, these donuts incorporate pumpkin pie spice, canned pumpkin, and cream cheese in the filling so you can be sure to get all your favorite Thanksgiving flavors.
Super decadent cream-filled donuts can be great, but sometimes they can be a little too sweet and a whole lot too sickly.
If you fancy something a little bit lighter, then this lemon cream donut recipe will be the one for you.
The filling is sweet and citrusy with a mix of lemon curd and whipped cream and the dough is fluffy and super duper light.
These treats are sure to brighten your day and give you a much-needed burst of freshness to your tasty treat.
These donuts make the perfect afternoon tea treat, with their soft and subtle, unique flavor.
The dough itself is actually spiced with lemon zest and rum to give it a little extra oomph and then once you bite into them you are greeted with a burst of fruity, tart, yet velvety raspberry and cream cheese filling.
These are the perfect option for those who love a jam donut but fancy something a little more indulgent.
They still have that burst of freshness and fruitiness, but there's just a much richer and creamier texture to accompany them.
Final Thoughts
There's nothing better than biting into a deliciously light and melt-in-the-mouth dough to be greeted by an indulgent and scrumptious filling just oozing out of it. And as you can see from this article, there are so many different flavors to try.
Whether you're looking for something fresh and fruity or super sweet and sickly, there is an option for you.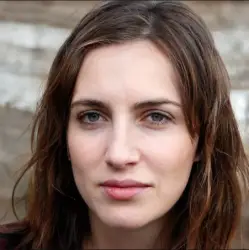 Latest posts by Anna Ingham
(see all)