Wine and donuts might seem like an odd pair of flavors to throw together in the kitchen.
Sure, rosé wine has a mildly sweet flavor to it, thanks to its fruity ingredients. But it also has a tartness and even sourness or crisp feeling on the mouth.
How exactly does that fit well with something as unabashedly sugary sweet as a donut?
And yet, that's exactly what so many chefs across the world have managed to do, resting all kinds of recipes for this flavor combination to work with.
So, to answer the last question, 'how do rosé wine and donut flavors work together?', the answer, it turns out, is quite well!
If you're looking to find a way of adding your rosé wine to your next batch of donuts, we have the perfect list for you!
From chocolate and strawberry, from vegan to paleo-friendly, we have a list of rosé wine donut recipes that are going to blow your socks off.
Or, failing that, give you the perfect recipe to kick back and relax in your socks with!
Before we get into the out-there recipes, we should first cover what a 'classic' version of this recipe looks like.
As you'll see with many of these recipes in this guide, the real trick to adding rosé wine as a flavor to your donuts is to use your rose in a glaze recipe.
The rosé wine adds that classic fruity flavor that you might associate with this kind of wine.
That sour flavor blends well with the more mellow and neutral, though still slightly sweet donut cake that you'll be putting on.
On that note, this is a donut recipe where the batter is baked in the oven, with a baking time of just 26 minutes.
However, if you're looking to give these donuts as much time as they need to cool off and down, you'll probably be looking at around an hour or longer.
Overall, it is a very solid start to this cavalcade of flavors that is about to unfold!
Of course, donuts aren't just a cake and glaze. At least not all the time. Some people like to add some extra toppings for color or flavor.
For some people, that's sprinkles or chocolate flakes. For this recipe, it's crushed pistachio on a rosé wine glaze!
Wine and pistachio is a flavor combination that goes back centuries, especially in the Middle East, where the flavors for this recipe are inspired from.
The stronger, vibrant flavor of the wine glaze is balanced out here by the savory flavor of the crushed pistachio.
While the original or traditional version of the recipe would have called for rose and rosewater, the author of this recipe uses rose wine instead, adding a ton of sweeter flavors to the mix.
The results speak for themselves and make this a dish that we immediately want second-helpings of. Pair this donut with a coffee to go, and you have the perfect quick-morning pick-me-up.
So, how exactly can these older flavors be improved?
Why, by adding more flavors, of course!
You can't just add any old taste or ingredients to a flavor profile as distinct as rosé wine glaze. It needs a little something extra.
Well, rosé wine has a somewhat tart fruity flavor to it, right? Well, why not add to that with another strong and tart fruity flavor?
That's where this recipe comes into the mix. By adding lemon zest to the donut cake batter, you not only get to add a flavor that is perfectly complementary to your rosé wine but also spread that sweetness throughout the rest of the recipe too.
It's not just the glaze giving this donut its flavor, but the batter itself too!
If you're looking for the perfect decorative item to add to your donut glaze with pistachio pieces, we recommend trying out edible rose petals, to bring that rose back home!
Adding spices to a donut is nothing new. Just ask anyone who is a fan of that classic combination of cinnamon sugar donuts!
However, if you're adding a new flavor or ingredient to the mix, such as, say, a rosé wine glaze, then you may find that the old spices just don't work as well as they originally did.
That leaves us trying to find new flavors to sprinkle on our donuts.
Fortunately, as this recipe shows, there are plenty of other flavors out there to try!
Drawing once again from Middle Eastern flavors, this recipe uses cardamom as its spice of choice for extra flavor.
The mellow, fruity, almost pine-like flavor makes for an excellent substitute, whereas traditional spices like cinnamon would probably not work as well.
Of course, don't let us stop you from trying your cinnamon-cardamom toppings on your rosé donut cake!
We've covered a lot of different ways to make a great rosé glaze and all the extra toppings to go with it.
But we haven't exactly talked much about making whole new flavored donuts for your dessert table, outside of a surprise lemon-flavored addition.
Well, let's change that, with a classic donut recipe that is improved by our rose flavors!
This next recipe creates an amazingly rich white chocolate donut that is light and fluffy to the bite, while still being full of that chocolate flavor that you're looking for.
And, of course, we can't forget about the rose flavor, which is added to the baked donut, giving a flavor that somehow seems even sweeter when paired with the chocolate flavor.
Rose water is a subtle sweetness, with a fragrant aroma. Two qualities phenomenally improve the classic white chocolate flavor that you would expect from a donut like this.
And that's not even mentioning how amazing the raspberry flavor glaze is. Made from fresh raspberries, this is leaps and bounds better than simply using a raspberry extract for your glaze.
(Of course, if you can't source fresh strawberries, an extract will work just fine. We just prefer the freshness that the berries bring when being reduced down!)
Vanilla is a very popular ingredient to use in virtually all dessert recipes, much less just donuts. Heck, you'll probably struggle to find one that doesn't use vanilla at all!
However, most of the time, when we use vanilla, we're using vanilla extract. Vanilla can be added to recipes in several ways, such as from the plant that it grows from, or here, as this recipe shows, make from vanilla beans!
Grinding the vanilla beans down and mixing them with sugar makes for an ingredient known as vanilla sugar, which has an almost caramel-like sweetness, thanks to the freshness of the vanilla being used.
It is a flavor that mixes surprisingly well with the rose water that is also used in the recipe.
The aromatic, subtle flavor of the edible rose-infused water synchs perfectly with the flavor profile of this ever-popular dessert flavor, now brought into bean form!
Donuts and diet plans feel like they don't even belong in the same article, much less the same sentence!
And yet, if you're using the right ingredients, you can make a donut recipe that manages to cover all these needs, without breaking any rules.
The flour you're using, if freshly baked, should have no gluten, and stay easy on the grains.
And you don't have to worry about gluten or grains/other paleo-unfriendly ingredients with the rose water, of course.
It's a flavor that is perfect for these kinds of dietary restrictions, with its low carb and simple makeup.
We've shown some amazing donut flavors that you can find for yourself in this guide. And yet, all those sweet flavors and cake batter recipes so far mean nothing if you're restricted by a vegan diet.
Does this mean that a plant-based rosé-glazed donut is off the table for you, however? Of course not. And this recipe is here to prove it!
By using a little vegetable oil in your batter mix instead of eggs, you can get a recipe that tastes and feels just like a regular donut does. Only here, you're enjoying all the same flavors, without any of the animal products to boot!
This vegan donut is also a chocolate donut, so you can still get that cocoa-tasting flavor, without having to worry about dairy products getting in the way!
If you're struggling to get the cake batter out of the mold after it has been baked, you should try refrigerating the donut in the fridge or freezer for 20 to 30 minutes!
Final Notes
So, there you have it!
Rose water and rosé wine are two very interesting flavors that aren't used nearly enough in sweet dessert recipes, as far as we are concerned.
Hopefully, this guide has shown you just what you can do when with the right recipe. It can even turn your favorite drink into the perfect dessert!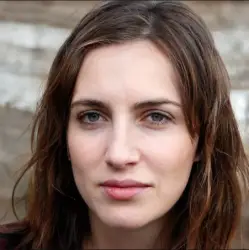 Latest posts by Anna Ingham
(see all)