If you're getting married soon you'll understand there is a lot of planning involved.
And with the big day fast approaching, it's time to start thinking about a beautiful wedding cake that will make your garden wedding one to remember. 
From traditional cakes like classic white wedding cake and angel food cake, to modern creations such as rustic semi-naked cakes and buttercream layers with fresh flower decorations, this guide will help you find the perfect garden wedding cake recipe for your special day. 
Options For A Great Garden Wedding Cake
You may want to choose a design that's inspired by nature, with fondant flowers, leaves, butterflies, or even ladybugs.
If you're having a rustic celebration, consider going for something more classic like a buttercream frosted tiered cake with edible pearls or sugar flowers.
For an elegant affair, try a sophisticated single layer design decorated with intricate piped lace patterns or delicate sugar blossoms.
In addition to the decorating style of your garden wedding cake, you should also consider the flavor and type of cake you want.
Popular flavors include lemon raspberry, white chocolate mousse, almond amaretto sponge cake, and even red velvet!
You can use a variety of fillings, anything from fresh berries to decadent ganache or cream cheese frosting.
Traditional cakes are the perfect choice for a classic garden wedding! These cakes have been around for centuries and still remain popular today.
Traditional cakes often include fruits, nuts, spices, and liqueurs to create a unique flavor and texture. 
Classic flavors like vanilla, almond, or lemon work well as a base with added elements such as chocolate ganache or fresh berries combined to give the cake an extra special touch.
A traditional cake is usually three tiers with either buttercream or fondant frosting.
The design of the cake can be kept simple with swirls of frosting and topped with sugar flowers or fruit, or more intricate patterns can be used for an eye-catching display. 
White wedding cakes are a classic choice for any garden wedding! Whether you're looking for something simple and elegant or something more elaborate, white cakes give you the perfect blank canvas to create a stunning cake. 
You can choose from single or multiple tiers and incorporate different flavors, icings, and decorations to make it your own.
Many couples opt for white fondant icing as this gives a smooth finish which is perfect for creating intricate details with royal icing.
White buttercream is also an option and is used to create a more rustic look with swirls of frosting or piped patterns. 
A white cake looks great decorated with sugar flowers, fruits, edible pearls, ribbons, or even sketches of the couple – there are no limits when it comes to decorating your white wedding cake!
If you're looking for a classic and timeless wedding cake, then traditional vanilla or chocolate is the perfect choice! Vanilla cakes are light and fluffy with a hint of sweetness, while chocolate cakes are rich and decadent. 
To make these cakes even more special, try adding some delicious fillings between each layer such as cream cheese, raspberry jam, fresh fruits or mousses.
Frost your cake with a buttercream or ganache icing to give it an extra touch of indulgence. 
Whether it's a small two-tier cake for an intimate gathering or multiple tiers for a larger event, traditional vanilla or chocolate is sure to be a hit at any garden wedding!
Angel food cake is the perfect pick for a garden wedding! Not only is it light and airy, but it's also incredibly delicious.
The texture of angel food cake is unique because it's made with beaten egg whites and no butter or oil, so it's a great choice if you're looking for something a bit healthier. 
You can keep things classic by simply topping your cake with fresh fruit or get creative and add some fun decorations like mini macarons, edible flowers or even meringue kisses.
For an extra special touch, try adding some whipped cream or a drizzle of honey – this will create an amazing contrast between the sweet and tart flavors.
Angel food cake makes for an elegant yet simple dessert that all your guests are sure to love!
Velvet Cake is the perfect addition to any garden wedding! Rich, creamy and oh-so-decadent, this type of cake is sure to tantalize your taste buds.
The velvety texture makes it ideal for a special occasion, as it's both elegant and indulgent. 
Plus, you can customize it however you like – from incorporating seasonal fruits or berries for a unique flavor twist to using colorful decorations like edible flowers and meringue kisses for an eye-catching look. 
Mini cakes arranged in a bouquet style are one of the most stunning and unique ways to present your wedding cake.
This creative approach allows you to have multiple cakes you can customize with different flavors, colors, and designs.
Plus, it also offers the opportunity to showcase a variety of delicious treats such as macarons, chocolates, or even mini cupcakes. 
By arranging them in a bouquet style, you create a beautiful display that will wow your guests.
And best of all, you don't have to sacrifice on taste – you can add your favorite flavors and fillings to each mini cake so that everyone at the table can enjoy something special! 
Modern cakes are a great way to make your wedding cake stand out. With sleek, contemporary designs and fun flavors, modern cakes can truly be a showstopper on your special day. 
Not only are they visually appealing, they also offer the chance to explore creative flavor combinations that you won't find in traditional recipes.
From red velvet and white chocolate to citrus and matcha, there's something for everyone! 
It's easy to put your own spin on modern cakes with unique decorations such as edible flowers or colorful sugar confetti. 
Rustic-style semi-naked cakes are the perfect way to add a touch of charm and whimsy to your garden wedding cake table.
To create a semi-naked cake leave a thin layer of frosting on the outside, which gives them an effortlessly rustic look. 
Decorate your cake with fresh fruits and edible flowers for a truly unique and beautiful presentation.
Plus, because the layers are left exposed, you can really play around with creative flavor combinations that you won't find in traditional recipes. 
From lemon and raspberry to velvet and white chocolate, there are so many delicious possibilities!
And since semi-naked cakes don't require any elaborate decorations or intricate designs, they're also much easier to make than other types of cakes. 
When it comes to planning a wedding, couples often choose a theme that reflects their personalities and style. If you're dreaming of a romantic coastal-inspired wedding, why not include the beauty of the sea in your cake design?
There are many ways to bring this theme to life with a stunning garden wedding cake.
Whether you prefer bright colors and bold designs or more subtle touches of nature, there are plenty of ideas out there for creating an eye-catching masterpiece.
One popular design is the abstract water feature cake. This unique creation features soft blue hues and golden details that evoke images of tranquil seaside moments.
The addition of natural shells on top completes the look with a rustic yet sophisticated touch. This type of creation offers a beautiful way to celebrate your love while also honoring the beauty of the sea.
When it comes to displaying your garden wedding cake, there are plenty of creative ideas to make it stand out. One option is to build a custom cake stand with tiers for each layer.
This will give the cake an elevated look and also provide guests with easy access when it's time to cut the cake. 
Alternatively, you could place the cake on a pedestal surrounded by potted plants or even place it on a swing and wrap a garland of flowers around its base.
For extra pizzazz, you can hang paper lanterns from nearby trees or string fairy lights around the cake table for added sparkle. 
Final Thoughts
When it comes to wedding cake ideas, there's no shortage of inspiration out there!
Whether you go with a classic tiered cake or something more unique like mini cakes, cupcakes or themed tables, the important thing is that your wedding cake reflects you and your partner. 
Remember to take your time when making decisions and don't be afraid to ask for help from family and friends.
Most importantly, have fun with it – after all, this is one of the most special days of your life! And you want to make it a day to remember. Happy wedding planning!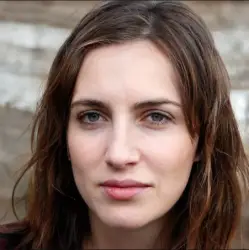 Latest posts by Anna Ingham
(see all)