We all know that donuts are one of the best sweet treats out there, and it can be enormous fun making your own because you get to choose what tasty flavors you want and the style of the donut.
However, sometimes you just want the delicious donut right here, right now, and you don't want to spend lots of time in the kitchen baking them!
So what can you do? The answer: canned biscuits.  
While donuts aren't the hardest or most time-consuming sweet snacks to make, they can still require quite a handful of different ingredients.
Sourcing and using these certainly takes time, which is why plenty of donut recipes use pre-made things like canned biscuits instead.
These doughy delights can be used in place of various ingredients, helping you get the donuts to your mouth much more quickly. 
In our delicious guide below, we've got the 10 best biscuit donuts recipes that you will simply love.
Whatever your tastes, you're sure to find time-saving canned biscuit donut recipes in our list that become future favorites. Read on!
10 Best Biscuit Donuts Recipes You Will Love
We're starting our list with a classic example of an easy canned biscuit donut recipe, which will give you brilliantly light and fluffy ring donuts in no time at all.
Better still, each donut is coated in a brilliant mixture of cinnamon and sugar, which gives each sweet treat a fantastic blend of sweetness and spicy warmth.
When we say that these biscuit donuts take no time at all, we mean it!
Using just 5 ingredients, these donuts should only take you about 10 minutes to prepare and then a mere 5 minutes to bake.
This makes them the ideal snack to throw together in the middle of the day for your kids, or a fantastic sweet snack to enjoy after dinner one night.
You'll need a can of biscuits for these, which will save you time and effort as a substitute for a variety of other baking ingredients.
Meanwhile, the cinnamon and sugar mixture that the donuts are coated in couldn't be simpler to make: it's just sugar and some cinnamon!
The hint of warm spiciness that the coating gives really makes the donuts go down a treat, filling you with a warm tingle.
Our next recipe tells you how to make some equally-easy canned biscuit ring donuts, each fluffy and perfect so that they melt in your mouth.
Better still, though, these donuts also have delicious glazes on top of them, making them extra sweet and tasty.
Once again, these biscuit donuts are totally quick and easy to make, taking just 5 minutes to prepare and 10 minutes to cook.
Better still, each donut is again covered in a terrific mixture of sugar and cinnamon, giving each one a subtle boost of sweetness and spiciness.
Meanwhile, the recipe also tells you how to make vanilla glazings and chocolate glazings for the donuts.
Each of these are very simple to make, and the difference in flavors between the sweet vanilla and the rich chocolate will really make your donuts stand out.
You can use just one type of both, alternative them between your batch of sweet treats!
We've only looked at ring donuts so far, so it's about time we looked at a different (yet equally delicious) type of donut: the donut hole!
These are basically little balls of donut, and they make for fantastic bite-sized snacks.
Even better, this recipe tells you how to make ball donuts in the simplest and quickest way, thanks to the use of canned biscuits. 
Besides the canned biscuits, all you'll need is 3 other ingredients: ground cinnamon, granulated sugar, and a type of oil for frying.
Once again, these donuts have a terrifically tasty mixture of sugar and cinnamon coating their tops, which also gives the donuts extra texture that will melt in your mouth.
Our next pick is another recipe with some biscuit donut holes, only this time they've got a brilliant, oozing strawberry jelly filling that will drive your taste buds wild! 
Though ring donuts are great, and possibly the most popular type of donut out there, they have the key shortcoming that you can't really fill them with anything.
This is where donut hole donuts come in, because you can fill the balls with all kinds of delicious liquids. 
Not only do these biscuit donut holes have a fruity, sweet strawberry jelly filling that simply oozes out of them when you take a bite, but they're also coated in a wonderfully sticky and sickly glaze that's made from powdered sugar, heavy cream, and yet more strawberry jelly.
That's right, these snacks have a double dose of tasty strawberry jelly, making them extra fruity and flavorful!
This next recipe brings us back to the delicious world of ring donuts, only now these fluffy and light treats have been covered in a brilliant caramel glaze!
They may sound complex, but these donuts couldn't be easier to make, taking just 5 minutes to prepare thanks to the use of canned biscuits replacing most of the typical donut ingredients. 
Meanwhile, the caramel glaze that coats the top of each donut is pretty easy to make too, and it's a glaze that you're sure to be throwing together for all kinds of other desserts afterwards.
You'll need 5 ingredients for it, including brown sugar and vanilla extract, and it has the classic rich and extremely sweet flavor that you expect from caramel.
Meanwhile, you can also add extra toppings if you want, such as nutty pecans or sweet sprinkles.
Our next recipe is another example of biscuit donut holes that are packed with a supremely tasty filling, although rather than fruity jelly this time it's a creamy vanilla mixture!
Though the donuts are already light and sweet, these make them even moreso, and these treats are super easy to make too, thanks to the use of canned biscuits for the dough.
For the vanilla cream filling, you'll need ingredients such as shortening and confectioners' sugar.
These are whipped together with white sugar in a bowl until the mixture is creamy, at which point you throw in some vanilla extract too and then beat the mixture until it becomes fluffy and light.
The result is a supremely creamy and sweet filling that really brings each biscuit donut to life, adding a hint of the floral and the refreshing with the vanilla flavoring. 
There are plenty of ways that you can bake a donut, but this next recipe will tell you how to make biscuit donuts in your very own air fryer.
This makes the donuts even easier to make than normal, allowing you to throw together these delicious snacks whenever you please!
For added flavor after you've made them, try serving the biscuit donuts with a fruit compote, giving them a brilliant rush of fruity sweetness.
Our next biscuit donut recipe is one that's brilliant to have all year round.
However, it's an especially great pick to enjoy during fall and Halloween, thanks to its strong and warming pumpkin spice flavoring. 
These donuts are ridiculously easy to make, taking just 10 minutes to prepare and requiring only 3 ingredients!
The chief time-saver of these ingredients is obviously the canned biscuits, and the donuts get their main flavor from 1 and a half teaspoons of pumpkin spice, which has been combined with granulated sugar beforehand for extra sweetness. 
Speaking of biscuit donuts that are great to have around fall and Halloween time, you can't get more Halloween-themed than these witch broom biscuit donuts!
Each one of them has an elaborate and colorful design on top that's made out of frosting and pretzel sticks, and the design depicts a spooky witch's broom and a bat.
Given that these spook-tacular topping designs are quite elaborate and will takes a reasonable amount of time for you to frost, it's very useful that you're going to be saving plenty of time by using canned biscuits for the donut dough!
For our final recipe, we've got a biscuit donut that's patriotic and designed with stars and stripes colors.
Naturally, these delicious snacks are the perfect dessert treat to whip up for your annual 4th July celebrations, where they'll go down a treat!
The stars and stripes designs come from a combination of white frosting and red and blue candies, such as M&Ms or sprinkles.
You can have a lot of fun making these toppings, and customize them however you want with other types of candy.
Final Thoughts
Biscuit donuts are super quick to make, thanks to canned biscuits replacing plenty of ingredients! Find the best with our tasty guide.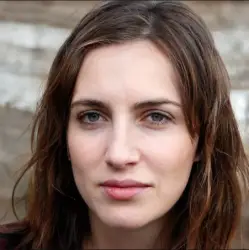 Latest posts by Anna Ingham
(see all)