When it comes to delicious donuts, one of the best sweet treats out there, you're spoiled for choice.
There are all kinds of different flavors for you to pick from, as well as different types and various designs for you to enjoy.
One of the most overlooked, and most playful designs, though, is the rainbow donut!
If you've never come across a rainbow donut before, they're exactly what they sound like!
All the delicious, doughy goodness of a regular donut, but with a dazzling rainbow design, covered in all the iconic colors of the rainbow.
Colorful and fun, they're the ideal type of donut to make with your kids or serve at a joyous party.
In our delicious guide below, we've got the 10 best rainbow donuts recipes that you will simply love.
Whatever your tastes, you're sure to find future-favorite rainbow donut recipes in our list. Read on!
10 Best Rainbow Donuts Recipes You Will Love
We're starting our list with a classic example of a rainbow donut, with a donut that's made of a multitude of rainbow colors, along with some dreamy lemon icing drizzled over the top.
These colorful donuts are the perfect treat to cheer up any snack time, and they're a great food to make with your kids, who will love the donuts' dazzling appearance. 
Even better, the donuts are totally quick and easy to make!
They take just 20 minutes to prepare and then 15 minutes to bake, making them the perfect sweet treat to throw together after dinner or for a fun breakfast.
While some other rainbow donuts will have rainbow-colored icing, with this recipe the donuts themselves are rainbow colored, with food coloring actually used in the dough.
This is easily done, too, with the mixtures being swirled into the cavities of the doughnut pan so that they will then leak into the delicious donut batter. 
Although our previous recipe was extremely easy to make, these next rainbow donuts are somehow even quicker and simpler to make!
This is because the recipe used boxed cake mix, which will save you time and save on you having to buy extra ingredients!
Meanwhile, it requires just five other ingredients after that.
The donuts have rainbow coloring in their deliciously soft dough, and these colors are achieved thanks to a variety of different food coloring.
You'll need pink, blue, teal, yellow, and purple.
The donuts are also dipped into icing, so that each of them has a terrifically tasty frosting on top.
Our next pick is something a little different, giving you rainbow donuts but in a very different way to the previous recipes!
With these, each donut of the batch has its own single color from the rainbow, so that when all the donuts are put together it looks like a complete rainbow.
It's an ingenious idea, and is especially good for using at a party!
Naturally, you'll need a handful of different food colorings, so that each donut gets its color. You need red, green, blue, purple, yellow, and orange. 
Meanwhile, each deliciously soft and fluffy donut has vanilla frosting on it for extra texture and taste.
Better still, these donuts are incredibly easy to make, taking a total of just 22 minutes!
These super sickly and colorful donuts are sure to delight anybody, especially young children, and they're each topped with a sugar glaze and plenty of colorful sprinkles.
They get their "unicorn" name from a rather unappetizing place – the idea that children's idea that unicorns "poop" rainbows!
However, we can assure you that these delicious donuts taste a lot better than the origin of their name suggests.
You'll need a small handful of baking staples to make these donuts – all the stuff you'd usually expect, such as a vanilla extract, unsalted butter, baking powder, flour, and so on.
Additionally, you need neon food coloring too. The recipe recommends pink, green, blue, and purple, which will give you a perfect rainbow appearance.
Meanwhile, the sugar glaze is really easy to make! All you'll need is some powdered icing sugar and some milk, as well as plenty of unicorn sprinkles to decorate it.
Of course, the rainbow is a proud symbol of the LGBTQ+ movement, so you can make rainbow donuts that specifically celebrate it!
These terrific rainbow donuts are extremely colorful and extremely fluffy, as well as being covered in plenty of sprinkles of all colors.
And on top of that? Each donut is in the shape of a heart! These are lovely, loving rainbow donuts that celebrate pride, and it's an ideal recipe to follow.
You'll need a handful of ingredients to make these heart-shaped rainbow donuts, but they're still totally easy to throw together, taking just 10 minutes to prepare and then 10 minutes to bake.
You need a range of food colorings to get the right rainbow appearance too.
Meanwhile, there's also a deliciously simple vanilla glaze you can create, which will make each delicious donut even more delicious!
Rainbow donuts are such a fantastically fun and tasty treat that you won't want anybody missing out on them, so this recipe for vegan rainbow donuts is a life-saver!
If you're a vegan, you'll love making these rainbow donuts, which use alternative vegan ingredients to the kinds of things you would normally use in other recipes.
For example, you can use water or almond milk when making the donuts themselves, and almond milk is also used in the making of the icing.
Who needs cow's milk! The end result is just as delicious and colorful as any other recipe, while allowing vegans to share in the sweet treats.
Perfect! Even better, the cooking time is just 20 minutes.
We've been missing a very important part of donut culture so far throughout our list: chocolate!
Chocolate is one of the very best flavors to find in a donut, making these fantastically delicious sweet treats that extra bit nicer, with their rich and sickly taste.
Thankfully, these rainbow donuts have a chocolate ganache icing that will tickle your taste buds!
Rather than using food coloring, these rainbow donuts get their fantastically colorful rainbow appearance from you folding rainbow nonpareils into the batter!
Better still, you can then add the remaining rainbow nonpareils to the icing, giving the treats an extra dose of color. 
Meanwhile, the chocolate ganache icing is wonderfully easy to make. All you need is some milk and 2 cups of chocolate chips. Simple!
All of the rainbow donuts we've looked at so far have been ring donuts, but we'd be silly to miss out some delicious donut holes instead.
These are essentially ball-shaped donuts, and you can make these simple donuts with individual colored toppings which, when all the donuts are put together, make a collective rainbow. 
However, these are no regular donut holes either!
These special rainbow donuts actually involve dough that's been wrapped around a mouth watering marshmallow, and then dough has been baked until the marshmallow inside it melts.
The result? A fluffy donut that's packed with gooey marshmallow!
Meanwhile, each donut hole is topped with a color of the rainbow, as well awesome rainbow sprinkles.
Of course, sometimes you want a donut that's a little more bite-sized, either as a snack or as the perfect party food to keep guests coming back for more.
Thankfully, this is where these mini rainbow donuts are the ideal answer!
Simple and quick to make, these tiny delights have all the delicious taste of a donut, as well as a wildly colorful rainbow appearance.
Better still, they don't even need extra time for decorating! They stand on their own.
For the rainbow coloring of each mini donut, you need to use food coloring gel or paste.
Naturally, the colors to use are red, orange, yellow, green, blue, and purple! The batter is put into six small bowls, with a different food coloring being added to each.
We're finishing our list with rainbow donuts that are a little different, because this recipe uses refrigerated biscuit dough!
This saves you plenty of time and saves you from having to buy extra ingredients too, making these rainbow donuts an especially simple and quick option. 
Meanwhile, each donut either has white or pink icing on top of it. Obviously, this isn't quite enough to make them look like rainbows!
Which is why plenty of rainbow sprinkles are then added on top of each, bringing these sweet treats the dazzling multi-colored appearance of a rainbow. 
Final Thoughts
Rainbow donuts are the ideal snack – deliciously tasty and totally dazzling to look at!
Whether they've got rainbow-colored dough, rainbow sprinkles, or even both, you'll love the recipes in our tasty guide.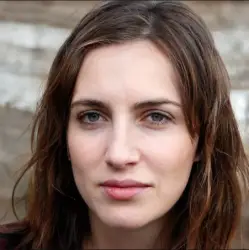 Latest posts by Anna Ingham
(see all)