When it comes to food, the Italians know a thing or two!
Whether it's fantastically tasty savory dishes or incredibly delicious and sweet desserts, Italian cuisine is one of the best in the world.
This is especially true when it comes to donuts, and Italy has all kinds of different varieties of donuts that will have your mouth watering. 
From Bomboloni to Zeppole, there are all kinds of special Italian donuts that are unlike anything you'll typically have, with their own fantastic ingredients and brilliantly fluffy textures.
They're all must-try sweet treats – and you'll never look at a regular donut the same way again!
In our delicious guide below, we've got the 10 best Italian donuts recipes that you will simply love.
Whatever your tastes, you're sure to find some light, scrumptious Italian donuts that become future favorites. Read on!
10 Best Italian Donuts Recipes You Will Love
We're beginning our guide with a fantastic example of one of Italy's best types of donut, the delicious Zeppole.
Rather than being a ring donut, these are in the form of "donut hole" donuts, which are basically little balls of tasty dough.
Each one of these has an incredibly fluffy center that simply melts in your mouth, and the outside has been rolled in sugar to make them extra sweet.
Even better, these tasty Italian treats are incredibly quick and easy to make, taking just 10 minutes to prepare and a further 20 minutes to bake.
This makes them the ideal Italian snack to throw together one evening after dinner, or you could even make it as an early breakfast treat.
On top of that, all of the ingredients are typical baking staples that you'll be used to using.
We're talking things like granulated sugar, unsalted butter, whole milk, eggs, and so on!
It's a short list of common ingredients, and you'll be able to whip them all together in no time, leaving you with delicious Zeppole donuts. 
Our next pick is another one of Italian cuisine's famous donuts, the perfectly fluffy and filling Bomboloni.
These are another example of ball donuts, or donut holes, and each of them is filled with a completely taste bud tingling Italian pastry cream that oozes out when you bite into them.
On top of that, each ball is rolled in sugar for extra sweetness.
Each Italian Bomboloni donut is completely light and fluffy, and the luxurious pastry cream inside adds so much.
An Italian special that you won't find in other cuisines, the cream also goes by the name of "crema pasticciera" and it'll give you an especially strong taste of Italy.
Even better, the cream is really easy to make, because you'll only need 6 ingredients for it!
These include vanilla pasta or vanilla bean, which give it the classic sweet and floral taste, and some lemon zest to give it an edge of citrus sharpness. 
So far, the Italian donuts we've looked at in our list have all been ball donuts – also known as donut holes.
However, ring donuts are some of the most common types of donut in the world, so it's important that we include an Italian ring donut too!
This is where the Graffe Napoletane comes in, which has a great ring shape and a fantastic flavor.
To make these classic Italian donuts, you'll need a variety of baking staple ingredients, making them pretty easy to throw together.
In addition to those, you'll also be using the zest of a lemon and the zest of an orange, two fabulously refreshing fruits that give the donut a subtle hint of citrus sharpness, which really emboldens the flavor.
Meanwhile, each Graffe Napoletane Italian donut is coated in some white sugar at the end in order to give it a little extra sweetness, as well as a melt in your mouth texture.
This next pick comes all the way from Sicily, where these delicious Italian donuts known as "Sfingi" were born.
Now you get to enjoy this classic of Italian dessert cuisine, which has a pretty unique shape when compared to your more typical donuts!
Each of these looks deliberately misshapen and rough, which make them stand out from other donuts in a unique and interesting way. Not to mention, they taste great too!
The ingredients for these Italian donuts are once more typical baking staples, but it's worth noting that you'll also be throwing a tablespoon of cinnamon into the mix.
This, combined with the unique shape of each of these Sfingi donuts, really sets these sweet treats apart.
Why? Well, cinnamon is a fantastic addition to any donut, giving it a subtle edge of spiciness that will warm your stomach but not overwhelm your taste buds. 
Our next best Italian donut goes by either the name Frittelle or Ciambelle.
One thing is for sure, though, and that's the fact that it's a must-try dessert treat that you'll keep coming back to again and again!
Popular during the carnival or Christmas periods, these Italian donuts are supremely soft and have a wonderful citrus edge to them, thanks to their lemon flavoring.
These are ring donuts, too, which will make them popular with a lot of donut lovers.
You need classic donut ingredients for these, such as butter, sugar, eggs, milk, and so on. Meanwhile, the lemon flavoring is achieved with the addition of lemon zest.
However, you can use orange zest instead if you want, giving it a slightly different, but still notably citrus and sharp, flavor.
While all of the Italian donuts in our list so far have been sweet, perfect as for dessert or as a snack, this next recipe is for a savory Italian donut!
Ideal as a savory lunch, or simply as a side for your main meal, these are potato donuts that are light, fluffy, and full of flavor.
Potatoes might not be your first thought when it comes to a donut, but these Italian donuts prove that it's great for donuts in both taste and texture.
You need 1 or 2 russet potatoes for these savory snacks, and they lend their classically earthy flavor to the donuts.
If you really wanted to turn these savory Italian donuts into something sweeter, then the recipe recommends that you try dipping them into honey!
This will certainly make them sweeter and stickier, and goes surprisingly well with the potato flavor.
When it comes to enormously tasty Italian donuts, you want to make sure that everybody can enjoy them.
Nobody deserves to miss out on all these incredible snacks!
As a result, it's always a good idea to have an Italian donut recipe that conforms to different dietary tastes, such as those held by vegan people.
This next recipe gives you a fantastic vegan version of the terrifically tasty Bomboloni Italian donuts that we looked at earlier in the list.
In order to make them vegan, they use a variety of vegan substitute ingredients, yet the donuts still remain perfectly light and fluffy at the end with their signature taste and fantastic filling.
The key vegan substitute here is that the recipe uses plant-based milk rather than the milk from a cow.
Plant-based milk does just as good a job, and you won't be able to taste the difference with the final result!
Our next pick is another great donut recipe that's inspired by Italian desserts, with a donut that makes use of the fantastic spice and warmth of cinnamon.
On top of that, these donuts couldn't be easier to make, because they use pre-made pizza dough as one of the ingredients!
This saves you plenty of time and money on other ingredients, while still giving you the same great taste.
Cinnamon is a fantastic addition to any donut, giving the snack a brilliant warmth that will radiate through you.
Naturally, these donuts are an especially good pick to make during the colder months!
Our next pick is Screppelle, a particularly unique type of Italian donut thanks to their elongated, straight shapes!
Rather than being rings or balls, these donuts are long and thin, while still retaining great taste.
Speaking of taste, this is another example of savory donuts that use potatoes, making them a brilliant savory treat with earthy tastes.
We're finishing our list with another great vegan version of a classic Italian donut, the great Zeppole. 
These light and golden ball donuts are very moreish, and you can use a pre-made pizza dough for them if you don't have the time to make your own dough.
Final Thoughts
Italian donuts are some of the best in the world, with a great variety of delicious treats. Find the very best Italian donuts with our guide!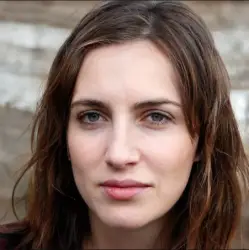 Latest posts by Anna Ingham
(see all)