Some people want to plan their wedding right down to the finest detail. Even the cutlery that you have laid out for your guests needs to match the rest of the furnishings. The same goes for the knife and fork that you'll be using to cut the cake.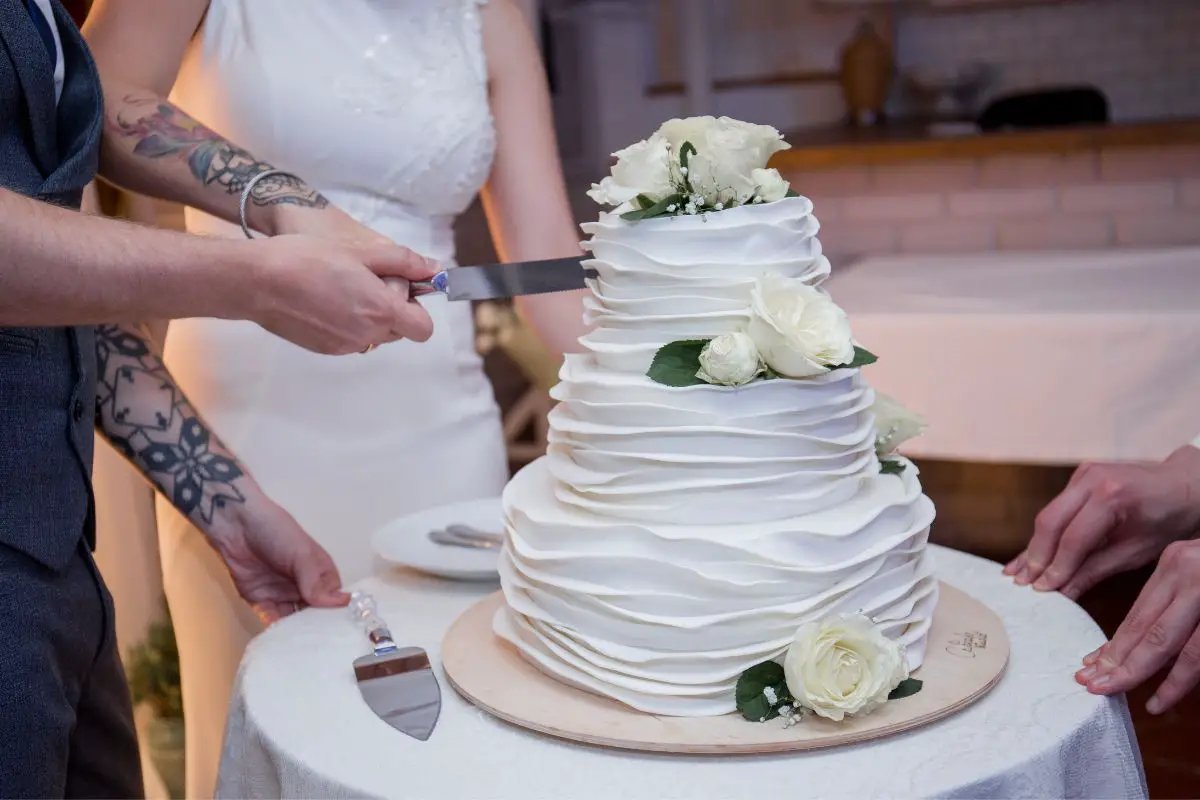 There are plenty of wedding cake cutters to choose from, but when it comes to slicing up your wedding cake with very little mess, then you'll want something that is made from stainless steel, with a solid handle and some decorative flourishes to match.
So where can you be getting the best cutting set for your big day? What are the best materials for a wedding cake-cutting set?
Well, we've compiled some of the best cutting cake sets for your needs, each one unique for every different type of wedding.
15 Best Wedding Cake Cutting Sets
1. White Lace Wedding Cake Cutting Set
This first wedding cake-cutting set comes with white lace and shining, sharp blades that will allow you to slice through your cake without any issues.
You'll want a neat slice when you are cutting through your cake, which is why it is important that your blade is made with wipe-clean stainless steel.
This comes with twine wrapped around the middle with white lace trim. This will suit any kind of traditional wedding with white and pink color scheme. You can lay this set on a white plate strewn with pink rose petals.
2. Crystal Wedding Cake Cutting Set
Just by looking at this wedding set, you'll be able to see how unique and spectacular it looks.
If you are looking for a cake-cutting set that will draw the eye, then you can't go wrong with this set. This is a fantastic wedding cutting set that is hard to beat.
This cutting also makes it durable and easy to clean after you have used it. However, you'll need to be careful when exposing it to high-intensity blasts of water, as it will take the sheen off your cake-cutting blade and spade.
3. Vintage Wedding Cake Cutting Set
This next cutting set is not unlike something that you might have found during Victorian times.
It has brass handles with a shining blade that gives you everything that you'll need for a decent slice, as well as being display-case-ready. This is great for a slightly eccentric wedding.
You can wrap some flowers around this one, giving it that extra flourish that transforms what might otherwise be a very drab set of cutting utensils.
This comes with a spatula that you can use to transfer the cake to people's plates with ease.
4. Golden Wedding Cake Cutting Set
This next cake-cutting set is very simple, coming in an almost immaculate design that will really befit a modern type of wedding.
This is gold and will really shine in the light, which is great if you want your knife and spade cutting set to be a part of the furnishings.
These come with wonderful bronzed wooden handles that offer you a smooth grip and add to the vintage quality of the cutting set.
This is wipe-clean, and you'll always be able to get the shine back after you polish it. You can even mount these in a display case once you've finished.
5. Personalized Rose Gold Cutting Set
Why not make a mark on your special wedding day by engraving the blade with a special message?
You can go with the date of the wedding, the name of your and your new marriage partner or a special quote that summarizes the future that you and your partner are striving for.
If you have an option that is stainless steel, then it'll be very easy to clean, which is great if you are going to be keeping this cake-cutting set.
You'll always want to make sure that you are cleaning a cake-cutting set like this with your hands so that you don't spoil the sheen.
6. Black Wedding Cake Cutting Set
This next set of wedding cake cutters is perfect if you are wanting something a little more gothic and darker.
These come with ornate handles with an embossed design and diamonds in the trim. If you want something that screams decadence, this is the wedding cake-cutting set for you.
These come with thick, sturdy handles that will help you maintain your grip when you slice through a particularly thick cake.
Even though these blades are dark, you'll still be able to clean them properly, giving them a nice and polished look, ready for framing.
7. Gold Floral Wedding Cake Cutting Set
This next design is great if you want a cake-cutting set that is going to fit in with any design of a floral wedding scheme.
These are great cutting utensils for a spring or summer wedding, with the flowers representing a bright new beginning.
This comes with a jeweled floral design on the handle that immediately catches the eye.
You can match this with a similar flower motif on the cake, which is great for those people who prefer a wedding to have a degree of symmetry.
8. Copper Wedding Cake Cutting Set
A copper wedding cake-cutting set can look just as nice as a gold set, especially if it goes with the right wedding set decorations.
Copper matches very well with a pink or off-white color scheme, the tint of the blade reflecting nicely off the complementary colors.
This is another one that is very easy to clean, all you have to do is handwash it to bring it back to its usual shine.
You can get this one studded with diamonds or you can simply have a plain design, which will be more in keeping with a modern-style wedding.
9. Pearl Wedding Cake Cutting Set
This wedding cake set is one for people who really enjoy the finer things in life. If you want to festoon your wedding with plenty of decorative trinkets, then this is a great cutting set to have.
You can get this as part of a twin set, or you can get the whole collection with a spoon and fork too.
This comes with white pearls and trims, giving that clean and pristine impression. This is great if you want to display your wedding cake-cutting kit after you have used it.
10. Rustic Wooden Knife
This is a great knife set for a wedding taking place in a barn or dilapidated old cathedral.
This set harkens back to the old days when wooden handles were the de facto material. You can even have these handles engraved, for example, with one name on each handle.
You can get handles made from many different types of material, whether it is birch wood, oak, or pine.
11. Steel Love Knot Wedding Cake Cutting Set
Next up, we have a wedding cake-cutting set made from solid steel, which really is the perfect material for slicing through cake.
It is hardy and will last you for years if taken care of properly. This is great if you want a pair of wedding cake cutters that you can hand down to your kids.
12. Blue Wedding Cake Cutting Set
We've all heard of the phrase 'something old, something new, something borrowed and something blue', well why not have your something blue as your wedding cake cutting set(see also: 15 Best Wedding Cake Serving Set For Every Wedding)?
This is a very refined set of cutters, exuding elegance and sophistication.
13. Heart-Shaped Wedding Cake Cutting Set
If love is the general theme of your wedding, then why not incorporate hearts into your wedding cutting utensils?
The spade is amazing if you want something that you can display as well as serve up cake.
There is also plenty of space to engrave your name or the date of your wedding. You can also polish this one up afterward and have it framed in your home.
14. Rose Gold Wedding Cake Cutting Set
This next set is another one that will suit both a white wedding or one that is made up of subtle light colors like pink, off-white and rose gold.
You'll have to hold these blades up to the light to appreciate the true spirit of this rose gold set of blades. You can also tie flowers and ribbons in the center of these cutters for that extra flair.
15. Iridescent Wedding Cake Cutting Set
Finally, we have a set of wedding cake cutters that really will catch the attention of anyone who sees them.
These rainbow-colored cake cutters will really blend in with any type of wedding motif, whether you are going for the traditional white or a wedding brimming with vivid colors.
Conclusion
We hope that these wedding cutters have given you a slice of some of the tools that are on offer.
A lot of these are display-worthy and will certainly fit in with the décor of all different types of weddings. Wedding cutters really put the finishing touches on that special day.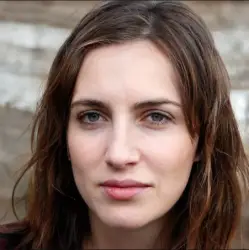 Latest posts by Anna Ingham
(see all)