Everyone loves dessert. The final course of an average meal often proves to be the absolute favorite, and if done just right, can perfectly cap off a perfect meal, to make it one to remember.
But the trouble is, it can sometimes feel like every dessert recipe has already been done, leaving you very few options for amazing dishes that will blow the socks off of dinner guests!
That's probably why you are here reading this right now, right? If so, then you couldn't have come to a better place.
Today, we are going to take a deep dive into 15 of our very favorite extraordinary dessert recipes that are not only totally incredible but are also very easy to make!
So, dive right in below to get started on finding out some of the best underrated desserts that you can make right now!
Let's kick this list off with one of the coolest recipes around. Not only do these chocolate dome cakes taste totally incredible, but they also look just as good as they taste!
The incredibly smooth and luxurious dome shape atop the desserts looks so amazing and will have any dinner guests totally gobsmacked as soon as it is served to them.
It takes some degree of skill to pull these dome-shaped cakes off, but the end results make all of the effort totally worth it!
We totally loved the white chocolate rings that surround the tops of the domes, making the domes look like planets in the solar system! It gives them a very out-of-this-world look that is still remarkably regal looking. 
Hazelnuts and chocolate were just made for each other. There's no denying this. That's why this favorite combination shows up in so many desserts.
However, there are few recipes that pull off the glory of this combination better than this one. Prepare for a hazelnut and chocolate medley better than simple Nutella can deliver!
The crunchy texture of the meringue layers contrasts with the soft texture of the whipped cream between each layer, making it incredibly satisfying to eat.
This dessert will go down as a real treat, and it's unlikely that there will be any leftovers! 
Few things scream sophistication and luxury than gin and tonic. This classic combination not only tastes totally incredible on the rocks but also tastes totally incredible when combined together in dessert recipes (see also '10 Tasty 4th Of July Desserts To Make This Weekend'). And of all of the gin and tonic-inspired recipes, this is easily one of the very best. 
Not only will it show you how to create a creamy and sweet gin and tonic topping, but also the light and crumbly pastry base that makes the tart shine. The candied lemons and limes atop the dessert also give it that final sweet and tangy flourish!
Though it may have an unusual name, this treat easily benefits from its unusual recipe that combines cream cheese, vanilla, and chocolate pudding, as well as a delightfully crunchy pecan-based bottom layer that gives the whole recipe a unique textural profile. 
This dessert is actually quite easy to make and results in a dessert that looks totally amazing when served. Your guests won't be able to help but dive right in and indulge as it is served to them! 
Banana and toffee are another combination that creates total magic every time. This amazingly creamy dessert is one of the best banoffee recipes we have ever tried out ourselves, and it is so incredibly easy to make.
But the glory of this recipe does not end at the amazingly creamy banoffee dessert. The crunchy chocolate crumble across the top gives it an extra textural surprise that brings the whole thing together. 
This easy-to-make and easy-to-serve dessert is a perfect solution if you need a quick dessert for a social function that will easily impress.
What's better than a fresh and juicy strawberry (see also '15 Best Strawberry Desserts To Make Today')? How about a strawberry packed to the brim with cheesecake flavor?
This easy no-bake dessert takes next to no time at all to make, and is a perfect easy dessert project to get involved with today! All you need is a few fresh strawberries and some delicious chocolate cheesecake filling. 
These small treat bites can be served immediately, or left to refrigerate, making them perfect if you need a quick but fancy dessert!
The juicy apples contained within this strudel release their sweet flavors into your mouth with every bite, and the slightly salty taste of the thin and flaky pastry help to create a dessert that is immediately satisfying. 
This dessert is great served warm, on a fall evening, as the cinnamon that is piled onto the fresh apple slices helps to give it a warming flavor that quickly spreads across your palate. The inclusion of raisins also gives the dessert an extra layer of sweetness.
Rhubarb is one of the most unique fruits around, with a flavor that is practically unmatched by any other fruit around. So why not take full advantage of that fact with this recipe that will prove a total favorite of everyone at the table?
This skillet-cooked dessert is topped with a macaroon layer that becomes incredibly crunchy, giving the dish a dimension of texture that makes it satisfying to go for bite after bite!
Top it with a scoop of ice cream, and you can add an extra dimension that brings this relatively simple dessert to life.
Cinnamon rolls are already totally delicious, but imagine if you could combine the iconic cinnamon roll with the perfectly-matched flavor of fresh apple! 
With this recipe, you can do just that! It makes use of incredibly thin slices of apple to create a dessert that looks just as beautiful as it tastes, with a stunning rose shape.
Serving it up to multiple guests is also incredibly easy, making it a no-brainer for extraordinary desserts that you can make today!
With just four basic ingredients, you can make a unique pie that takes full advantage of the campfire favorite that is S'Mores!
And you don't have to worry, because this dessert is totally loaded with toasted marshmallows, as you would expect. The way these gooey marshmallows contrast with the crunchy cookie base of the pie is to die for!
The combination of honey and cinnamon is a magical one that often sadly goes underrepresented. Not many people actually know how wonderful it can be to combine the two ingredients, but this recipe makes it all so clear! 
The soft cinnamon rolls are drenched in honey and cinnamon sauce which brings out the very best in the soft texture of the rolls.
We couldn't believe how well the sauce came together, and how it made these cinnamon rolls taste totally different from anything we had experienced before! They're game-changing! 
Did you know that Pineapple easily makes for a perfect flavor for creamy desserts like pies and tarts? This recipe will show you how you can make a dessert that manages to bring out the sharp taste of pineapple and miraculously combine it with a creamy taste that will delight your palate with ease!
The pie is incredibly soft and melts away on your tongue. Its tropical flavor also makes it a perfect dessert for the summer months, when the sun is beaming!
This is a dessert that is incredibly easy to serve out to countless guests. Once it has finished being made, all you need to do is break the bark into small pieces, and then your guests can easily help themselves as much as they want.
The combination of pistachio and cranberry is really great, with the pistachio offering a slightly savory taste that is perfectly complemented by the cranberry.
Brown sugar boasts a very different flavor from ordinary sugar, and this makes it incredibly unique to add to numerous dessert recipes.
This pound cake is incredibly soft and moist, and the spoonfuls of brown sugar mixed into the dough help to make it incredibly warm and satisfying on the tongue.
Make sure to sprinkle some chopped pecans over the finished cake to make it look amazing.
We figured it would be good to close off this list with a simple recipe that results in delightfully beautiful little treats that can easily be served with other larger desserts.
These stunning rose-shaped meringues are not only stunning to look at, but also to bite into. The crunchy texture of the meringues soon melts away on your tongue, alongside the thin layer of chocolate that coats the bottom of each one. It's magical, and oh-so simple!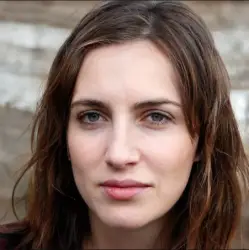 Latest posts by Anna Ingham
(see all)