How delicious are donuts? They're one of those treats that will never fail to brighten your day, and things are only made so much better by the addition of some super scrumptious chocolate!
And sure, while you can always pop to a local bakery and pick up some delightful donuts, they're never quite as delicious as when they're made from scratch at home.
It's because of that secret ingredient – love. When you bake things with a little bit of TLC you can be sure that you'll be rewarded when it comes time to sink your teeth straight into them.
So, what are you waiting for? Take a look at some of these to-die-for chocolate donut recipes!
The 16 Best Chocolate Donut Recipes
These cake donuts with a scrumptious chocolate glaze are the perfect option for anyone who wants to get their sugar fix without quite all the calories.
You'll be ditching the oil-dripping deep-fat fryer and baking these bad boys in the oven.
The cake comes out a delicious golden brown and has the most delicate, fluffy, light texture.
And then, oh my, the chocolate glaze, it's sweet and delicious and gives this relatively healthy alternative a really decadent taste.
More of a white chocolate fan? Don't worry we've got you too. These yeast donuts are sure to be the thing of dreams.
Super soft, spongy, and airy donuts are dunked in a luscious thick white chocolate coating and are then sprinkled with almond slices to give some extra crunch.
And the best part is, they are super easy to make. They contain only 10 ingredients, most of which are pantry staples too.
For dark chocolate lovers, you'll never love something more than you will this recipe. These fudgy brownie donuts are so rich and divine.
Now, I'll pre warn you that you may want to keep some napkins nearby because things are sure to get messy with these sticky, salty, and super sweet treats.
Then there's the icing. The salted dark chocolate glaze definitely teeters close to chocolate overload, but hey, no complaints here.
A chocolate donut with a chocolate glaze and chocolate sprinkles? Be still my beating heart. This double chocolate donut recipe is every chocoholic's dream.
The donuts are so light and airy and yet the chocolate glaze is so thick and crunchy. They really are perfect.
And, they require just nine ingredients and from start to finish they'll take just 30 minutes to be ready! What more could you ask for?
These brioche donuts are a real wonder to behold. On the outside is a delicate and delightful brioche donut that is covered in sugar, but the secret inside center is what will have you swooning.
A hearty helping of a velvety-rich chocolate filling will ooze out of these scrumptious snacks with each and every bite.
With a total cooking time of 5 hours and 45 minutes, they definitely require a little more patience than some of the other recipes mentioned today, but oh is it worth it in the end.
Cookies and cream are a match made in heaven. And that's exactly where you'll think you are when you sink your teeth into these delightful donuts. Which aren't as unhealthy as they sound because they're baked, yay!
A rich and decadent, fluffy chocolate donut is smothered in a creamy and moreish vanilla frosting and then topped with plenty of crushed oreo cookies. My stomach is rumbling just thinking about them.
These fluffy and light delicious donuts are the gift that just keeps on giving. Not only are they super easy to make and ready in just 10 minutes, but they are also one of the nicest recipes in the world.
You'll add a generous portion of chocolate chips to your donut batter so that you get a burst of milk chocolate with each and every bite.
And then once baked the donuts are smothered in even more chocolate thanks to this creamy frosting, before sprinkling extra chocolate chips on top…you know, just for good measure.
These Old Fashioned donuts require a fair few ingredients but they are definitely worth the effort as they are some of the tastiest donuts you'll ever try.
The dough is cakey yet crispy and the sour cream glaze adds a new dimension to the treat that makes them so addictive.
And in terms of actually baking, they're surprisingly easy to recreate and take just 40 minutes to be ready to eat!
S'mores are undeniably everybody's favorite campfire treat, and these delightful donuts are sure to have you reminiscing over your favorite nights away telling scary stories under torch light.
And you can expect all those favorite flavors to be present here in this recipe. These delightful donuts are stuffed to the brim with a marshmallow buttercream and are generously dunked in a rich chocolate ganache and then topped with graham cracker crumbs.
Rich and smooth chocolate combined with salty and sticky peanut butter will always be one of the most iconic food duos. And this recipe only goes to prove this.
The dough of these treats is so fluffy and soft it's like biting into a cloud and the peanut butter frosting is so good that you could easily eat it with a spoon.
And with just a 25 minute total cooking time, there has never been a faster way to curb those chocolate cravings.
These donuts are screaming festive, I mean let's be honest, name a better Christmas combo than orange and chocolate. And this recipe is as good as it gets.
Soft orange scented donuts are fried to a perfect golden brown and then are smothered in a chocolate orange ganache before they are decorated with candied oranges.
This recipe creates 10 delicious servings, but if I were you, I'd definitely double the ingredients because you'll be surprised just how quickly you get through them.
If you're looking for a unique take on the chocolate donut, then why not try this delicious baked hot chocolate donut recipe.
It is sure to be the perfect accompaniment to a nice hot beverage during the colder months.
This chocolate donut uses actual hot chocolate powder in the mix, and then is covered in a delightful chocolate glaze and then covered in marshmallows and sprinkles!
This super sweet, a little bit salty, and a whole lot scrumptious donut is probably one of the most indulgent recipes that I've ever had the pleasure of tasting.
A rich chocolate donut is topped with a sticky, sweet, and gooey salted caramel frosting and then is topped with crunchy pretzel pieces.
You definitely won't need to come back for seconds after these bad boys, just one of these sickly sweet snacks are sure to satisfy your chocolate cravings for weeks.
These chocolate cake donuts are good enough to eat on their own, but add the strawberry cream cheese icing to the mix, and it's love at first bite.
The donut batter is rich and super indulgent and even includes a few chocolate chips for an extra crunch. And then the cream cheese strawberry goodness is so sweet, tangy, fruity, and creamy.
You'll definitely lick the bowl clean once you've finished preparing these tasty treats.
Now, I must say that I was slightly dubious when I first saw this recipe, but honestly they are so surprisingly scrumptious.
The Coca-Cola used in the batter helps to create the most tender and super moist texture that will always have you coming back for seconds.
And then let's take a moment to appreciate the amazing glaze. Do not skip this part. I mean I guess you could, but do so at your own peril. It really brings the whole treat together with a super rich and indulgent flavor.
Want to add a little bit of spice to your life? Then why not try these indulgent dark chocolate donuts that use cayenne pepper as their secret ingredient to dial up the heat? This recipe is definitely a little different but that doesn't make it any less delicious.
These are a great option to bring to parties to add a little fun. Plus they're easy to make and use mostly pantry staples that you already have at home.
Final Thoughts
Everybody loves donuts! And everybody loves chocolate. So, you can't find a more universally loved treat than chocolate donuts. And as you can see from this article, there are so many different varieties of scrumptious donuts to try!
Now comes the really hard bit, though, deciding which of these recipes to try first!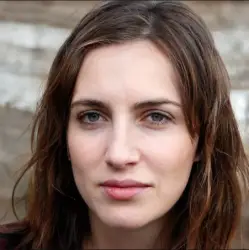 Latest posts by Anna Ingham
(see all)