What could be more mouth-watering than seeing a strawberry wedding cake? What's great about a strawberry wedding cake is that it will immediately draw the eye, creating the perfect centerpiece for your wedding buffet.
But what options are there when it comes to strawberry wedding cakes? Well, there are literally hundreds of options that you can choose from.
The only limit is really your imagination (and whatever theme you have designed with your wedding planner). But where on Earth can you start?
Well, don't worry, we've done some searching for you and found some fantastic recipe ideas.
Whether it is buttercream, fresh fruit or tiered, we have everything that you'll need to get your perfect strawberry-flavored centerpiece for your special day!
15 Great Strawberry Wedding Cake Recipe Ideas
To really impress with your strawberry cheesecake, you'll want lots of layers and this cake has plenty of them. The flavor of the fresh strawberries is complemented by the vanilla sponge.
This cake is amazingly light and fluffy and you can be sure that your guests will be talking about it for years to come.
This comes with chunks of fresh strawberries in the filling and the top. Add some powdered sugar and you'll have a wedding cake that looks as good as it tastes.
This cake is pink from the center to the frosting, making it one of the most eye-catching offerings and ideal for having as the focal point for what might otherwise be a traditional white wedding. This cake contains jello as well as inch-thick icing.
This cake is dense and moist, and you'll be able to make multiple tiers out of it. It is quite a messy cake, so you might have to employ an evener to flatten out the imperfections.
This next cake is very lavish and should only be attempted by the bravest of souls (or alternatively you could give it over to an experienced baker to make it for you).
This is a very luxurious cake featuring lashings of eggs, milk, sugar and fresh strawberries.
It is extremely well-presented and will be great for any color scheme of wedding. If you want something that will leave your guests open-mouthed, then you can't go wrong with this incredible cake.
This is another cake that is pink from top to toe. This has a cream cheese frosting, which adds that extra twist to an otherwise very traditional flavor of wedding cake.
This has a sourness that you might not find in other strawberry cakes.
This cake comes with fresh strawberries, which will liven up your taste buds and pair nicely with wine or sparkling champagne.
We all know that for a wedding, presentation is just as important as taste. This cake certainly rises to the occasion on both accounts.
This comes with light icing in the center, along with a thin layer of exquisite jam. The result is something that is light that you can carry around a wedding party with you.
This contains sumptuous ingredients such as butter, cheese and natural yogurt, all of which combine to form a very creamy base.
This next cake is something very different from the norm, coming with fresh strawberries mixed and blended in a big pan.
The mixture is then spread on top of a pink batter cake. If you want something a little different for your wedding, then this is it!
This comes with creamy pink icing and is topped with fresh strawberries. A cake that is as light as this will be great to pair with a bubbly drink like champagne.
When it comes to classy presentation, with flower-shaped swirls of cream on the top, this might be the ideal wedding cake.
Not only does this come with deliciously deep red strawberries in the middle, but it has them all the way through the cake itself.
This comes with graham crackers around the base that gives it that classic cake shop look with a little bit of crunch to offset the creamy softness within.
Now we have something tall, slender, smooth, and very simplistic. This is a tower of pure deliciousness, containing egg whites, cream, cake flour, and, obviously, lashings of tangy strawberry flavor.
Inside this cake are 3 layers of sponge, all segmented by amazing vanilla icing.
This cake is very easy to keep in the fridge for a few days, although due to the freshness of the ingredients, you'll need to consume it fast. This is also a great option for a smaller wedding, as it is a much more diminutive cake.
When we think of weddings, we think about sophisticated eating and drinking: fine red wine, canapes, well-cook beef and fluffy, butter-soft vegetables. Well, why not have a cake that uses two traditional wedding foodstuffs: champagne and strawberry?
This comes with champagne syrup that is allowed to soak into the sponge of the cake, which itself contains fresh strawberries. The final flavor is unlike anything else you'll ever taste.
This cake makes a bold claim right from the start, but does it live up to the hype? It is another one that comes with a few layers, this time with a pink sponge flanked by white icing.
If you want something that will keep your guests full for the remainder of the wedding, then round off your buffet with this.
This comes with a strawberry puree that is made from fresh strawberries, water and sugar. Mix it up to make a smooth covering for your cake that will leave your tastebuds craving more.
Next up, we have a cake that contains strawberry, mascarpone frosting and vanilla-tinged sponge.
All of these combine to make a very dense but creamy cake that you can be sure will give you everything that you need for that special wedding send-off.
Because not everyone will want a large wedding and sometimes you must save money where you can, even if that is on wedding cake ingredients.
But that doesn't mean you can't have a delicious strawberry cake. This is made with a fluffy strawberry sponge and thick frosted buttercream on the top.
This one is very simple and quick to make. All you need are a few ingredients such as egg whites, cake mix, white frosting and strawberry syrup.
This might be one of the freshest cakes, but if you don't mind keeping things minimalist, then this recipe is perfect!
This might not be a wedding cake, but it will be ideal for anyone who does not like the idea of a full-blown three-tiered monstrosity.
This tart is simple but bursting with fresh flavors and organic ingredients. It is topped with fresh strawberries and apricot jam in the center.
Finally, something a little different from the standard cake affair. Here we have strawberry cupcakes that are incredible to look at and even better to eat.
This comes with a pink strawberry-topped icing swirl and some fresh strawberries on the top. This is great to serve with a glass of champagne after your guests have finished the main course.
Frequently Asked Questions
Is Strawberry Cake Suitable For My Wedding?
The great thing about strawberry cake is that you can have it with pretty much any menu setup. If you are worried about the strength of the strawberry, then you can always add or subtract some of the fillings as you see fit.
Another good thing about strawberry coloring is that pink and red go very well with white. This will be a pleasing break in the white pattern of your wedding.
What Flavors Go Well With Strawberries?
One of the great things about strawberry is that it pairs well with a lot of things. Here are some of the flavors that you can combine with it:
Almond – this is a creamy flavor that complements but doesn't overwhelm the strawberry.
Pecan – a nutty aftertaste is the perfect counterpoint for the tangy strawberry.
Vanilla – mild and smooth, this really rounds out the flavor of your strawberry.
Pistachio – another nutty flavor that brings out strawberry's earthy tones.
What Can I Serve With Strawberry Wedding Cake?
You can serve champagne with fresh strawberries, and it is light enough not to overwhelm its flavor. You can also serve bright drinks like white wine and sparkling water with strawberry cake.
Conclusion
Strawberry is one of the most beloved and identifiable flavors, you can do so much with it. Whether you are going for a traditional wedding or something a little more left-field, you can be sure that a strawberry cake will fit the MO of your special day.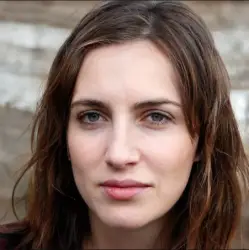 Latest posts by Anna Ingham
(see all)