There is no better combination than chocolate and cheesecake.
Here, you can enjoy all the decadent flavors of chocolate mixed together with the creamy cheesecake – anyone with a sweet tooth is sure to love it!
Featuring a gorgeous filling and a crumbly cookie base, the humble cheesecake is one of the nation's favorite recipes. The best part? It is incredibly simple to make!
Whether you're looking to keep it classic, fruity, frozen, no-bake, or even vegan, you're sure to find a recipe to match your requirements here.
With this in mind, we have outlined 10 amazing chocolate cheesecake recipes (see also: 10 Amazing Baileys Cheesecake Recipes To Enjoy)that you'll love to make.
Let's get straight into it!
This baked chocolate cheesecake recipe is creamy, silky, and insanely delicious – packed with mouthwatering chocolate flavors.
The creamy cheesecake batter is filled with dark chocolate chips, all baked on top of a chocolate cookie crust made from Oreo cookies.
Top with chocolate whipped cream for a chocolatey triple threat.
This decadent chocolate cheesecake is the ultimate dream for all those chocolate lovers. It is rich, creamy, moist, and made with all easy-to-access ingredients.
The combination of chocolate cookie crust and dark chocolate chips provides this cheesecake with heaps of flavor.
Whether you have this cheesecake for Christmas, Thanksgiving, or any other holiday occasion, it is sure to be a crowd favorite – it is the perfect chocolate dessert for all your get-togethers, serving 8-10 people!
The best part? It can be made ahead of time and frozen to avoid any hectic mornings of cooking. Not only does it freeze beautifully, but it can be thawed overnight in the fridge to be eaten the next day.
Your first bite of this cheesecake is an experience you're sure to remember! You're going to want to eat it for breakfast, lunch, and dinner – it is that good.
This chocolate cheesecake with a ganache topping is surprisingly simple to make, too.
The perfect cheesecake filling, a simple cookie crust, and a rich chocolate ganache topping make it the ideal recipe to either share with friends and family or simply hide away and eat all on your own!
If you're a fan of Cheesecake Factory's chocolate cheesecake, then this one is going to provide you with a whole new cheesecake experience.
The recipe starts with a delicious Oreo cookie crust that is then topped with a chocolate filling that has been sweetened to perfection.
For some added richness, the simple ganache transforms this cheesecake from a basic recipe into one you need to try.
If you're looking for something chocolatey and rich, then this is sure to become your go-to recipe – you'll never want a plain cheesecake ever again!
This no-bake chocolate cheesecake recipe (see also: 8 Pineapple Cheesecake Recipes To Make This Summer)is indulgent, rich, and decadent. Plus, with only a few simple ingredients, you'll have this recipe whipped up in no time.
For all those chocolate lovers, look no further than this recipe! It is sure to hit all those chocolate cravings – all without turning on the oven.
It is the ideal recipe to make a couple of days in advance, then when you're ready to eat, simply pull it out of the refrigerator and serve.
Moreover, you can also freeze it and thaw it overnight for any last-minute unexpected dinner parties.
In this recipe, you'll find a crumbly oreo base, with a rich, decadent, and smooth chocolate filling on top.
This is then topped with a perfect chocolate ganache for the ultimate chocolate experience – if this doesn't make you want to try the recipe, I'm not sure what will!
If you're looking for the ultimate indulgence, then you've come to the right place.
This recipe encompasses a rich, creamy chocolate and espresso no-bake cheesecake all on top of a special Oreo base.
This recipe is sure to become a family favorite – it is creamy, smooth, and great for every occasion! While the recipe itself is incredibly rich, it won't stop you from having another piece… and another.
The beauty of this recipe is that it can be adapted to suit any dietary requirements – whether you're vegan, vegetarian, or gluten-free. There are substitutions to accommodate.
This layered chocolate cheesecake is everything you could ever want from a decadent cheesecake – it contains a deliciously thick Oreo cookie base, topped with a layer of chocolate cheesecake, then another layer of white chocolate cheesecake.
The result is a truly impressive masterpiece. Plus, you're getting the best of both worlds with both types of chocolate – what more could you ask for?!
This recipe combines the two best chocolates into one dessert – creating a delicious treat that is surprisingly not too sweet, with a load of creaminess and silky smooth textures.
Plus, in this recipe, the tanginess of cheesecake perfectly balances out the chocolate flavors – allowing you to eat however much you want without feeling sick.
With each bite, you'll receive the perfect combination of both white chocolate and dark chocolate – mellowing into one another incredibly.
On top of a fudgy Oreo biscuit base, you'll find a combination of dark chocolate and silken tofu to create a deliciously rich plant-based cheesecake.
In addition to taste, it is also incredibly easy to make – perfect for an indulgent treat at all your dinner party occasions.
Instead of vegan cream cheese – which can sometimes add overpowering cheesy flavors to a cheesecake – this recipe opts for silken tofu which achieves the creamy, silky texture you know and loves in cheesecake.
In addition to this, you'll also find lemon juice adds a nice tang to your cheesecake.
However, when making this recipe, make sure to choose a coconut oil that is 'refined' or deodorized' to avoid any unwanted coconut flavors in your recipe.
This is the perfect baked chocolate cheesecake recipe, perfect for your festive activities.
The cheesecake itself is a combination of Oreo crust, a delicious chocolate filling, and a gorgeous chocolate ganache, topped with cherries and whipped cream for a decadent treat.
If you're looking for the perfect 'make-ahead' dessert, then you've come to the right place. This recipe is sure to wow all your friends and family.
Plus, it is the perfect treat when entertaining – it is super easy to make and will go down a treat.
What makes this recipe ideal is that you can whip it up the night before and decorate it
right before you're ready to serve.
While you can never go wrong with a traditional cheesecake recipe, (see also: 15 Scrumptious Diabetic Cheesecake Recipes You Will Love)this one is something special with delicious hints of chocolate throughout.
Plus, there is even REAL melted chocolate in the cream cheese filling – this is something you're not going to want to miss!
Not only does this dessert look amazing, but it tastes utterly delicious, too! Mint and chocolate are like two peas in a pod – balancing each other out perfectly.
For the base, you'll find a decadent Oreo layer, topped with delicious chocolate and mint filling.
The great thing about this recipe is that you won't be left with any overwhelming minty flavors. Instead, you'll find a perfect combination of both flavors – leaving you satisfied.
This chocolate cherry cheesecake recipe creates a decadent, almond-flavored cheesecake, featuring a layer of cherries in the middle, topped with a rich chocolate ganache.
In this recipe, you'll find a combination of rich black forest gateau transformed into a cheesecake and topped with plenty of cherries and ganache flowing down the sides.
If you're looking to make a traditional cheesecake with some added flair, then you've come to the right place!
This recipe contains everything you know and loves about a cheesecake (see also: 9 Scrumptious Jello Cheesecake Pudding Recipes To Make This Weekend). However, the added chocolate chips transform it into a whole new experience.
You're not overwhelmed by too many different flavors and textures, instead, you're offered simplicity that makes an impact.
Plus, this recipe couldn't be easier to make! You'll find a cookie crust base with simple chocolate chips dotted throughout and baked to perfection.
A short chill in the refrigerator before serving will ensure you're making clean slices every time.
However, be warned, this cheesecake won't be around for long, everyone is going to want a piece! That's why we recommend doubling the recipe for large gatherings!
Final Thoughts
You can never go wrong with cheesecake. However, with the addition of chocolate, you're transforming an already delicious dessert into something incredible.
Whether you like to go all out in your recipes, keep it simple, or add an unexpected twist, well, you're sure to find something that matches your requirements here.
From vegan chocolate cheesecake, mint chocolate cheesecake, and no-bake cheesecake, hopefully, this guide has informed you about some amazing cheesecake recipes.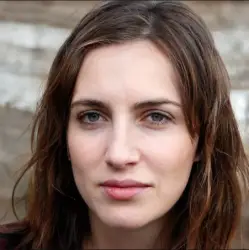 Latest posts by Anna Ingham
(see all)