When it comes to delicious donuts, you're probably more focused on the flavor than the appearance. This is pretty understandable!
After all, it's the mouth watering taste that makes donuts so popular, and it's the reason that they're available in so many different flavors in the first place.
However, what if you could have a donut that tasted great AND looked amazing? The answer: galaxy donuts.
If you've never heard of galaxy donuts, then picture a donut covered with a fantastic, fabulous glazed topping that looks like a galaxy.
That's right, these donuts are dazzlingly colorful, covered in all kinds of swirls and shades, and it makes you feel like you're eating among the stars.
In our delicious guide below, we've got the 10 best galaxy recipes that you will simply love!
However you like your galaxy donuts, you're sure to find a future-favorite recipe in our list that will keep you coming back again and again for more.
Read on!
10 Best Galaxy Donuts Recipes You Will Love
We're starting our list off with a classic example of galaxy donuts, with these brilliant sweet treats that have an astonishing galaxy glaze that's full of swirling blue, purple, pink, and more.
These are the ideal donuts to make with your kids, because they'll marvel at the dazzling design of the donut!
For the donuts themselves, you'll only need a handful of baking staples.
You'll use all the things you'd expect, such as milk, dry yeast, butter, eggs, and more, and they'll give you fantastically light and fluffy dessert treats.
Meanwhile, the galaxy glazing may look complex and amazing, but it only requires 4 ingredients to make! All you need is milk, vanilla bean paste, icing sugar, and some bottle of high pigment food coloring.
Naturally, these food colorings will give the glazing its astonishing galaxy appearance, so you'll want to choose appropriate colors: the recipe recommends purple, navy blue,electric pink, and super black.
What could be better than a galaxy donut? A chocolate galaxy donut!
Chocolate donuts are some of the very tastiest donuts out there, giving these delicious treats a rich and sweet flavor that will have your taste buds tingling.
And adding a galaxy glazing into the mix? It simply makes them even better.
On top of that, these donuts are super quick and easy to make, taking just 15 minutes to prepare and 13 minutes to cook.
This makes them the perfect evening dessert treat to throw together after dinner, or the ideal sweet treat to make for an early breakfast. 
The galaxy appearance here is achieved with pink, black, royal blue, and violet food coloring, which gives it a brilliant blend of swirling colors.
However, the recipe also adds silver stars and pearlized jimmies, adding stars and distant planets to the galaxy and making it look even better!
Our next pick adds a cotton candy twist to your typical galaxy donut, giving these wonderfully fluffy and exciting treats a flavor of cotton candy sweetness.
Cotton candy has a unique taste to it, a curious mix of sweetness, fruitiness, and caramel that's simply mouth watering, and it tastes just as great in the form of a donut. 
The galaxy glaze that goes over these donuts also has cotton candy flavoring in it, thanks to one and a half teaspoons of a special cotton candy flavored additive.
Meanwhile, the glaze gets its galaxy appearance from a mixture of blue, teal, pink, and purple food coloring gels.
And to go one step further? You can add sprinkles or luster dust to make it look like the galaxy has a scattering of dreamy stars in it.
Of course, galaxy donuts are such a delicious treat that we want everybody to be able to enjoy them. Thankfully, if you're vegan you can still make these dazzling donuts, thanks to this vegan-friendly recipe.
On top of that, this recipe is also gluten-free and suitable for people on the paleo diet. And it doesn't sacrifice any of the great taste to be so!
The galaxy glazing here is achieved with black, lilac, pink, and blue food colorings.
However, the galaxy glazing isn't the only thing making these donuts stand out, because they also have a brilliantly nutty cashew cream frosting!
This creamy treat really adds to the donuts, giving them a slight hint of nuttiness.
Our next recipe will give you fantastically tasty galaxy donuts that will both delight your taste buds and your eyes – just look at the galaxy patterns!
These tasty treats are perfect for making with the whole family, and they're certain to get guests talking if you bring them to a party. They'll be making you all starry-eyed! 
For the galaxy's beautiful swirling mass of color, the recipe recommends using food colorings of black, purple, white, blue, and pink.
However, you can always mix it up yourself and use whichever colors you'd like to see best!
Meanwhile, the final touch of sprinkling these glazed donuts with some edible glitter gives the galaxy a starry quality, making the donuts shimmer and sparkle in a very magical way indeed. 
If you're following the keto diet, which focuses on a low intake of carbs and a higher intake of fats, then you'll be thrilled to know that you can enjoy some delicious galaxy donuts too – with this recipe!
On top of that, the donuts will also be sugar-free and follow the paleo diet. 
These hypnotic galaxy donuts are super simple to make, and they replace many of the typical ingredients with equally-delicious alternatives that make it friendly to those aforementioned donuts.
For example, coconut flour helps to keep it keto and paleo, while maple syrup or different liquid-based sweeteners help to keep these donuts deliciously sweet. 
So far, all of our galaxy recipes have had galaxies which are mostly a mixture of dark blues and purples. This certainly looks magical, but what if you want a donut that's a little brighter and cheerier?
That's where these pinkish galaxy donuts come in, which have a fantastic light pink shade to them, which also has sickly swirls of blue and dark pink mixed into them. 
The recipe achieves this cheery galaxy appearance thanks to a few drops of red food coloring and blue food coloring, which mix together wonderfully and help to add to an icing glaze that's already great.
Our next pick is the recipe for totally tasty galaxy donuts which don't use yeast, instead using an equal mix of baking soda and lemon juice to act as its substitute.
Don't worry, though, the final result is exactly as fluffy, flavorful, and delicious as if it has been made with yeast!
In addition to that, these galaxy donuts have a slightly different appearance to the others we've had on the list too.
While most have been dark purple and blue, these donuts have more of a black appearance with hints of very dark purple. This great, magical look is achieved thanks to black, blue, and purple food colorings!
Our penultimate recipe is a spicy twist on galaxy donuts, giving you the typical fantastic treats but with a hint of warm spiciness to them.
This is thanks to the inclusion of both nutmeg and cinnamon in the ingredients, which help to give the doughy treat an edge of spiciness – without overwhelming it at all. 
As a result, these galaxy donuts are an especially good pick for making during the fall season, when things are chill and everyone needs a small kick of warmth from their food.
Meanwhile, the galaxy icing gets its colors from a mixture of red and blue food dyes, while other ingredients include powdered sugar, milk, and coconut oil.
It's a glaze that's extremely simple to make, as you can see, but has a huge impact!
We're finishing our list of the best galaxy donuts with an extra fun recipe – Star Wars galaxy donuts!
When you talk about galaxies and space, a lot of people will probably think about the exciting Star Wars franchise and all its wild adventures in the far reaches of space.
As a result, these Star Wars-themed galaxy donuts are the perfect treat, and they're a copycat recreation of ones you can buy at Disneyland!
What makes them so Star Wars? Well, besides the fun galaxy glazing, you'll also be topping them with white chocolate in the shape of popular Star Wars icons such as X-Wings and R2-D2
These chocolate shapes are super fun to make, and their crunch and thickness contrasts really well with the supremely soft donuts!
Final Thoughts
Galaxy donuts taste and look fantastic, with their swirling colorful glazings that resemble exciting galaxies. Find the very best galaxy donut recipes with our delicious list!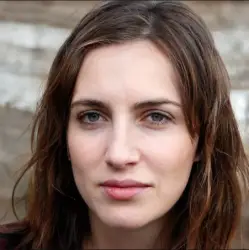 Latest posts by Anna Ingham
(see all)