If you've ever been walking past your local patisserie or bakery and decided to go in, then no doubt your eye will have been immediately drawn to the cinnamon swirls.
These iced treats and brimming with flavor, coming laden with delicious batter and a spongy base.
How on earth could you make this delicious treat better? Well, brace yourselves… with cheesecake! That's right, you can combine the delicious cinnamony flavors of the swirl with the crumbly biscuit case of a cheesecake.
"But how can you do this? I simply must have the recipe! How long will it take for me to make?" Well, don't worry, we have all the answers to these questions and a lot more, including a delicious recipe for cinnamon swirls cheesecake bars.
What Is A Cinnamon Swirl?
Cinnamon rolls originated from places Nordic countries like Sweden, the Netherlands and Denmark.
These have been exported all over the world and there are many different versions that you can get in bakeries and coffee shops all over the world.
A cinnamon swirl is usually made with a layer of dough that has been leavened with yeast, which is then spread with butter and dusted with cinnamon and sugar.
Depending on what mixture you get, you can also get a version that comes with raisins.
This treat goes great with black coffee and a lot of people like to dip their cinnamon swirl into the coffee for a combination of sweetness and bitterness.
What Is Cheesecake?
Cheesecake is unusual in the cake world, but we can assure you it is delicious. It comes with a biscuit base that is usually made from mashed-up cookies that have been previously baked.
There are numerous varieties of cheesecake that have blossomed since the 15th Century, with Russia, Japan, Europe, Africa, India, the Philippines and Spain all having their own versions of cheesecake.
The main body of the cake is made from soft cheese such as cream cheese and ricotta along with eggs and sugar.
This is then flavored with things like vanilla, spices, lemon, and chocolate.
You can also top it with caramel drizzle, strawberry sauce, walnuts, berries or whatever you like according to your tastes.
Why Should I Make Cinnamon Swirl Cheesecake Rolls?
Combining the deliciously soft texture of cheesecake with the sumptuous flavor of cinnamon is amazing.
They make a great treat for after dinner. If you have a dinner party, then why not surprise your guests afterward with a tray of cinnamon swirls cheesecake rolls?
This is one of the things that we love about this sweet treat is that you can make a large batch for a group of people.
However, if you do not fancy sharing, then you can store your rolls in the fridge and eat them at your discretion. They will keep in the fridge for upwards of a week.
These also make a good treat for the kids. If you are having difficulty getting your little brats to calm down, then giving them some cheesecake rolls will keep their mouths busy.
These are bite-sized and will not leave you feeling too full, which is important after a large dinner.
How Can I Make Cinnamon Swirl Cheesecake Rolls?
Now we move onto the recipe. We would say that this recipe is complex and should only be attempted by someone with intermediate baking knowledge.
However, if you are good at following instructions, then why not give this a go?
You'll need to make sure that you have all the ingredients before attempting this recipe. Prepare your cooking area as this one can get messy.
This cake comes with delicious ingredients such as cinnamon, sugar, and chocolate sauce and comes with a cinnamon graham crust.
Cinnamon Swirl Cheesecake Roll Recipe
Prep Time: 10 mins
Cook time: 40 mins
Total time: 50 mins
Servings: 9
Ingredients For The Crust
2 cups of cinnamon graham crackers (finely crushed)
One-third of a cup of melted butter
One-quarter of a cup of brown sugar
Ingredients For The Main Cheesecake Base
2 (8 oz) of cream cheese (room temperature)
Two-thirds of a cup of sugar
2 eggs
1 tablespoon of vanilla extract
Half a cup OF sour cream
Ingredients For Cinnamon Swirl
1 cup brown sugar
One-quarter of a cup of all-purpose flour
2-3 tablespoons of ground cinnamon (you can add depending on your preference)
6 tablespoons of butter
There are a lot more ingredients on this cake than you would get on an average cake, so make sure that you have collected them all before you start baking.
There's nothing worse than starting your recipe and realizing halfway through that there is a crucial ingredient missing.
Recipe
Line a baking pan with foil, making sure that the foil covers the edge of it completely. The pan should be around 8 x 8 inches. Once this is done, spray the foil with a coating of cooking oil.

Preheat your oven to around 325 degrees.

Take a medium-sized bowl and stir in the cinnamon graham crumbs, butter and brown sugar until they are completely combined.

Take the mixture and scoop it into your baking tin, making sure to press them along the bottom of the tin.

Place this in the oven for around 10 to 12 minutes. You will be able to tell when the mixture is baked as it will turn golden brown. Once this has happened, take the mixture out of the oven, but keep it turned on.

While your crust is in the oven, you can start prepping the cheesecake main base. Take a large bowl with a mixer and mix the cream cheese and the sugar until the mixture goes fluffy.

Add each of the eggs one at a time, taking care to mix them in between each different addition. Put in the vanilla after this.

Beat in the sour cream at the end of the process.

After you have one this, take a medium/large saucepan and melt the brown sugar, flour, cinnamon and butter and stir the mixture until it is smooth.

Now spread the cheesecake mix over the crust that you have just removed from the oven. Spread this across until it is completely even.

Take the cinnamon mixture and spread this on top of the cheesecake batter.

You can make your own patterns and swirls in the mixture so that it looks more like a traditional cinnamon swirl.

Once you have used up both the cheesecake and cinnamon mixture, then bake it further in the oven for around 35 to 40 minutes. The center of your cake should be slightly wobbly and not too hard.

Take the cheesecake out of the oven and let it cool completely. Once you have done this, place it in the fridge for at least 2 hours.

Once it is cold, then it is ready to slice up and serve!

This recipe is quite easy to follow, especially if you get the timings just right.

This recipe is designed to be served for around 9 people, however, if you need to serve more people, then just amend the number of ingredients in this recipe.

This cheesecake is delicious and gooey and guaranteed you'll be going back for seconds. The cinnamon pairs really well with the vanilla flavorings.
Other Tips For This Cinnamon Swirls Cheesecake Roll Recipe
Here are some extra tips and tricks that you should remember when making this meal to make sure that it turns out perfect:
Do not bake your cheesecake for longer than 40 minutes. If you do this, then it will turn out crunchy and chewy, ruining the overall texture of your cheesecake.
Swirl the mixture of cinnamon that you're putting on the top of the cheesecake to give it that authentic cinnamon swirl look. This will also help to blend in the top layer with the cheesecake underneath.
You can also add some more toppings if you feel like that would enhance the texture of the cheesecake.

We would recommend adding some raisins to the cinnamon mix, as this will add some chewiness in much the same way as a classic cinnamon swirl would.
You can also add some chocolate sauce to the mixture or melt some dark chocolate in, as that will add a note of bitterness.

However, make sure you do not add too much sugar, as it will overwhelm the taste of the cinnamon.
What Other Cheesecake Recipes Are There?
Here are a few other cheesecake recipe ideas:
Oreo cheesecake – this has the deliciously dark biscuitty texture of the classic Oreo.
Caramel cheesecake – for those who want that amazing sugary kick, then you can't go wrong with caramel
Chocolate gateaux cheesecake – blending the soft sponge of gateaux with the biscuit base of a cheesecake, this has to be seen to be believed.
Conclusion
We hope that our recipe has got your mouth watering, with its unique blend of flavors and textures, it is hard to find fault with it.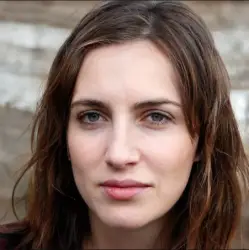 Latest posts by Anna Ingham
(see all)