Donuts are the perfect sweet treat to enjoy all year round, with their countless varieties of flavors and types. However, they make for an especially great snack at Christmas time!
After all, when the weather outside is cold and dreamy, a delightfully soft and doughy donut is just the right thing to warm you up and keep you cozy. 
But what if you could make it so that the donuts are Christmas-related too?
Well, you can! There are an enormous amount of different Christmas donut recipes out there, each with their own fun festive designs and flavors.
To help narrow down all the choices for you, we've got the 10 best Christmas donut recipes in our tasty guide below.
Whatever your tastes, you're bound to find some donuts you love in our list. Read on!
10 Best Christmas Donuts Recipes You Will Love
We're starting our list off with some classic Christmas ring donuts, all of which have various decorations based around the festive season, filled with iconic Christmas imagery and packed with flavor.
These are quick and easy to make too, taking just 10 minutes to prepare and 10 minutes to bake, making them the ideal Christmas treat to whip together on a wintery evening with the family!
You can give the donuts either a white glaze (perfect for looking like snow!) or chocolate glaze (which has a yule log feel to it), and both glazes are simply to make and perfectly tasty.
Meanwhile, you can get creative with the decorations! Using things like pretzels, mini M&Ms, Christmas jimmie sprinkles, and more, you can decorate these donuts with all the Christmas imagery you want.
A reindeer face> Wrapping paper? Christmas tree lights? You can do them all!
Our next pick is some delicious donut balls, which are the perfect doughy, soft treat for enjoying during the festive period.
These are incredibly easy to make, yet totally delicious to enjoy, and you can dust them with confectioners' sugar on top to make it look like they've been covered in a sprinkling of snow. 
To make these donuts, you'll need a small handful of baking staple ingredients. These are nothing out of the ordinary for what you'd expect with a donut – things like milk, flour, sugar, eggs, and so on.
In a great touch, you'll also be adding a teaspoon of ground nutmeg into the mix, which helps to give the donuts a very subtle hint of warm spiciness.
This is particularly desirable during the winter season, because the spiciness will keep you warm inside while snow falls all around outside! Wait, is it snow or confectioners' sugar?!
A classic image of Christmas is the candy cane, with its vibrant red and white color scheme and its deliciously sweet taste.
What better, then, than to combine the sweet festive treat of a candy cane with a delicious donut?
This simple recipe will give you perfect mocha-flavored donuts with a peppermint glazing, complete with crushed bits of peppermint candy canes lodged in the top!
The donuts get their mocha flavoring from the inclusion of 4 teaspoons of instant espresso powder. Coffee is a favorite flavor when it comes to donuts, and it gives these a particularly rich, festive feel. 
Meanwhile, the peppermint glaze uses a mixture of peppermint extract, crushed up peppermint candy canes, and some chocolate chips.
It's a brilliantly delicious mix, with the richness of the chocolate pairing perfectly with the sharp mintiness of the candy!
Another important part of Christmas is eggnog, the delicious traditional holiday drink that uses things like milk, cream, egg, and spices such as vanilla and nutmeg. 
Most people like drinking a glass or two of this fun drink around the holiday season, so why not turn it into a donut?
This recipe gives you a brilliantly fluffy donut that's covered in an easy eggnog glaze, giving the dessert treat all the famous flavor of that traditional Christmas drink. 
These donuts are extra easy to make, thanks to the use of yellow cake mix saving you a lot of time and ingredients, and you also have the option to add some nutmeg and cinnamon in order to give the drink a kick of warm spiciness that's especially fitting for the festive times. 
Meanwhile, the simple eggnog glaze is made with eggnog, powdered sugar, and an optional dash of nutmeg. Easy!
The Christmas pudding is an iconic part of the Christmas lunch or dinner, the ideal festive dessert, with its gooeyness and fabulous fruitiness.
This great recipe shows you how to make fluffy and fun donuts with a Christmas pudding appearance, dipped in a dairy-free chocolate glaze.
These are vegan donuts, too, which means that many more people can enjoy them! They use alternative ingredients like vegan margarine and plant-based milk.
Meanwhile, the decoration uses various types of vegan chocolate, some red and green fondant (to make the image of a sprig of holly that's crucial to Christmas pudding), and some optional edible glitter to make it even more magical and festive.
Our next pick is something a bit different, giving you a taste of Scandi cuisine in the form of their fried Christmas donuts, also known as Klejner.
These extra fluffy and soft dessert treats are the perfect international Christmas treat, and they're easy to make.
You'll need a variety of fairly typical baking ingredients to make these, such as butter and caster sugar, but there are also a few surprises in there too.
For example, some ground cardamom adds a unique flavor, and bread flour is also used.
The holly wreath is another one of those famous Christmas images, with its vibrant green leaves and cute red bow, as well as plenty of berries.
These fantastically festive donuts have an iconic holly wreath design on top of each of them, achieved with a whole range of fun edible decorative editions. 
For these decorations, you'll need holiday sprinkles, sixlets, pearls, and a whole bunch more. Meanwhile, the holly wreath gets its green appearance from green frosting.
Make sure you have a piping bag handy for making these donuts! They're a lot more decoration-heavy than the other Christmas donuts in our list, but you'll agree when you see the final results that it's well worth the extra time and effort.
Gingerbread is one of the definition flavors of Christmas, thanks to its delicious crunch and its fantastically warming spiciness – which is needed when it's so cold outside!
It's a great idea, then, to combine this iconic Christmas flavor with a delicious, doughy donut. 
The donuts themselves here have a whole bunch of warm spiciness within them, thanks to the use of multiple spicy ingredients. You'll be using cinnamon, allspice, ginger, and cloves!
The result is a doughnut that's absolutely packed with the delicious warm tingle that you'd expect from a gingerbread snack.
Meanwhile, the inclusion of molasses helps to give the donut a sweet and slightly smoky edge.
And to top it all off – literally? There's a frosted topping to each donut, made from a simple mixture of milk, confectioners' sugar, and vanilla extract. 
Of course, one of the most famous images of Christmas is the snowman!
As soon as the first snow of winter begins to fall, you'll likely be rushing out into the cold to roll the snow into an adorable snowman, complete with a smile and a carrot nose.
These ingenious treats use multiple decorated mini Christmas donuts on a stick, looking like the three balls of a snowman. 
These fantastically creative Christmas donuts are the perfect treats for you to make with your kids, and they've got plenty of fun decorations to make them look the part.
For example, each snowman has an upturned miniatures Resse's Peanut Butter Cup to act as its hat, while twisted sour rainbow straws act as each snowman's colorful scarf. 
Simple, delicious, and visually creative, these snowman Christmas donuts are a fantastic festive treat!
We're finishing our list with these fun and creative Christmas donuts, which have Christmas sprinkles and colors on both the inside and the outside, making them truly, fully festive.
On top of that, they're perfectly soft and fluffy, and each one is covered in a rich and simple chocolate ganache.
The use of Christmas sprinkles inside the donuts really helps, scattering their doughy insides with festive shades of green and red.
Meanwhile, the donuts also use cinnamon and nutmeg to give them a subtle edge of spicy warmth, which is simply perfect for the winter season.
Final Thoughts
Donuts are a fantastic dessert snack to throw together during Christmas – and thankfully there are countless Christmas-themed donuts you can make! Follow our guide to find the very best, from gingerbread to snowman designs.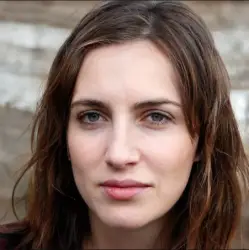 Latest posts by Anna Ingham
(see all)