Breakfast is one of the most important meals of the day, but it can be difficult to find a filling yet nutritious meal to enjoy. 
A popular breakfast choice is breakfast cookies – they're just like regular cookies except they contain oats to give you more energy.
This makes them the perfect breakfast food! Plus, they are light, quick to eat, and can be super tasty! 
There are many different breakfast cookie recipes to try out and finding the right one for you can take forever. Luckily, we're here to help.
We've pulled together a list of all the best breakfast cookie recipes so you can find the right recipes for you in one place.
So check out the list below to find your favorite! 
This breakfast cookie recipe only requires three easy ingredients, so it's a great recipe to try in a pinch!
There's always room to add additional ingredients as you desire but if all you want is a basic and easy-to-follow breakfast recipe, then this one has your back! 
Chocolate chip cookies are easily one of the most popular types of cookies out there.
Adults and kids alike love their rich, sweet taste – and so, they're a great option when making breakfast cookies! 
This recipe will show you how to make the perfect batch of rich chocolate chip breakfast cookies with oats and chocolate chips.
They're bound to be a hit with any kids or adults with a particularly sweet tooth! 
Most people turn up their noses to raisin cookies but they're a great spin to put on the classic breakfast cookies. 
Not only do they go together with oaty cookies, but they're sweet and nutritious without being filled with sugar.
This makes them a great healthy option for those who want to enjoy cookies without dealing with downsides. 
So, if you are looking for a really healthy breakfast cookie recipe, then look no further than this raisin breakfast cookie recipe! 
A lot of traditional breakfast cookie recipes use bananas but this recipe takes it to the max! If you love the sweet yet natural flavor of bananas, this recipe is a great option to go with. 
The end result is a batch of gooey, chewy breakfast cookies that taste amazing.
This recipe also adds chocolate chips for additional richness but you can easily leave those out to enhance the banana flavor! 
Peanut butter – it's easily one of the most popular flavors in the US when it comes to tasty desserts. As a result, peanut butter cookies are a huge hit!
So – why not try out some peanut butter breakfast cookies? 
Of course, you need to always be aware of allergies before serving your peanut butter breakfast cookies to others. 
Lots of fruits work well with traditional cookies but for oatmeal breakfast cookies, raspberries are an easy go-to fruity choice! 
Raspberries are sharp and super refreshing which makes them a great way to perk yourself up in the morning!
They work so well with the texture of oatmeal cookies and help create a soft yet chewy breakfast threat.
They're also very healthy and a great option if you want a fresh but sweet version of the breakfast cookie. 
If you have very specific dietary requirements, then some classic breakfast cookie recipes may be unavailable to you purely because of the ingredients they contain.
A lot of breakfast cookie recipes use ingredients like milk, eggs, butter, or chocolate – all of which are unsuitable for vegans! 
Luckily, there are still plenty of great vegan breakfast cookie recipes available. Here's a very easy one for you to try out yourself! 
Do you love the rich, dark taste of hazelnuts? Then why not combine them with a classic breakfast cookie for a tasty morning treat? 
Hazelnuts are packed with protein and this makes them an excellent way to fill up your tummy first thing in the morning.
They also work great with other classic flavors like chocolate and cranberry, so there are plenty of ways you can experiment with your hazelnut breakfast cookies! 
Another great fruit to add to the classic breakfast cookie is blueberries. 
Blueberries are very sweet and refreshing fruits, making them an excellent choice for your breakfast cookies.
They're also very healthy so if you want a healthy but nutritious and filling breakfast cookie, blueberry breakfast cookies are the way to go! 
If you love sweet, warm flavors, then you may want to consider making some gingerbread breakfast cookies.
These cookies taste nostalgic and cozy, making them a perfect choice for fall and winter breakfast! 
This delicious taste is all thanks to the many spices used in this gingerbread breakfast cookie recipe.
It's a great way to excite your tastebuds so if you love gingerbread – why not give this recipe for gingerbread breakfast cookies a go? 
Apple pie is one of the most iconic desserts in the US and as a result, its classic flavors are combined with a lot of different types of desserts.
The apple pie and breakfast cookie combo is an all-American breakfast treat that is a nostalgic, fruity, and nutritious all-in-one compact cookie! 
It's also a great type of breakfast cookie to enjoy around Thanksgiving to help celebrate the holiday! 
Another great way to celebrate the Thanksgiving holiday is to try making a batch of pumpkin breakfast cookies! 
This recipe is a great one to try out if you want to use up the leftovers from your Halloween jack-o-lantern.
Not only do they help reduce waste but they are tasty, nutritious, and great for breakfast on the go! 
Coconut is a classic sweet flavor that is light, delicate, and a great alternative to other popular sweet flavors like chocolate.
It's found in a lot of summer-time desserts due to its tropical taste – and it's a great flavor to add to your breakfast cookies. 
These breakfast cookies are delightfully crisp and crumbly thanks to the use of coconut flakes and oats – and do, they're a textural treat as well as delicious in flavor and taste! 
If chocolate chips are not enough to satisfy your chocolate cravings first thing in the morning, then try out this recipe for double chocolate breakfast cookies.
They are super rich and indulgent, and still feature all the classic ingredients of traditional breakfast cookies. 
However, all that extra chocolate does make them extra rich! 
White chocolate is a lighter, more delicate version of traditional chocolate.
Some people love its flavor and if white chocolate is your favorite too – then why not try making white chocolate breakfast cookies? 
These cookies are light yet super sweet and a great way to treat yourself first thing in the morning! 
This breakfast cookie recipe goes really out there with its uniqueness. Carrot cake is a well-known type of spice cake that has its own distinctive taste.
This makes it very popular with some people – and it's also a great way to shake up your breakfast cookies.
Carrot cake breakfast cookies are a heavily spiced and comforting type of cookie. The spices work great with the nutritiousness of traditional breakfast cookies. 
Cherries are a rich, indulgent type of fruit that works great when paired with the delicious flavor of chocolate.
Cherry chocolate is a wonderful combination that works great in a lot of desserts. This includes breakfast cookies. 
Chocolate cherry breakfast cookies are an ideal choice if you want a rich but quick breakfast. 
A keto diet is a type of diet that is high in fat and low in carbs, making it difficult for many people to follow.
This is because there are not a lot of foods that meet the keto diet. 
However, breakfast cookies can be adapted to meet a keto diet's needs. This makes them a hugely popular breakfast for many people who follow the Keto diet. 
Almonds are sweet and nutty, which makes them the perfect ingredient for cookies.
They work great in a breakfast cookie recipe as they bring plenty of sweetness without being over-indulgent! 
This final recipe will provide you with a low-sugar but sweet and chewy breakfast food.
Cranberries are very nutritious, sharp and sweet – making them the perfect summer fruit for some refreshing breakfast cookies!
Check out the recipe above and give it a try!
Conclusion
So, those were the top 20 best breakfast cookie recipes for you to try! 
There are lots of options open to you so finding the right recipe for you is easy.
Check out the above recipes once more, pick out your favorites, and get baking! Good luck and we hope you enjoy your nutritious yet super tasty breakfast cookies!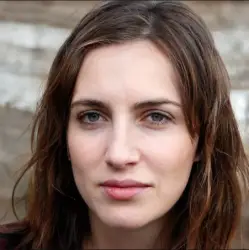 Latest posts by Anna Ingham
(see all)