When it comes time to get married, there are lots of things you need to consider and plan for.
You have to make sure that all of the outfits are taken care of, the venue is sorted out, and of course, what is a wedding without cake? 
But traditional wedding cakes aren't as common these days, with lots of people opting to swap it out for something more modern and unique.
It's safe to say that most people love cheesecake, and having a wedding cake cheesecake is definitely quirky and unique! 
If you are looking for some cake inspiration and the idea of a cheesecake sounds good, then read on to learn more about 15 of the best wedding cake cheesecakes you can use for any wedding! 
Cheesecake is such a good option because there are so many different types and variations. Whether you want chocolate or fruit, there is something for everyone when it comes to cheesecake!
If you are looking for some cheesecake inspiration, then read on to learn about 15 wedding cake cheesecakes that you and your guests will absolutely love! 
1. Blueberry Wedding Cheesecake
First, on the list, we have this absolutely fabulous blueberry wedding cheesecake. This cheesecake is great for anyone who wants a dessert that is incredibly fruity and super eye-catching! 
Your guests will be in awe of this cheesecake as soon as they see it and what makes this cheesecake so good is the fact that it's vegan.
This makes it not only incredibly delicious, but it means that more of your guests can enjoy it. 
This cheese is truly a masterpiece and relatively simple to recreate. 
2. Edible Flowers Wedding Cheesecake
Weddings are the perfect place to bring flowers and one way you can incorporate them that is both creative and beautiful is by decorating your cake with them!
This edible flower wedding cheesecake is tasty, beautiful, and incredibly versatile. You can make it whatever flavor you want really because the flowers themselves are just for decoration. 
You can mix and match the flower colors as well, so have a look for different kinds of flowers to use as decoration.
This cheesecake will match the rest of your wedding perfectly and you won't regret using it for the event. 
3. Eton Mess Wedding Cheesecake
This wedding cheesecake is based on the traditional and popular Eton Mess dessert that originates from England.
It is filled with strawberries and other berries, but the inclusion of a crumbly and creamy cheesecake base just makes it even better! 
This cheesecake is incredibly colorful and offers you something that is still traditional, while also giving you the opportunity to include something a little different in your wedding. 
4. Fig & Honey Wedding Cheesecake
Honey and fig is a popular combination that is both rich and sweet. This combination is great by itself, but when you pair it with a cheesecake it just gets even better!
You can use whatever cheesecake base you desire, but if you really want to enjoy it, the best cheesecake you can use is vanilla! 
The creaminess of the vanilla cheesecake adds even more to the flavor and the presentation is also fantastic. Just look at the way the figs and berries complement the design!
This cheesecake will look fantastic in photos and it will taste just as good as it looks. 
5. Chocolate Drip Wedding Cheesecake
If you enjoy chocolate, but the idea of a full-on chocolate cheesecake sounds a bit too sickly, then you will absolutely love this chocolate drip wedding cheesecake!
It is mainly made out of a classic vanilla cheesecake, but then it is drizzled in delicious chocolate to give it this wonderful drip effect. 
You can use whatever chocolate you want as well, so if you want to use white chocolate or dark chocolate instead of milk chocolate, you definitely can! 
6. Vegan Salted Caramel Wedding Cheesecake
Salted caramel flavored everything has become more and more popular, and it's no real surprise as to why! It's incredibly tasty and pairs so well with so many different ingredients. 
This particular cheesecake pairs salted caramel with a vanilla cheesecake and it also includes a fantastic topping made up of frozen blackberries, nuts, and seeds!
This cheesecake has a lot going on, but all of the flavors and textures work incredibly well together and you and your guests will enjoy digging into this cheesecake at the wedding. 
7. Raspberry Wedding Cheesecake
Raspberries are great because they can pair well with practically any other sweet ingredient. They are juicy, they are tart, and they are always delicious!
This cheesecake is absolutely swimming in raspberries and the deep red color makes it look incredibly fancy, which is always perfect for any wedding! 
This wedding cheesecake also calls for raspberry compote to add a fantastic drip effect and even more flavor. This cheesecake is bold and delicious which will make it a fantastic addition to your wedding! 
8. Funfetti Wedding Cheesecake
This is a great cheesecake to use in your wedding if you want something a little different than just a fruit variation.
Sometimes, just adding sprinkles or confetti is all you need to give your cake a little bit more of an edge! 
To take this cheesecake to the next level, you will also be using white Oreos as decoration on top, and it's amazing how much of a difference this subtle addition makes!
This whole cheesecake is packed with flavor without needing to use chocolate or fruit, making it the perfect cheesecake for any wedding where you want something a little different. 
9. Blackberry Wedding Cheesecake
Blackberries deserve just as much appreciation and recognition as blueberries and raspberries, so if you want something that is just as tasty but not quite as obvious, this is a fantastic cheesecake to incorporate into your wedding. 
The blackberries are deep and dark in color which contrasts incredibly well with the vanilla cheesecake.
You can use fresh or frozen blackberries for this cheesecake, but we would recommend frozen! This is the perfect cheesecake to use if you are having a winter wedding. 
10. Black Forest Cheesecake
This cheesecake is both simple and effective! If you are a fan of the classic Black Forest Gateau, then this is the perfect cheesecake to use for your wedding. 
It is a classic vanilla cheesecake that is topped with delicious black chocolate swirls and juicy, ruby-red cherries.
The crust is also made out of chocolate, which makes this cheesecake a little different from the more classic recipes. 
This cheesecake is incredibly rich and full of flavor, and you and your guests will absolutely love every single bite. 
11. Three-Tiered White Chocolate Cheesecake
The presentation of this three-tired white chocolate cheesecake makes it look so much like a traditional wedding cake that you will forget that it's a cheesecake until you taste it!
If the presentation is one of the most important parts of your wedding, then this is the perfect cheesecake cake for you to use. 
It is incredibly creamy thanks to the vanilla cheesecake, sweet but not too rich thanks to the white chocolate, and of course, it has a beautiful tartness thanks to the raspberries. 
12. Bourbon Vanilla Cheesecake with Chocolate Ganache
If you are having a child-free wedding, then that means you can get a bit more adult-friendly with the ingredients used in your cheesecake cake!
This vanilla cheesecake starts off simple, but it soon adds in some delicious bourbon before being topped off with delicious berries. 
This cheesecake is creamy, rich, and packed with flavor!
13. Gluten-Free Mini Cheesecakes
You can do whatever you want at your own wedding, and if that means you want mini cheesecakes instead of a full one, you most definitely can!
These mini cheesecakes cover all the bases, delivering you a set of beautiful vanilla cheesecakes topped with delicious berries. 
They are simple, and plentiful so no one will miss out, and you can present them in so many different creative ways. 
14. Simple Wedding Cheesecake
Sometimes simple is the best way to go, and this cheesecake definitely fits those criteria! Just because it's simplistic in its design though, that doesn't mean that it isn't absolutely delicious!
This vanilla cheesecake is made in two tiers and it is simply topped with lavender to add a subtle extra taste. 
15. White Chocolate Peppermint Bark Cheesecake
Here's another fantastic cheesecake for all those winter and Christmas time weddings.
The peppermint pairs incredibly well with the chocolate bark and vanilla cheesecake, creating a delicious taste sensation in your mouth. 
You and your guests will love this bright and delicious cheesecake.
Conclusion
The best weddings will have the bride and groom's own personal touch, so don't be afraid to break traditions! 
These wedding cake cheesecakes are perfect if you want something more fun than a traditional wedding cake and they are all absolutely delicious!
Try some of these cheesecakes out for yourself and see which one suits your wedding best!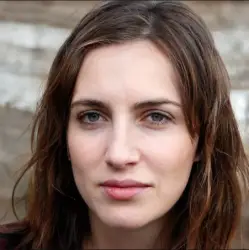 Latest posts by Anna Ingham
(see all)