Sugar is hidden in so many of the foods we consume today, from sauces and pasta to bread and beverages, but if there's one type of food we know sugar is included that would be desserts.
Reducing the amount of sugar we eat can only benefit our health, so trying to make some sugar-free desserts that replace refined sugar with natural or artificial sweeteners is a great way to start.
In this article, we have the 15 best sugar-free desserts, so choose which one you will make today and keep the rest for the rest of the week!
Starting with one of the best cakes you can make without using sugar, the carrot cake offers the sweetness of the carrots and xylitol comes to replace the rest of the artificial sweetness that's added to it.
The sultana raisins are also very helpful in upping the sweet taste of every bite, while a good drizzle of maple syrup on each slice before serving can also help you make your carrot cake taste just like how it would if it had some white sugar in it.
With this second sugar-free dessert on our list, it is time to share with you the fact that when looking for dessert recipes with no sugar in them, what you'll often end up with are keto-friendly recipes.
A ketogenic diet that minimizes your carb intake requires dessert recipes like this chocolate mousse one, where sweeteners replace sugar.
For this mousse, you will also need heavy cream or full-fat coconut milk, cocoa powder, and a bit of vanilla extract.
As for the preparation, it is a very simple dessert to make, requiring some mixing and whipping till you get that mousse texture you need.
Let the sugar substitutes do their magic once again in this sugar-free apple cake that uses granny smith apples and an apple pie spice to bring you the authentic taste of an apple cake.
This cake's taste will not only be different because of the sugar alternatives you'll be using but also because instead of adding plain wheat flour, you'll be going for a mix of cake flour and whole wheat flour!
Ice cream is undoubtedly THE summertime dessert, but when you want to skip the sugar, does that mean you have to skip ice cream completely? Not with this sugar-free ice cream recipe.
Using unsweetened almond milk, vanilla bean pods, egg yolks, double cream, and a sweetener, this ice cream recipe yields the tastiest vanilla-flavored ice cream that will make you wonder why you were eating the classic, sugary version all along.
We know we've been talking about keto desserts and sweeteners so far, but some desserts can be made sweet and taste great without any sweetener or without having to necessarily be keto.
This recipe for sugar-free brownies is the perfect example of that. Using Medjool dates, 100% dark chocolate, and a sugar-free raspberry jam, this dessert is all about natural sweetness.
As for the rest of the ingredients, they are pretty much the same as those of a classic brownie, with some additions like almonds and the complete absence of flour being perhaps two other points that make this recipe stand out from all the rest.
Is it possible to make cupcakes with no refined sugar or flour? Yes, it is, and these lemon cupcakes are proof of that.
Made with white whole wheat or gluten-free flour, stevia, Greek yogurt, and non-fat milk, these cupcakes are so sweet and lemony at the same time that you won't be able to keep your hands off of them.
Why would you? With only 130 calories each (see also '10 Tasty Low Calorie Desserts To Make This Weekend'), you have every reason and chance to enjoy more than one with your afternoon coffee or tea.
Cocoa powder, boiling water, cake flour, baking soda, salt, butter, eggs, milk, vanilla extract, and a sweetener are the key ingredients to getting the best sugar-free chocolate cupcakes.
Even though you will get a few more calories from each chocolate cupcake than you will get from the lemon ones we have right above, there is no reason why you should think twice before making them when you are craving a healthy chocolate treat.
If you are looking for a dessert recipe that has no sugar but also one that needs no more than 10 minutes of preparation, then this cheesecake recipe is a must-try for you.
With an almond flour crust made with butter, monk fruit sweetener, and vanilla extract, this cheesecake has a filling that is using the same sweetener to sweeten up the cream cheese, eggs, and lemon juice mixture.
Count for approximately one hour to bake the cheesecake to perfection and eat it as it is or by adding some fresh strawberries or some sugar-free strawberry jam on top.
By now, you have most probably understood how easy it is to make a sugar-free dessert and cinnamon rolls are no exception.
This recipe used aquafaba, almond milk, white bread, or wholewheat flour for the rolls, and Deglet Noor dates with cinnamon for the filling.
As for the glaze, sugar is replaced by maple syrup, which is known for its natural sweetness and irresistible flavor.
A blondie is that kind of dessert you can eat any time of the day and, for example, have as a breakfast option with your coffee or as a snack later in the day.
It is also one of those desserts that are so easy to pack and enjoy at work or eat on the way to the office as you don't need any cutlery to eat it.
And, if you replace the refined sugar with some coconut sugar and add sugar-free dark chocolate pieces to it, you can enjoy it guilt-free and in no time as it can be prepared and cooked in no more than 40 minutes!
Donut dough is very easy to make, so making one that is sugar-free is equally simple and easy.
However, what we love about this recipe is how it replaces plain flour for some almond flour and regular milk for some coconut milk.
Even though you can still go with the classic options for the above if you are not on a low-carb diet, try these alternatives for something different and you won't regret it.
For your sweetener, go with monk fruit sweetener, erythritol, or even some sucralose and stevia if you don't mind the taste.
Shredded unsweetened coconut, almond flour, coconut oil, and maple syrup: these 4 ingredients are all you need to have on your countertop to make the best sugar-free coconut cookies ever!
With 124 calories per cookie and lots of coconuts, these cookies are sweet, soft, chewy, and a great way to treat yourself to something healthy that does not contain cups and cups of sugar for no reason.
Pumpkins (see also '10 Tasty Pumpkin Desserts To Make This Weekend') are naturally sweet, something that makes pumpkin pies a dessert that is so easy to enjoy in a sugar-free version.
Unfortunately, buying ready-made products or trying to make things sweeter just for the sake of it has led us into adding an unnecessary amount of sugar to these pies.
Thankfully, this recipe can change your mind and encourage you to swap your refined sugar for some artificial sweetener. And while the recipe calls for ¾ of a cup of sweetener, you can go for less than that to better appreciate the natural sweetness of the pumpkin.
Of course, don't forget to add whipped cream that's also sugar-free and buy or make a sugar-free pie crust.
Just like their name suggests, chocolate bites are so easy to snack on as they are bite-sized and delicious.
Nevertheless, this does mean that many people can end up eating too much, which is not very good when they are filled with sugar.
If you cannot but indulge in many of them, we have the solution for you in these sugar-free chocolate bites that are made with pure maple syrup, a natural alternative to refined sugar.
Raw cashews, shredded coconut, coconut oil, and some fresh lime juice make the tastiest sugar-free coconut balls and are the best way to wrap up this list of the best sugar-free desserts you need to make today (see also '15 Best Japanese Desserts To Make Today').
With nothing but natural flavors and no refined sugar, you will not believe just how sweet these coconut balls taste until you've tried them.
The Bottom Line
Most people nowadays are used to consuming great amounts of sugar in their day but with this list of the 15 best sugar-free desserts you can make at home, you can start eating less sugar with some simple swaps.
So, try making any of these desserts today and save the rest of the recipes for the next couple of weeks when those sweet cravings hit!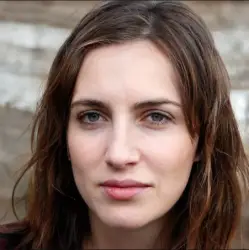 Latest posts by Anna Ingham
(see all)