The best sugar cookies should have a medium-soft texture, though you can bake them for longer if you prefer them crispy.
Some of the recipes are traditional and passed down from generation to generation.
They should also be effortless to create as the dough comes together quickly with only a few simple pantry ingredients and does not require chilling.
If you need a bigger batch, simply double up with ingredients and they will freeze well if you have any left over. 
In this guide, we will look at eight tasty sugar cookie mix recipes you'll love to make at home. This will include basic, classic, and easy recipes as well as those that are gluten-free.
Some recipes can create a small batch or only use three ingredients while others need to be followed to create soft and chewy cookies or crisp ones if you prefer. 
Small Batch Sugar Cookies
Soft And Chewy Sugar Cookies
Three Ingredient Sugar Cookies
Basic Sugar Cookie Dough
Crisp Sugar Cookie Mix
Classic Sugar Cookies
Easy Sugar Cookies
Gluten-Free Cut Out Sugar Cookies 
If you only want a small batch of sugar cookies or want to scale them up readily then try this recipe as it should only make six. The dough also can be prepared in bulk and does not even require chilling.
It is also made with melted butter which is ideal if you forgot to leave it out to soften, great if you are in a rush.
Try to find something to make with the remaining egg white too as you only need the yolk for a decidedly chewy cookie.
Make sure to melt the unsalted butter in the microwave but not for too long as it will splutter. Once you have created the cookie dough, use a spatula to press it down until it resembles a flat disk.
Divide the dough and you only need to pinch three equal amounts from each half which can be easily done.
Do not be too alarmed if the cookies rise in the oven as they will deflate and crackle on the top as they cool down. 
You may like your sugar cookies to be crisp yet if you need them to be soft and chewy then this is the recipe for you.
Even if you were born without a sweet tooth, these Soft And Chewy Sugar Cookies should prove impossible to resist.
You will need to ensure that the butter is at room temperature but cool to the touch and not greasy so leave it out for between 15 and 20 minutes.
Try to avoid packing in your flour too as it should be fluffed so the cookies do not come out dry. 
Do be reassured that you need a full tablespoon of vanilla extract in this recipe so do not be shy. For that extra touch, reserve some sugar in a small bowl to roll the dough balls in until coated.
As they bake, the sugar should crystallize resulting in a rewarding crunch with every bite. The cookie itself should still be soft so take them out of the oven as soon as the cookies begin to crack.  
That's right, you can create a batch of delicious sugar cookies with only three simple ingredients from your pantry, you do not even need any egg.
This is the ideal recipe if you are invited to a potluck and simply forgot to make anything, just have a look in your pantry for unsalted butter, granulated sugar, and all-purpose flour.
You can add a teaspoon of vanilla extract if you want to and even cover them with rainbow sprinkles. 
This is a delicate batch of cookies so you should only press them down to between an eighth and a quarter of an inch thickness.
Bake them until just golden on the edges then allow them to rest on a cooling rack.
If you are seeking a base sugar recipe that you can prepare in advance and then jazz up then look no further.
This recipe is incredibly versatile as you can add a range of flavors, make it ahead, and then leave to chill in the refrigerator.
That makes it ideal for birthdays, the holidays, or any special occasion when you need to bring some treats.
Feel liberated to add some almond extract, lemon zest or simply add some rainbow sprinkles for funfetti cookies.
Of course, you may well want to create a batch of crisp sugar cookies and that can be easily done.
To create that desirable texture, you need to substitute the white granulated sugar you would typically use for confectioner's sugar.
Check your cupboard for cream of tartar too which is a key ingredient.
Additional ingredients include softened butter, an egg at room temperature, vanilla extract, almond extract, and even colored sugar for decoration. 
Be prepared to chill the cookie dough for between two or three hours, though this should be overnight if you have the time.
Preheat your oven to 375°F to get it nice and hot so that the cookies crisp up.
Once you are ready to bake, roll the dough out to an eighth of an inch thickness and use a cookie cutter which has been dipped in flour.
Trust Betty Crocker to know how to create a classic batch of sugar cookies. These cookies should taste familiar as they will have been created just how your grandma used to make them.
That includes a buttery base and a divinely short texture with both vanilla and almond extracts. 
Use a teaspoon each of cream of tartar and baking soda with powdered sugar to get that desirable consistency.
The frosting is also important as you will need just a tiny dash of vanilla extract and only so much milk to make it viscous enough.
For the holidays, have a few bowls for different colored icing including red, green, and red. Get creative with the designs too as the sugar cookies provide a great base to work from.
Mix in sprinkles, candies, or even chocolate mints with this recipe for Easy Sugar Cookies. Both baking powder and soda are included as leaveners so these cookies should rise a treat.
Add your treats once the cookie dough has blended but be gentle with the mix. Once the edges of the cookies are golden, remove them from the oven and leave to cool completely.
Not only are these sugar cookies gluten-free but nut free too. Your biggest consideration should be on the gluten-free flour you use as you could have a preferred blend.
Alternatively, you could use single ingredient flours like rice flour or almond flour. You will still need an egg to act as a binding agent as well as flavor enhancers like salt and vanilla extract. 
Xanthan gum is another key ingredient so check that your flour blend already contains it or you will have to buy it separately.
The frosting is optional but you only need some unsalted butter, milk, vanilla extract, Kosher salt, meringue powder, and confectioner's sugar.
Simply bake the cookies first, then create the frosting while they cool and pipe it on. 
Final Thoughts
A batch of sugar cookies should be easy to make, whether you need a small batch or only have three select ingredients. They can be soft and chewy, crisp, and even gluten-free, the choice is yours.
The trick is to be delicate as some recipes will even suggest simply prodding the dough into size rather than rolling it out.
Be careful not to over bake them as they only need a few minutes in the oven before the edges begin to crisp up and become golden. 
Frequently Asked Questions
Can You Prepare Sugar Cookies With Cookie Cutters?
Typically, sugar cookies are rather delicate so you may just want to press them down into shape rather than roll them out.
If the recipe does suggest that you can roll out the dough, roll it between two sheets of parchment paper.
It may be an idea to use rolling pin guides which guide the rolling pan so that the dough is rolled out to an even thickness. 
How Do You Store Sugar Cookies?
If you plan on nibbling on the sugar cookies for a few more days, pack them into an airtight container. They can be kept in there for around three days but there is a trick to keeping them soft and dainty.
Add a piece of bread into the container as it will become hard while the cookies will remain soft.
You can also freeze your cookie dough prior to baking and even store the baked cookies in there as balls ready to be defrosted and formed.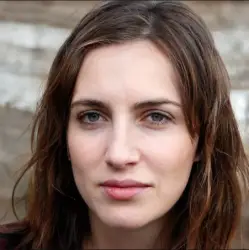 Latest posts by Anna Ingham
(see all)