You no longer need to travel to Italy to enjoy some classic Italian desserts. From the comfort of your kitchen, you can whip up some delicious sweet treats that taste just as good as the original.
From cannoli and biscotti to tiramisu and genoise, we have assembled the very best desserts for you to try – with each bite you'll be transported to the Tuscany seaside. 
With this in mind, below you will find 15 of the best Italian desserts to make today (see also '15 Best French Desserts To Make Today'). 
Let's get straight into it! 
This is another traditional Italian dessert that is typically flavored with vanilla to make a quick and easy sweet treat. 
To make panna cotta, all you need is heavy cream, sugar, and vanilla. To achieve the custard-like consistency, gelatin sheets are added to the mixture. 
When making panna cotta, the choice of ingredients is essential – therefore, make sure you're choosing the highest quality and freshest ingredients possible. 
Once you have everything assembled, top it with seasonal fruits and serve with an optional ganache or caramel sauce. 
When translated, tiramisu means 'pick me up' – and it certainly lives up to its name! With each mouthful, your spirits are sure to be lifted. 
Essentially, tiramisu could be described as the older, cooler Italian cousin of the icebox cake in America. The two desserts contain a layer of cookies with a sweet, light filling inside. 
However, tiramisu contains one key ingredient that sets it apart from other desserts. This takes the form of zabaglione. 
This is an otherwise fancy name used to describe a mixture composed of egg yolks whisked together with marsala wine and sugar over heat until it becomes pale, light, and foamy – it helps to establish the overall flavor of the dish. 
Pizzelle combines the very best desserts: cookies and waffles, to create the oldest cookies in the world. 
These thin cookies are chewy on the inside and crispy on the outside and are typically flavored with light anise. 
Generally, pizzelles are made using a special waffle iron that features engraved plates, however, a waffle cone maker is perfectly fine, too. 
For this recipe, all you need is flour, eggs, baking powder, granulated sugar, vanilla, and anise seeds. You can serve them plain, with Nutella, powdered sugar, or ice cream! 
If you've ever been lucky enough to eat ice cream at a local gelateria in Italy, then you'll know the difference between ice cream and authentic gelato. 
Gelato – which is the Italian word for ice cream – is smoother and denser than its American counterpart. Its high proportion of milk, as opposed to cream, means it's lower in fat, too. 
At the core of all amazing gelato recipes are whole milk, and sometimes egg yolks – depending on the area in Italy – which help to achieve the yellow color. 
With only five ingredients and 10 minutes of preparation time, all the hard work is left in your ice cream maker or freezer. 
Semifreddo – otherwise known as 'half-cold' or 'half frozen' in Italian – got its name from its unique texture. While the dessert is considered frozen, it remains soft and creamy. 
It is commonly mistaken for ice cream, however, semifreddo isn't made using churning. Instead, it is usually found in a metal loaf pan where it is molded and sliced. 
That being said, the steps that go into making semifreddo can be considered somewhat tedious. 
You'll want to ensure that all your ingredients and utensils remain extremely cold during preparation – this is because it has the ability to melt very easily. 
Then, you'll want to keep it in the freezer for at least eight hours, preferably overnight. However, once done, you're sure to dazzle your guests. 
Biting into the delicious cannolis is an experience in itself. Firstly, your teeth sink into the crispy deep-fried pastry shell, then you're provided with a burst of flavor from the creamy and sweet ricotta cheese filling – both flavors and textures working in complete harmony. 
Traditionally the recipe called for a crispy, fried pastry wrap, stuffed with ricotta filling, chocolate chips, and candied pumpkin cubes. Although, the latter isn't found much anymore. 
Over time, the trimmings have become more and more adventurous, however, one thing stays the same: the filling.
So whether you're covering them with chopped pistachios, candied cherries, or orange peels – you're still awarded those authentic flavors passed down through generations. 
Pastiera Napoletana is a traditional Italian wheat berry, citrus-scented, and ricotta pie that is extremely popular in the region of Naples. 
In Italy, this sweet dessert is synonymous with all-things Easters – with homes all across Naples dishing out their own versions of the pie composed of grano cotto, otherwise known as cooked wheat. 
The pie encapsulates a shortcrust pastry filled with ricotta, eggs, cheese, candied orange peels, and, of course, cooked wheat. 
The dessert is typically made before time to allow the ingredients and flavors to meld and settle together. 
When it comes to Italian recipes, Biscotti is one of those desserts that stand out in the crowd. 
Traditional Italian biscotti – otherwise known as cantucci or Biscotti di Prato – are dry biscuits that are both crispy, tasty, and known to taste delicious when dipped in a sweet wine or morning coffee. 
The recipe is quick and simple enough, although there is a hidden element to these cookies. That is, they need to be cooked twice. If you exceed the temperature here, it could result in hard, inedible cookies. 
However, follow the steps in this recipe and you're sure to be awarded deliciously authentic biscotti. 
The classic Italian Pignoli recipe is composed of chewy, soft, almond-favored center, with a crunchy, crispy exterior covered in toasted to-perfection pine nuts. Plus, they are super simple and quick to make! 
These pignoli cookies – otherwise known as Amaretti con Pignoli – are an Italian bakery classic. If you're looking to make an authentic classic, then you've come to the right place. 
They are a holiday favorite, plus they are naturally dairy- and gluten-free! 
It isn't Christmas in Italy until someone pulls out the Panforte – most likely than not, it is homemade, too. 
Panforte is a traditional Italian fruit cake originating from Siena. It is made using a combination of nuts, honey, and candied fruits – the perfect dessert to share with friends and family. 
An extremely popular Italian dessert, Genoise is a light sponge cake that achieves its texture thanks to whipped eggs. 
Whether you're using chocolate or vanilla, the sponge absorbs tons of syrup for added moisture, sweetness, and flavor. 
Whether you are eating it on its own or layering it with cream and garnishing using fresh fruits – you can't go wrong with the cake, suitable for every occasion. 
Italian bomboloni donuts are soft and light – rolled in sweet sugar and filled using an Italian pastry cream (or crema pasticcera). They make for a deliciously special treat. 
You can't beat warm-served doughnuts, however, when filled with an Italian pastry cream spiked with limoncello, they become pure heaven. 
In Italy, you can usually find these desserts served in bars alongside breakfast and a cappuccino. 
Unlike their American counterparts, these are made with yeast – providing a much lighter and airy texture. 
This is another classic Italian Christmas recipe. Essentially, it is a sweet bread composed of tons of candied fruits and raisins. 
Using a cylindrical mold, it is baked in the oven to achieve the traditional Panettone shape.
While the preparation may be time-consuming, as you need to give time for the dough to rise, you won't be disappointed with the end results!
What's better than the combination of coffee and ice cream? Affogato – which translates to 'drowned' looks and tastes impressive – plus, it couldn't be easier to make!
You'll want to start with a simple vanilla ice cream and then 'drown' it with a shot of espresso. 
Here, the hot coffee melts the ice cream, creating a delicious creamy masterpiece – you'll never go back to regular ice cream again. 
Again, struffoli is another Christmas favorite in Italy. That being said, it can also be enjoyed all year round – especially for those looking for simple Italian potluck desserts! 
Essentially, these are small pieces of dough that are deep-fried and then coated in delicious honey. Thanks to their shape, and stickiness, they can be assembled into a wreath or cone. 
As the honey begins to solidify, it helps to keep the shape of the struffoli. For optimal flavor and texture, ensure you serve these on the same day. 
Final Thoughts
Among all the things Italy is known for, one aspect that comes on top is Italian desserts. With such a huge variety, you'll be whipped up by these desserts all week long.
Hopefully, this guide has informed you about the best Italian desserts to make today (see also '15 Best Indian Desserts To Make Today').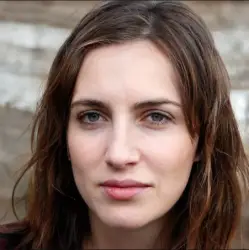 Latest posts by Anna Ingham
(see all)