When it comes to cake decoration, one of the words that might not immediately spring to mind is 'tropical'. However, if you like to do something a little out of the ordinary, then tropical will certainly be an option for you.
Because tropical wedding cakes can be ideal for even the most traditional settings and are a lot more tasteful than you might first think.
You can get cakes that graduate through various shades and colors or cakes that practically leap off the plate with vibrancy.
But which is the best tropical cake for your special day? Are there cakes more suitable for weddings and others more suitable for birthday parties?
What ingredients go into these cakes? Well, we have some inspiration for you with some of the best tropical cake pictures we could find.
13 Best Tropical Cake Recipe Ideas
1. Relaxed Hawaiian Wedding Cake
This first cake looks incredible, outlandish but not one that draws too much attention to itself. It has a beautiful garland that cascades down the side of the two-tiered cake.
This one is made from a combination of chocolate and vanilla, which is the perfect combination of creamy and bitter.
This looks amazing if you decorate it with lights and make the perfect understated centerpiece for your wedding or anniversary party.
The contrast between the light and dark icing is great if you are looking that represents two halves becoming whole.
2. Havana Nights Wedding Cake
As you can see, this cake really blends the exotic with the traditional, with a plain white body of the main cake offset with flowers that are cascading down the side.
This cake has four tiers, so you won't have to worry about it making an impression.
You can either choose to have flowers that are edible, or you can opt for something artificial with larger leaves that is much more vibrant.
This has a traditional Cuban vibe about it, so if you are Latin, this is the ideal cake for you.
3. Three-Tiered Wedding Cake
Next up, we have another white wedding cake that comes with a splash of color. This cake has a real conventional decorative design and comes with yellow and pink flowers with large petals that almost resemble an explosion.
This has beaded icing around the edges, which adds to the finesse of the final cake design.
You can arrange the flowers in whatever style you like, although can see that this design has chosen a swirling waterfall effect that really stands out against the white icing.
4. Hawaiian And Cuban Tropical Wedding Cake
Next up, we have flowers that are much more subtle, purple in the center with largely white petals. This has white ribbons around the bottom of each of the three tiers, again, adding that extra sophistication to the final cake.
This is the ideal cake for a wedding day, as it lies directly in the middle of the conventional and strange. This cake has a very pristine design, with straight edges and an overall vibe that could be described as 'neat'.
5. Summer Hawaiian Wedding Cake
This one is a three-tiered wedding cake, with one large tier in the center that dominates the whole effect of the cake.
The other eye-catching thing about this one is the color scheme, which is like a sunset that starts deep red at the bottom before transitioning through to orange and then finally white.
This cake is another very neat one and perfectly balances out against itself. This also comes with sugar flowers that are perfectly edible, so you won't have to worry about your guests choking at any point.
6. Tropical Flowers Wedding Cake
The great thing about this cake is the square shape of the tiers contrasts nicely with the controlled chaos of the flowers that are arranged in a waterfall effect down the side.
This has bright pink flowers for the main motif, but you can mix these up with multiple colors.
You can always use your wedding cake color scheme as the basis of your whole wedding, in this instance mixing lilac with white and yellow.
You can arrange the décor of the room in the same way as well as the bridesmaid's and groomsman's outfits.
7. California Coast Wedding Cake
We doubt that you've seen a cake as colorful as this before. This is an explosive cake that you won't want to cut into just in case it ruins its artistic integrity.
This comes with a marine blue lower tier with dots of color in the form of flowers.
It has four tiers, so there'll be plenty to go around. This cake can be applied to lots of situations, not just weddings.
Think of it as a cake of celebration, even if it is just of life in general. You can also add a frond to the back of the cake to give it that frozen firework effect.
8. Tropical-Inspired Wedding Cake
This is a handmade cake with which a lot of attention to detail has been paid. If you are looking for a cake that will stand out from any other you have seen before, then this one might be ideal for you.
It has swirls that run around the entire edge of the cake and is punctuated by flowers.
This has salmon pink flowers around the sides and on the top of the cake, which gives the eye something to look at when it travels down the side.
You can vary the flowers for different contrasting shapes, or you can insert your own favorite exotic flower instead. One general rule we would recommend is to go with muted rather than bright colors.
9. Sugar Flower Tropical Wedding Cakes
This is a tropical wedding cake that is festooned with color and large flowers that explode from the top and the sides.
It is a single-tier cake, and the flowers do a majority of the decorative work. The main body of the cake is covered in white, raked frosting.
These are covered with sugar flowers, which means that all the cake can be eaten. You can set this one down on a palm leaf, which provides that extra bit of greenery and darkness in contrast to the lightness of the cake itself.
10. Hawaii Oceanside Elegance
This is another cake that comes with a raked frosting around the sides that makes the cake look a lot wider than it is. If you are on a budget, then using optical illusions like this will help to make your cake look a lot more impressive than it is.
This comes with lilac and pink leaves that flow from the side and draw attention to the top of the cake.
There are also green leaves that add to the sense of drama that the main body of the cake lacks. This is another one that merges traditional with exotic.
11. Paradise Petal Cake
Here we have another cake that comes with petal patterns that are carved into the side of the cake itself. It also has a fade that travels from pink to white, creating a sunset effect. This is a two-tiered cake that you can put on a clear stand for that extra gravitas.
That comes with a floral explosion on the side that gives that added element of drama to the final product.
The frosting is very sweet and you can pick whatever flavor that you think is most suitable for the center of this tropical cake (we would recommend coconut or lemon).
12. Tropical Bridal Shower
Next up, we have a cake that couldn't get more tropical even if it tried. This cake is wrapped in banana leaves with a sprig of hibiscus as well as monstera leaves for that added sense of liveliness.
The green mottled design on the outside is what makes this cake the most eye-catching.
This is a very simple cake, but it comes with subtle flourishes in all the right places. You can even have this cake without flowers, as the design on the side and the white and gold detailing on the bottom do a lot of the attention-grabbing.
13. Gaugin-Inspired Tropical Wedding Cake
This is another two-tiered wedding cake that has a rippled frosting on the side that we would describe as more cream than wedding day white.
It has a vein of flowers running through the center of the cake, adding that much-needed exotic color.
You can put this on a rough driftwood plinth to add to the tropical shipwreck effect. The more distressed features that you have on this cake, the more authentic the result will be.
Conclusion
We hope that our tropical cake mood board will help you to find the right cake for your special celebration, whether it is an anniversary, a wedding, or a birthday.
Remember that some of these cakes might look complicated because of the floral decorations, however, the cakes themselves are easy to make.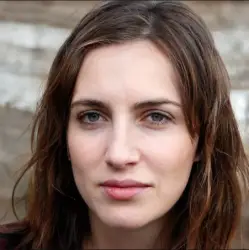 Latest posts by Anna Ingham
(see all)