"What is a dirty wedding cake?" you might be asking yourself. Well, you can use these terms quite loosely and they can encapsulate all different types of cake.
But the generally agreed consensus is that it is a naked cake, with very little decoration and an unfinished sort of vibe.
Because sometimes we all want a bit of decadence, and the idea of a small, neat, white cake really doesn't appeal. Sometimes we'll want a cake with a touch of character or a cake that represents who you are as a person or who you are as a married couple.
So, what are the best dirty wedding cakes that you can make at home? What dirty wedding cakes are out there to give you inspiration?
Well, we have trawled through the internet and found some of the dirtiest wedding cakes so that you can pick out the one that suits your special day.
13 Dirty Wedding Cake Recipe Ideas
1. Simple Naked Cake
This cake has a very plain design that allows you to see the batter underneath and results in a much moister cake overall. It has an almost pink hue to it, which is ideal if you have a white or lilac-themed wedding.
In this picture, you can see they have decorated it with flowers, but it is easy to imagine it without them.
This is also a very cheap and easy cake to bake for yourself. If you like that rustic vibe for your wedding, this is a great cake for you to have.
2. Dirty Birthday Cake
3. Floral Dirty Cake
Now we have a much lighter cake that will certainly suit a wedding that comes with a white or yellow color scheme. As you can see, this one is garlanded with dainty flowers, which is ideal for a summer wedding.
You can put this on a pure glass or wooden stand if you want that folksy feel. However, you could dispense with the flowers as the cake really speaks for itself.
You can serve this with white or red wine. The batter should be moist and fluffy for this type of cake.
4. Stacked Semi-Naked Cake
So, some people like frosting and other people don't, so how can you please everyone? Well, by having one of these semi-naked cakes.
This one has a thinner layer of frosting over the top and the sides and comes in two different tiers, so you can make one thicker than the other.
This also has a different batter on the bottom than it does at the top. You can have dark velvet at the bottom and a lighter sponge at the top.
Also, the beauty of a naked cake is that you can see the batter underneath, so you'll know which layer to cut into.
5. Flawless Semi Naked Cake
This is another amazing cake that has a marble-like effect, perfect for a more refined wedding day celebration.
This cake almost looks like a work of art and you can be sure that it will look just fantastic as the centerpiece of your buffet table.
You can put this on a marble or stone plinth, or you can counterpoint it with a distressed wooden plate.
You can selectively place flowers at a few points on this cake, but make sure you do not overwhelm the main shape, as this is this cake's strongest selling point.
6. Naked Cake With Candied Strawberries
If you like your cake with a little bit of frosting on it, then why not try your hand at this one? It also comes with heavily sugared strawberries and berries, which is great if you want that little tart kick at the end of every mouthful.
This comes with a moist batter that would pair great with either light and fizzy alcohol or warm tea. This has a few layers separated by thick layers of icing.
On top is also a thicker layer of frosting, but you can always amend this depending on your preference.
7. Strawberry Naked Cake
This is a very simple cake with not much adornment except for the small cluster of strawberries on the top. This is a fantastic cake to enjoy during the summer as it will finger that hole of hunger and quench your thirst with delicious strawberries.
The other great thing about having a semi-naked cake is that you are limiting the sugar, so this is seen as the closest thing that you can get to a 'healthy' dirty cake.
This comes in a few tiers, but you can add more depending on your preference.
8. Naked Cake With Mascarpone Cream
This is an amazing cake that you can enjoy at a warm summer wedding or a more chilled winter celebration.
This has a delicious mascarpone cheese frosting around the outside and on the top, with a vanilla batter that frankly tastes amazing.
This comes with the more traditional flower decorations, which is ideal if you are looking for something that will brighten up your special day.
As the frosting is not colorful, you can contrast the floral arrangement by making it as flamboyant as you like.
9. Sweetheart Wedding Cake
This is a more conventional wedding cake, with two tiers and smooth edges that speak to refinement and sophistication.
You can deck this one out with sugar flowers which are completely edible, which makes for much easier cutting and eating.
If you make this cake to the right specifications, then you can be sure there will be plenty to go around for you and your guests.
We would recommend putting such a decorative cake on a plain plinth, as you won't want to attract too much attention to it.
10. Lemon Naked Cake
Now for something a little different that is ideal for all fans of citrus things. As you can see, this is a single-tiered naked cake with segments of lemon embedded in the side.
You can either use raw lemon if you really enjoy that bitter taste or you can opt for dried sugar-coated lemons.
If you like your wedding simple but with a few interesting touches here and there, then this is a great cake for you.
You can either add some lemon extract to this cake or you can use vanilla, as this is a great contrasting flavor for something tangier and more in-your-face.
11. Birthday Sprinkle Surprise
This next cake really has plenty of character. This is a birthday cake, but you can easily make some adjustments so that it becomes a very quirky wedding cake.
The charm of this cake is that it is lopsided and is lavished with hundreds and thousands.
You can see through this cake and marvel at all the multicolored layers that it comes with.
You can stack it with as many tiers as you like until you have something that looks like an Italian Renaissance wonder of the world. Okay, we're being dramatic, but it looks nice.
12. Strawberry Cream Naked Cake
This next cake is one that is overflowing with both color and flavor. If you like your cake to catch people's eyes as well as their taste buds, then we would strongly nudge you in the direction of this strawberry cream cake.
Festooned with flowers and fruit, this cake is made with pink strawberry icing running through the gap between each layer.
You can have the decorations flowing down the side to create a waterfall effect that really adds more drama to an already lively cake.
13. Hummingbird Layer Cake
When it comes to taste, this cake has it all. It is packed with cinnamon, pineapple, banana, and crushed pecans.
This also has coconut and a rich cream cheese filling that you won't be able to get enough of. This cake is perfect for a vintage wedding.
You can have the cake as tall as you like, although the one we have pictures of here only comes with three layers.
This comes with a small bunch of flowers at the top for decoration, although you can easily have this one without any adornments.
Conclusion
We hope that our mood board of dirty or naked cakes has given you some idea of the possibilities that are available with this type of wedding centerpiece.
There are some flavor ideas here that you can explore, although really the only limit is your imagination.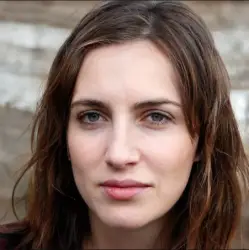 Latest posts by Anna Ingham
(see all)