Are you looking for a unique and delicious wedding cake recipe that is also minimalist and stunning? Look no further!
With these 15 recipes, you can have the perfect cake for your special day without having to sacrifice style or taste. Let's dive in!
This classic and timeless recipe is sure to please all your guests. The key to making this delicious cake is to create moist layers of vanilla sponge cake sandwiched with a light but creamy buttercream frosting. 
Topped with fresh berries or simple edible flowers, this cake looks great without being overly complicated. Plus, it tastes just as good as it looks! Serve it plain or dress it up with some chocolate shavings for an added touch of sweetness.
For a beautiful and delicious wedding cake that won't take hours to decorate, try this delicious offering.
It looks deceptively impressive with its three tiers of light vanilla sponge filled with mascarpone cream, tart strawberries, and buttercream. 
The whole strawberries give it a unique look without being overly fancy or complicated. Plus, the light taste of vanilla and sweet strawberries will make every bite a delight.
For couples who are looking for a wedding cake that is beautiful, delicious and simple, a fondant-free cake is the perfect choice. 
This type of cake requires minimal decorating, as it relies on its own natural beauty. It is made with two or three layers of soft vanilla sponge which are filled with a creamy buttercream frosting and fresh fruit or preserves. 
The outside can be left unadorned for an understated look or decorated with piped designs for a more elaborate effect. A fondant-free cake can be customized to fit any color scheme or theme. 
If you're looking for a show-stopping cake that will wow your guests, this cake is the perfect choice. This Lemon Elderflower Cake is a light and airy sponge cake made with lots of fresh lemons combined with the unique flavor of elderflower. 
The tart lemon curd filling is a sweet contrast to the delicate elderflower flavoring in the frosting. 
It's a perfect combination that will make your wedding cake stand out from all the rest! To finish off this stunning treat, it's decorated with fresh flowers or edible flowers such as sugared violets or rose petals, giving it an extra special touch. 
This light and airy Lemon Blueberry Cake may well be the 'icing on the cake' when it comes to your wedding day (excuse the pun). The zesty lemon flavor comes from the zest of fresh lemons and a creamy lemon frosting. 
The blueberries provide bursts of juicy sweetness, along with pops of color throughout the cake. Vanilla cake provides the perfect backdrop for these delicious flavors to really shine. 
Plus, this cake looks as good as it tastes – with delicate layers that are artfully decorated with whole blueberries and topped off with a thick layer of creamy lemon frosting. 
This Raspberry Mascarpone Naked Cake is the perfect centerpiece for your minimalist wedding. The cake itself is made with light, fluffy layers of vanilla sponge cake, filled and frosted with creamy mascarpone and finished off with a generous layer of tart raspberry jam in between. 
The result is a rustic yet elegant look that's sure to be a show-stopper. Plus, this cake won't overpower the other elements of your wedding décor – its subtle flavor palette allows it to fit in perfectly with any aesthetic you might have chosen for your big day.
So if you're looking for an effortlessly chic dessert option, this Raspberry Mascarpone Naked Cake should definitely make the list!
This cake is made with layers of light and fluffy almond-infused sponge cake, filled with sweet and juicy strawberry preserves, and finished off with a creamy almond buttercream frosting. 
This delicious cake is sure to be a crowd pleaser and looks as good as it tastes! Plus, this cake doesn't require too much fuss – its minimal design will fit in perfectly with any minimalist wedding theme you might have chosen. What's not to love? 
This dramatic Double Chocolate Mousse Cake is a must-try for any chocolate lover. This scrumptious cake starts with layers of fluffy, rich chocolate cake, which are spread with a decadent layer of dark and white chocolate mousse. 
The combination of the two chocolates creates an incredibly delicious flavor that will have your guests begging for more.
To top it off, this cake is finished with a luscious dark chocolate ganache and topped with fresh berries and flowers to add a beautiful splash of color to your minimalist wedding. 
With layers of light and fluffy vanilla sponge cake, this sweet treat is filled with a fragrant rose water buttercream that adds an extra touch of romance to the dessert. 
To finish it off, the cake is drizzled with a creamy white chocolate ganache and garnished with fresh flowers. The combination of flavors creates a unique and delicious taste that your guests will be sure to love. 
This Blackberry Lime Cake is an elegant and flavorful option for your minimalist wedding. The sponge cake is made with fresh lime zest to add a hint of citrus, and the combination of sweet blackberries and buttercream frosting creates a delicious balance of flavors. 
To top it off, this scrumptious cake is adorned with fresh blackberries, edible flowers, and a scattering of crushed pistachios. Whether you want something light and airy or decadent and rich, this blackberry lime cake is sure to be a hit at your reception. 
If you're a chocolate lover, this Chocolate Truffle Cake will be your dream come true. It's a rich and decadent cake that is sure to impress any crowd.
This recipe starts with a devilishly buttery chocolate cake, which is then layered with an indulgent chocolate frosting. 
To take the presentation to the next level, it can be decorated with chocolate flakes or sprinkles and delicate chocolate rosettes along the edges.
The final product is beautiful in its simplicity and absolutely delicious. Perfect for your minimalist wedding, this Chocolate Truffle Cake adds just the right amount of sweetness without being overwhelming. 
If you're looking for a unique, yet classic cake recipe to make your wedding day even more special, a coconut cake is the perfect choice. 
The sponge of the cake is made with coconut milk and can be topped off with an optional coconut simple syrup that really brings out the nutty flavors. For extra texture and visual appeal, you can also add shredded coconut on top of the frosting. 
Whether it's served as-is or decorated with flowers, this minimalistic cake will add a beautiful touch to your wedding day!
When it comes to your special day, nothing says "romance" like a vegan red velvet cake. This unique cake is sure to be the centerpiece of your reception and will have your guests talking about how delicious and beautiful it looks, especially the vegan ones!
The vegan version of this classic cake is made with plant-based ingredients such as soy milk, coconut oil, vegan butter and cocoa powder. To give it an extra velvety texture, use apple cider vinegar and a little bit of baking soda in the batter. 
To make this recipe even more special, top off the frosting with some fresh raspberries or edible flowers for added decoration. 
This gloriously rich and tender chocolate cake recipe will be the star of your big day! Unlike typical gluten-free cakes, this light and fluffy sponge has all the delightful moistness your guests crave.
Then it's finished with decadent dreamy chocolate buttercream made with pure dark chocolates for a depth of flavor you won't find anywhere else. Most people won't even guess it's gluten-free!
This Pistachio Rose Cake is a showstopper in more ways than one. Not only does it look absolutely stunning with the vibrant green of the pistachios contrasting beautifully with the delicate rosy petals, but it also tastes delicious and is incredibly simple to make.
Chopped pistachios and cardamom are folded into the batter for some nutty goodness and subtle spiciness — all balanced with sweet buttercream icing.
The perfect mix of crunchy and soft, sweet and savory, this cake truly packs a punch when it comes to flavor as well as looking great!
Conclusion 
So there you have it 15 recipes for a minimalist wedding cake. All you have to do now is choose which one. Good luck with making your decision!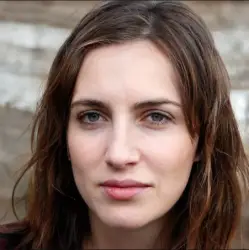 Latest posts by Anna Ingham
(see all)