Weddings are a day you want to remember for all the right reasons. Food plays a big part in your big day, and the cake-cutting is a significant moment that a lot of people remember.
There are thousands of cakes out there that you could fit your theme for your big day.
Pastels are a soft color and work well for any type of wedding, no matter when or where it is.
These cakes look attractive and always taste just as good. If you want a pastel wedding cake then we have you covered. 
In this article, we have collected the 10 best pastel wedding cake recipe ideas for your special day.
Pastel may be a much more delicate color, but you can still create a colorful wedding cake if you want something that looks eye-catching.
This cake combines six different pastel-colored layers. Between each cake and covering the cake is a delicious Swiss meringue buttercream. 
The silky texture of the buttercream works well with the soft and tender vanilla sponges. You could easily add more flavors to the cake batter such as lemon or orange, to add a pop of citrus flavor.
The outside of the cake is then adorned with pastel sprinkles. This cake looks like a lot of fun and is eye-catching.
Everyone will be amazed when you cut into the cake and see a pastel rainbow hiding inside. 
This vibrant design is composed of five pastel layers. The vanilla cake batter can also be used to make a two- or three-layer cake, but you would need to bake the layers a little longer.
In addition to this, you don't have to stick with the pink theme. You could dye the cake batter any pastel color that you like. 
Also, you could add more layers to the cake if you want to make the cake higher. Then a sweet Swiss meringue buttercream is sandwiched between the cakes and covers the cake.
Although, you could also use ready-to-roll icing to cover the cake, to create a much more traditional appearance. 
If you are having a spring or summer wedding, then this cake is the perfect choice. 
With some texture, pretty colorful cakes can capture the eye. This cake is whimsically artistic even with such a straightforward pattern.
This cake's layers of delicious vanilla cake are sandwiched between layers of silky pastel buttercream.
It is up to you what kind of pattern you pipe onto the outside of your cake with the pastel frosting. This is a really simple cake, yet eye-catching to mark your big day to the love of your life. 
This cake is a lot of fun and hides a colorful surprise inside. German buttercream is used for this recipe, as it reduces the amount of sugar that this cake contains overall.
However, if you aren't watching your sugar intake, you could use any type of buttercream or frosting that you prefer. 
A moist vanilla cake is baked with plenty of colorful sprinkles inside. You could choose any color of sprinkles. They could be a similar color to your chosen wedding color/theme. 
Then the outside of the cake is decorated with beautiful pastel frosting. A marbled effect is created by adding dollops of different colors and blending them.
This is a pastel lover's dream. The outside of the cake looks heavenly and inside you have a bright colorful surprise. This cake is perfect for any wedding, no matter the time of year.
If you love chocolate but still want a pastel cake, then we have found the best of both worlds with this cake.
What makes this cake even better is that it takes under an hour to make, yet it tastes delicious. 
Four layers of a rich and dense chocolate cake are sandwiched between three different layers of pastel buttercream.
Each buttercream layer is a different flavor and color, although you could alter these to suit your preferences. 
The light green layer is flavored with peppermint, then there is a lemon layer. Finally, the pastel pink layer is flavored with almonds. 
You can decorate this cake in a way that you like. Why not add a topper with your married name on it? You could always add lots of sparkles, and flowers, or you could keep it plain. 
Since the flavors complement each other well, everyone will want a slice of this cake. 
With this cake, it is all about the icing that creates a dreamy effect. You can use any cake recipe to construct this cake.
You could create chocolate, red velvet, lemon, or a simple vanilla cake for this recipe. 
Once your cakes are ready, they can be decorated with this beautiful pastel watercolor effect. Various pastel colors of buttercream are placed onto the cake.
Then using a spatula swipe around the cake and on top of the cake, to create this watercolor effect. 
You must save some buttercream, as you can use this to pipe a border on the top of your cake as a finishing touch. You could leave the cake as it is or add a cake topper to complete the look. 
Chocolate is a popular choice for a wedding cake, as who doesn't like chocolate?
This recipe shows you how to create a three-tier, chocolate cake. The cake is quite dense and rich, so you don't need a large slice. 
Each tier is covered with a tasty cream cheese frosting which is dyed light blue and pink. Also, every tier uses one pastel color and is decorated slightly differently.
The decoration is really simple to replicate but will take a bit of patience. It creates a bold but simple look. 
Then to make this cake wedding ready, it is covered with silver sprinkles. 
Carrot cake might be your favorite type of cake, thus why not have it as your wedding cake? This three-layered carrot cake is full of carrots and spices.
This is also a great opportunity to make your grandmother's famous carrot cake. Then the whole cake is covered in a traditional buttercream frosting.
However, to elevate this cake even more, dots of pastel buttercream are added to the outside. Then a spatula is run around the cake to create the swirly pastel effect.
On the top of the cake, you can have your Mr. and Mrs. cake topper or edible flowers. You could even put thin slices of carrot on top of the cake to let people know what type of cake it is.
This cake is perfect for a fall or outdoor wedding, or anyone who just loves carrot cake. 
This cake is the ideal option for anyone following a vegan diet. It is dairy-free, gluten-free, and colored using only natural ingredients.
This pastel cake screams springtime and is great if you need a cake for your spring wedding. 
While this cake is a vanilla cake, it is not boring. The cakes are tender with a sweet and satisfying flavor. You will have never tasted a vanilla cake as good as this. 
You would call this a naked cake, as a simple vegan buttercream is applied. Then you can add some large blooms of your wedding flowers on the top to create an elegant yet enchanting cake. 
This traditional Sri Lankan Ribbon Cake is a delicious vanilla cake with lovely pastel-colored swirls that is ideal for this significant celebration in your life. It has a buttery, delicate, and delightful texture.
While the recipe makes a rectangle cake, you can easily modify the recipe and use circular tins instead for a more traditional wedding cake shape. Although, you could stick with the rectangle as well. 
Since there is so much going on the side of the cake, due to the bright swirly pastel colors, the decoration is left quite simple.
A delicious vanilla buttercream frosting is applied to the cake. Then, you can add any toppings that you like. You could add sprinkles, sparklers, or flowers. 
Conclusion 
A pastel cake is a great option when you are looking for an enchanting and attractive-looking cake for your big day.
You have as much freedom with pastel cakes since most flavors work well with the colored cake batter or buttercream.
If your big day is coming up then you should try one of these pastel wedding cake ideas.
We have provided you with 10 of the best pastel wedding cake recipes that you should try for your big day.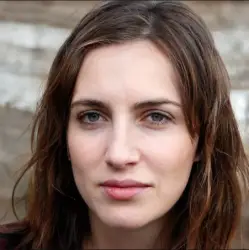 Latest posts by Anna Ingham
(see all)