When you are getting married, there is so much to think about, from the guest list to venues, the dress, and the food!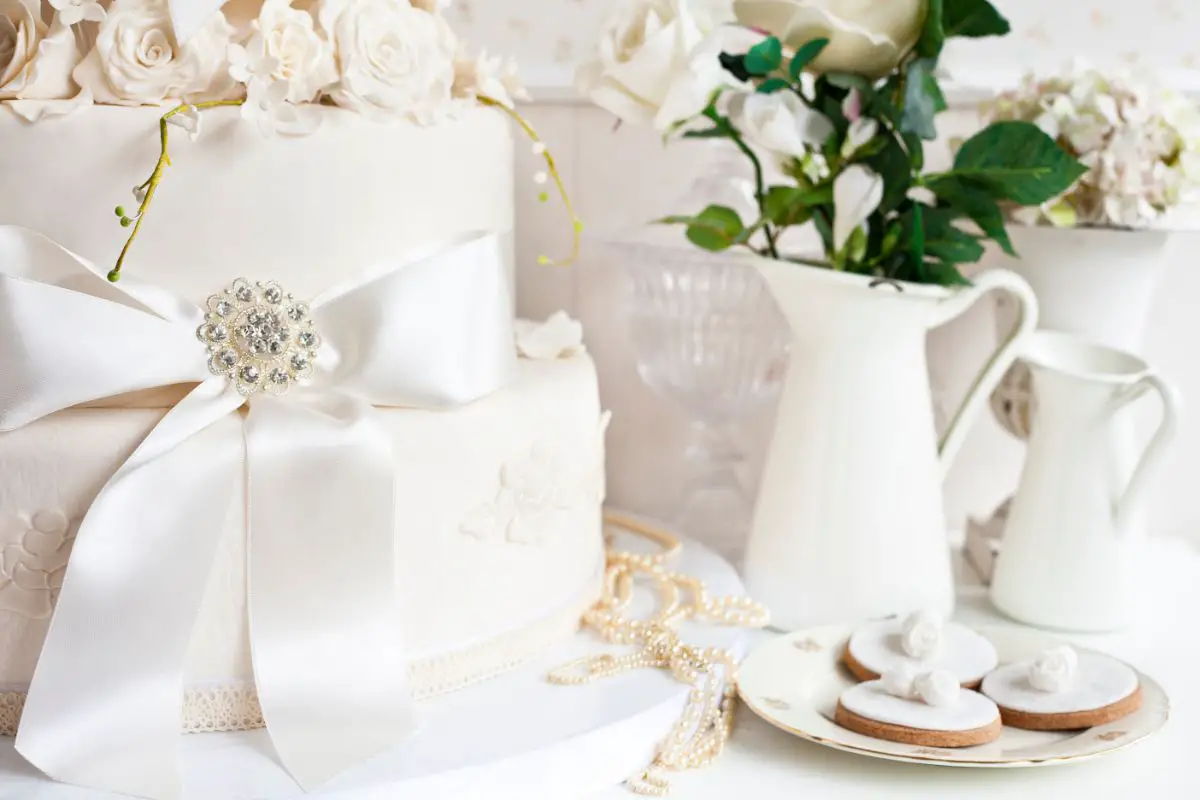 The cake should not be a big worry, but it usually is, so a great way to take some weight off of your shoulders is to know what your options are. 
Rhinestones are a great way to add a bit of glitz and glam to an otherwise plain cake.
Of course, you can add extras to the cake including sugar flowers, pearls, and more, but rhinestones set the scene for glamor. Besides, even if rhinestones are the only decoration, they can make one hell of a difference! 
If you are on a tight budget and can only get a plain cake, adding rhinestones can make all the difference!
So, let's take a look at some of the best ideas for a wedding cake with rhinestones. From simple to extravagant, we have collected a wide selection for you! 
1. Buttercream Iced Wedding Cake
This style of cake is great for those who tend to stick to the belief that less is more. With this design, the main body of the cake is plain and bare with a fair few sugar flowers littered around it. 
In between these are belts of rhinestones to give the cake uniqueness. This is ideal for both budget cakes and more expensive ones, as the even mixture between rhinestones and sugar flowers offers balance. 
It is simple, elegant, beautiful, and just enough to catch everyone's eye at your wedding! 
2. DIY Bling Rhinestone Wedding Cake
This is even better as a budget cake option. A circular, typical cake with 2 tiers. The rhinestone belts offer a break from the plain white frosting too. 
It also has some uniqueness to the design, with a silver, flower-shaped tiara at the very top for added glamor. It is a simple cake, and is ideal for those who want a cake that looks elegant, but won't break the bank! Weddings are expensive enough! 
3. Rhinestone Belt 4-Tier Wedding Cake
If you liked the last option, but perhaps have more guests at your wedding, this is ideal.
It is a 4-tier wedding cake fitted with one rhinestone belt per tier. The top of the cake is also donned with a flower, while 2 of the tiers are decorated in a glittery shimmer. 
This is a very simple way to decorate a cake, but it looks stunning. A design like this is certain to draw attention, but thanks to the simplicity, it won't break the bank either, and everyone gets a piece of cake! 
4. Romantic Wedding Cake With Rhinestone Sparkles
This cake is gorgeous, and also simple, with rhinestones decorating every other tier, it keeps the cake simple and even.
Instead of a rhinestone belt, the rhinestones are placed carefully around the cake tier to create an even but beautiful effect. 
The tiers which do not have rhinestones on them are wrapped in a beautiful white silk bow with a silver centerpiece to match the rhinestone shine. This design is a bit more complex than the previous ones but is still simple.
5. Wedding Cake With Rhinestone Crystal Necklaces
This cake had pearl necklaces at the base of each tier, but between these necklaces are beautiful trios of rhinestone necklaces, decorating the body of each tier in silver shining glamor. 
At the base, you can also see a frosting skirt for an extra special touch. This is a bit more out there than some other designs, but it is very beautiful and screams sophistication and style.
6. Elegant & Dramatic Rhinestone Silver & White Wedding Cake
If you are not the type of person who agrees with the proverb that less is more, this is the cake for you. This cake is slathered in rhinestones, sugar flowers, pearls, silver decorations, and unique texture work all around.
It is very shocking and dramatic at first glance and is a cake that will draw a lot of attention. However, with how many components go into this cake, it is one of the most expensive we have looked at today! 
7. Pleated Diamante Wedding Cake
This is a gentle cake, perhaps one of the most simple we have seen, but it is also one that reminds us of the elegant beauty of a wedding dress. The cake could match the bride with this cake! 
The pleats add texture but little complexity to the design, making it stand out, but not in an aggressive way.
The white flower on top adds some body, and the rhinestones go together to join the pleats and add a dash of color to the cake. It is simple but elegant, suitable for every wedding. 
8. Rhinestone Belt Covered Cake With Sugar Flowers
If you enjoy rhinestone belts, then this is a great choice for you. This cake is covered in rhinestone belts, taking away any plain aesthetic from the cake. With a topping of sugar flowers as well, the cake has a stellar beauty that is show-stopping. 
This example has 4 tiers, however, it is easy enough to make it with more, or less. Each tier has 2 rhinestone belts on it, each done in a different way for uniqueness. 
9. Bling Wedding Cake
We love this cake. It looks amazing and the rhinestone work is exquisite. However, we will note that this type of cake is definitely for those with more of their budget available for a cake. 
The rhinestones make the tiers look like old-fashioned beauty bags, which is a unique design, switching between tiers, each tier has a different design, this technique is very unique and well thought out.
The top is finished off with flowers for an elegant finish as well. It is beautiful and will certainly be the talk of your wedding! 
10. Chandelier Style Cake
>
Perhaps you enjoy rhinestones, but it is just not enough, not glam enough. If this sounds like you, why not choose a chandelier cake?
These cakes are glamorous and very extravagant, you can incorporate pearls, like the one below, or use rhinestones to spruce it up. 
For this to work, realistically, you would need to have at least 4 tiers, as it can look good with 3 tiers, but any less, and it would not look so great, so this style is reserved for cakes with 3+ tiers. 
11. Metallic Pearl Covered Cake
This is more about the pearls, although you could replicate this with rhinestones, which is why we have included it. This cake makes it look as though someone poured a big bucket full of pearls over the cake and they have drizzled down like rainfall. 
It is a waterfall effect done with pearls. Imagine doing this with shimmering rhinestones, it would be even more beautiful! 
This is something special as we have not seen anything else like this, it is both very simple in concept but also extremely beautiful and elegant at the same time! 
12. Simple Square Cake With Rhinestones & Lettering
Remember 'less is more'? Well, this cake stands by that phrase. With the simple addition of rhinestone belts, and individual larger, diamante-like rhinestones traveling up the cake in diagonal lines, this cake is beautiful. 
A beautiful sugar flower has been included and the decorator has even included rhinestone-covered letters for the Bride and Grooms names. While you needn't go as all-out as this, the rhinestones alone really make this cake shine! 
13. Elegant Rhinestone Cake With Bow
More rhinestone belts on a wedding cake with this option, however, what we find best about this option is how the bow increases the outstanding beauty of the rhinestones. The bow is beautiful, perfectly shaped, and placed well. 
As the bow goes over the rhinestones, its 3-D realistic look is eye-capturing. This cake is the most complex, and also not all at once. With the added design incorporated into the frosting, it looks exquisite. 
14. Extravagant Rhinestone Coated Wedding Cake
This cake is the opposite of 'less is more'. Rhinestones make the cake dazzle, but there is so much going on, you could stare at it for hours. But, the most impressive part of this cake is how complex and shiny it is! 
With rhinestones, pearls, cushion effects, sugar flowers, a diamante effect, and perfectly fitted white frosting, this cake is outstanding. This cake will spark a lot of interest for sure!
Conclusion
These are some of the best ideas out there for how you can use rhinestones to spruce up your wedding cake.
There is an idea for every budget, whether you have a simple plain white cake base, or something more complex, rhinestones simply make it all better! 
You can use them individually, or in a belt to add some texture and glamor to your cake. Anything is possible!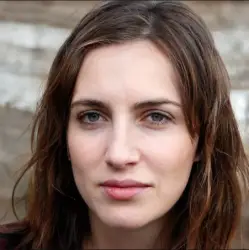 Latest posts by Anna Ingham
(see all)