When it comes to your wedding day, there are so many things to pick out that match your theme and style choices for the overall event.
Choosing the wedding cake is one of the many things that you will have to consider, and if you're not a fan of thick, sweet fondant, then you may be unsure what to go for.
Fondant icing is often the most popular and most traditional option for wedding cakes. It gives a cake a smooth and polished look, and is made from powdered sugar, corn syrup and water, which is melted together to create a thick paste.
But many people are not a fan of this very thick, overly sweet and overpowering icing. 
This is where the no fondant wedding cake comes into fruition. While wedding cakes in the past have always been decadent, beautifully decorated, and covered in thick, white icing- this simply may not be for you.
More and more couples are opting for no fondant cakes or 'naked' cakes, which look stunning, toned down, stylish, yet still well presented. Unsure what type of no fondant, or naked cake to go for? We have 10 options for you! 
If you want to try the naked cake look, with no fondant icing- then you can use buttercream icing to keep the cake moist and decorated.
This layer cake is simple, and semi-naked, with fresh vanilla buttercream around the outside for a half-dressed look. 
Use this simple layer cake recipe with three or four layers, which will give you the structure you need for an occasion cake.
Then, add berries to decorate in between the cake layers, and dot them around the edges. You can try raspberries and blueberries, or strawberries if you prefer.
This homemade wedding cake will surely wow your guests- and there is no fondant getting in the way of this cake's beauty!  
If you are having a summer wedding, or an outdoor wedding, then this berry-covered wedding cake could be the perfect choice for you. It is a simple Victoria sponge cake, covered with vanilla buttercream frosting, and dotted with lots of tasty fresh berries!
For this recipe, you will need eggs, sugar, butter, vanilla extract, baking powder, all-purpose flour, a pinch of salt, along with icing sugar, strawberry jam, powdered sugar and seasonal berries for the decoration. 
What we love about this wedding cake is that it is dusted with icing, giving it that bright white look that is associated with a wedding day! 
Planning on getting married? You will need the perfect wedding cake. This airy, fruity, and striking cake is covered with roses and berries to help bring your big day together. It only takes around an hour and forty-five minutes to make, and can serve up to 75 people!
You can follow the recipe, and use the FunCakes mixtures for the cream, buttercream and decorating, or make your own! With wild pink roses and baby's breath, this cake really is a showstopper. 
Perhaps you want that 'all-white' look for your wedding cake, but you don't want to have thick, creamy fondant covering the sponge and ruining the flavor. Instead, try this simple vanilla celebration cake.
This stripped back wedding cake lets the taste of the cake do the talking, rather than the fondant. With velvety vanilla buttercream, it is sweet, stylish and stunning to look at. 
It is super easy to make, and can be done by less confident cake decorators with simplicity. For the sponge, you will need butter, unrefined golden caster sugar, Nielsen-Massey Vanilla bean paste, eggs, and self-raising flour. 
For the buttercream, you will need icing sugar, butter, vanilla bean paste, strawberry jam, and strawberry coulis. You can use the buttercream to sandwich the sponges together, and cover the layers for a more refined look. 
When it comes to weddings, there have to be floral decorations. If you want to tie in your flowers with your wedding cake, then you don't have to have real flowers that are inedible. You can still opt for no fondant, and have edible flowers as decorations on the cake. 
This floral semi-naked, no fondant cake is a wonderful choice. With this cake, each tier has a different flavor, so there really is something for every guest on your special day!
However, this cake is not for the fainthearted baker, it can be a little tricky to get right, so it could be worth practicing first before the big day! 
The cake mixture itself requires softened butter, caster sugar, plain flour, baking powder, bicarbonate of soda, eggs, vanilla extract, and little Greek yogurt to make it light, velvety and fluffy. 
You can make it completely naked, without frosting or buttercream on the sides, or cover the sides with a little buttercream to make them smoother. Either way- no fondant is required! 
Not a vanilla flavored cake fan? Why not choose a chocolate covered cake? This chocolate biscuit flavored cake is simple to make, and was a traditional cake for Victorian, English weddings. 
All you will need is tea biscuits, butter, brown sugar, dark chocolate, a dash of rum or cognac, and some double cream with more chocolate for the icing. You can make one single layer, or repeat the recipe for a larger, tiered cake. 
Cover with the chocolate icing, or you can use chocolate buttercream to decorate the sides, and you can then add a drizzle effect over the top to finish off this cake, and cover with matching flowers that correspond with your floral arrangements. 
If you really want something different, then you can try a glazed wedding cake. This type of cake is perfect for a unique couple, or those getting married on a beach, looking for a nautical, ocean vibe. 
This glazed cake is stunning- with blue and aquamarine colors and an effect that resembles the shape of water. Try this mirror glaze cake recipe that is easy to master, but has an impressive overall effect. 
You will have to use sugar, glucose or light corn syrup and gelatin to make that grainy glaze that will cover the cake, but with this recipe- it is easier than it looks. 
Rustic weddings are becoming increasingly popular. If you like that woody, natural, farmhouse look- then this style of cake will be perfect for you, with no fondant required!
All you have to do is make a simple rustic wedding cake, with a sponge and a light dusting of buttercream, and let your decorations do all of the talking.
You can serve it on a wooden log coaster, or add vines and leaves to the surface to make it seem more barn-friendly with a country, simple vibe. Add a caramel drizzle, your matching flowers, and you are done! 
If you don't like fondant, then you can try this chocolate buttermilk ombre cake. This works perfectly for more outdoor, rustic, or farmhouse themed weddings due to the neutral, dark colors. 
To make this recipe, you will need 3 eggs, 100g of dark chocolate, superfine sugar, Dutch processed cocoa powder, frosting, 100g milk chocolate, self-raising flour, plain flour, white chocolate melts, butter, buttermilk frosting, and a little bit of bicarbonate of soda. 
All you need then after baking is to adorn the cake with florals, greenery, and decorations that suit the overall theme of your wedding day.
If you are not a fondant fan, then you can opt for a drizzle cake. Lemon drizzle is a very popular flavor, and is a fairly simple cake to make.
You will need a few ingredients such as unsalted butter, self-raising flour, caster sugar, free range eggs, yellow food coloring, some lemons, icing sugar, vanilla, and cream cheese. 
Then, you can add some edible flowers or matching floral arrangements to decorate the cake. 
The only difficult part is getting the drizzle topping right, but when executed well- this type of cake can look spectacular as a wedding cake! 
Final Thoughts
To summarize, choosing a wedding cake doesn't have to be difficult. You can create your own homemade wedding cake, without having to use that thick fondant that no one likes! Try any of these cake recipe ideas to make your wedding cake simple yet delicious. 
Frequently Asked Questions
What Is A No Fondant Wedding Cake?
A no fondant wedding cake is any cake that does not have thick fondant icing. Instead, you can have a cake with buttercream frosting, caster sugar dusting, glazed tops, drizzle effects, and so much more. 
Why Choose A No Fondant Wedding Cake?
Not everyone likes fondant icing, as it can be overwhelming and you cannot really taste the flavor of the cake over the fondant. In addition, fondant icing is often thick, white, and clean-cut.
This may not correspond with your overall wedding style, and you may want to opt for something a little simpler and less decadent.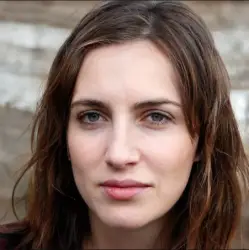 Latest posts by Anna Ingham
(see all)