Rainbow cakes are fun, cheery, and perfect for birthdays and celebrations. Baking rainbow cakes requires a little more time and effort, it has to be said, but the colorful end result is always worth it!
What's interesting about rainbow cakes is that they are essentially sheet cakes – at least when it comes to baking the individual layers.
And to give you some inspiration and recipe pointers, we've gone ahead and rounded up the 15 best rainbow sheet cake recipes to try today.
Need a rainbow cake that will really lift the mood at a special occasion? Then these recipes won't disappoint. Grab your apron now and start baking!
Here's a simple rainbow sheet cake recipe that looks just as good as it tastes.
It's not that difficult to put together either, as although the total time is 2 hours, 45 minutes of that goes to preparation. On top of that, it only involves eight ingredients!
The ingredients you'll need are white cake mix, gel food colors (red, orange, yellow, green, blue, and purple – or any colors you prefer), butter, powdered sugar, vanilla extract, salt, cream, and sprinkles. Once gathered, just follow this recipe's six simple steps.
What's special about this rainbow sheet cake recipe is that it consists of a single sheet cake base, with a rainbow decorated on top with colored frosting.
That might seem like cheating, but it isn't – this cake tastes amazing and the "funfetti" sponge makes it just as fun.
What's also great about this recipe is that it yields 36 servings, making it a sheet cake through and through. So if you need a rainbow cake that's easy to slice and share around at a party or gathering, this recipe is well worth trying first.
Rainbow cakes don't have to be made with layers that are individually colored.
This easy one-pan rainbow layer cake is proof of that, as it involves dying the sponge in stripes to achieve the rainbow effect. And it's definitely a cake that will impress!
As a result, you might think it will take extra long to make, but prep time only comes in at 30 minutes. You can also make it with one or two layers depending on the kind of cake you're after, as well as customize the frosting to your liking.
Rainbow cakes are perfect birthday cakes – period. So if you're looking for the ideal rainbow cake to whip up for a birthday celebration, this recipe is for you.
The end result is also extra colorful and sweet, as the recipe involves frosting the individual layers.
For the cake itself, you'll need white vegetable fats, caster sugar, eggs, salt, plain flour, baking powder, and whole milk.
And for the icing: butter, vanilla extract, double cream, and icing sugar. It takes 85 minutes in total, making 18 ready-to-share servings.
Love velvet cake as much as rainbow cake? This recipe takes a classic velvet cake recipe, removes the cocoa powder, and adds colorful dyes to make a velvety soft rainbow cake that hits all the right taste buds.
And it only takes 20 minutes to prepare and 20 minutes to bake.
The main ingredients you'll need here are cake flour, granulated sugar, salt, baking powder and baking soda, egg whites, vegetable oil, buttermilk, butter, and vanilla extract.
For the frosting, you'll need egg whites, powdered sugar, butter, vanilla extract, salt, and food coloring.
This rainbow cake recipe involves colored sheet cake layers and a colorful buttercream frosting. As a result, it's easily the most colorful rainbow cake on this list.
It takes four hours to make in total but, if you have a free afternoon, the end result is a cake that will seriously turn heads.
Despite the long preparation time, the cake only involves nine ingredients and the frosting is made with just six ingredients. There are only eight steps too, so this recipe is easy enough to follow if you feel like trying something more creative.
This rainbow layer cake looks simple but elegant. It has the traditional colored sheets of a rainbow cake, with decorative white frosting and sprinkles for the finishing touches.
All in all, it will take around 100 minutes to make, with 25 minutes of that going to prep time and 45 minutes going to decorating. It yields up to 15 servings, so you'll also have plenty to share around! 
For something a little different in appearance, this rainbow sheet cake recipe offers a swirly colored sponge with rainbow swirl frosting around the sides for good measure.
It's the perfect kids' birthday cake, as a result, with just the right amount of sweetness!
The main ingredients you'll need are all purpose flour, baking powder, salt, butter, vegetable oil, sugar, eggs, vanilla extra, and buttermilk, plus colored gel icing to color the frosting. This recipe takes 3 hours in total, but it's definitely worth it.
First time making a rainbow cake? This recipe is simple and much quicker than some of the other recipes on this list! It still involves baking and coloring individual cake sheets, but cuts down on ingredients and intricate decoration for a recipe that's easier and quicker.
After all, all you'll need are white cake mix, water, vegetable oil, eggs, gel food coloring, vanilla frosting, and rainbow sprinkles.
If you don't have hours to spare to make a fully homemade sponge with homemade frosting, this recipe is the perfect one to try.
Here's another simple rainbow sheet cake recipe that requires just six ingredients, ready to serve in under an hour. It yields 12 servings too, making it just right for parties and gatherings, with only seven steps to follow until it's done. 
For these reasons, it's ideal if you don't have a lot of time or it's your first time making a rainbow cake.
All in all, you'll need a box of white cake mix, eggs, vegetable oil, food coloring, instant pudding mix, and a container of cool whip – that's it. So it really doesn't get much simpler than this!
This rainbow sheet cake is an authentic sheet cake consisting of a simple vanilla sponge finished off with cream cheese frosting. The single sheet base can be colored in rainbow stripes, sections, or swirls, which also makes this recipe super customizable. 
Prep time is 45 minutes and cook time is 30 minutes, allowing around an extra hour for gathering the ingredients and decorating.
What we especially like about this recipe is that the step by step instructions are really easy to follow, unlike some online recipes that bunch steps together!
You can never really go wrong with Betty Crocker cake recipes. They're quick and easy to do as well, since the cake mix and frosting are provided for you.
So if you only have 30 minutes to spare for preparation, this recipe checks all the boxes for a rainbow cake that looks and tastes great!
The main ingredients involve vanilla cake mix, water, vegetable oil, eggs, and gel food colors, plus butter, powdered sugar, vanilla, and milk for the frosting. It involves just eight steps all in all, yielding 10 servings. 
This recipe is a combination of a rainbow sheet cake and parrot sheet cake. It's soft and fluffy despite having just one sheet layer, with sweet white frosting and Smarties for a rainbow cake that all the kids will love.
To make this recipe, you'll need butter, sugar, eggs, salt, all purpose flour, baking soda, baking powder, sour cream, lemon zest, and food coloring. As a bonus, it only takes 25 minutes to prepare and 20 minutes to bake.
Here's another rainbow sheet cake recipe that uses cream cheese frosting for a light yet sweet taste.
It involves a single pan sheet too, with all the colors of a traditional rainbow cake decorated in sequence. So it's easy and doesn't require too much effort!
For both the sponge and cream cheese frosting, you're sure to find most of the ingredients in your pantry. There are 15 steps to make the sponge and just 4 steps for the frosting, and you might be glad to know the instructions are super easy to follow.  
Last but not least: rainbow cookie cake! It's as appetizing as it sounds, with a chocolate taste and cookie-like texture and that's sure to be a hit with whoever you serve it to.
It only involves six ingredients too, yielding up to 16 servings.
So what will you need? The ingredients are white cake mix, almond extract, gel food coloring, raspberry jam, chopped chocolate, and unsalted butter. There are three sheets to this cake, so it's also quick and easy to whip up.
Conclusion
So there you have it: 15 rainbow sheet cakes, plus a few unique rainbow cake variations, that you can try today. Needless to say, you can't make them all today, so make sure to save this page for future reference!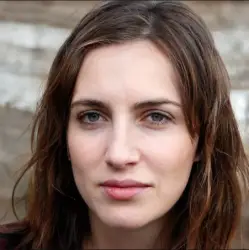 Latest posts by Anna Ingham
(see all)