Apple pie is easily one of America's most popular desserts and during the fall, more and more of us want to try other apple-flavored desserts. A great one to try is a simple apple sheet cake! 
Not only are apple sheet cakes super tasty, they're easy to make with recipes ranging from quick and simple to more complex. You can also add plenty of extra ingredients to introduce new exciting flavors! 
If you want to make your own apple sheet cake, check out the recipes below! 
First, let's start out with a nice simple recipe for a class apple sheet cake. This has everything you could want from a traditional apple sheet cake – it has all the base ingredients and shows you how to make the cake in just a few simple steps. 
There may be no fancy trimmings but once you have mastered getting the flavor and texture of a classic apple sheet cake right, you can move onto more exciting recipes! 
This apple sheet cake recipe will show you how to make sheet cake loaves. These are denser, slightly smaller versions of the classic sheet cake. This makes them more moist with the same crunchy exterior. 
The different shape of this apple sheet cake may be more suitable for your baking projects. If you plan on using your sheet cakes to make larger, more complex cakes – this recipe may be better suited for you. 
Are you still pretty new to baking? 
If so and you are not feeling confident going into making your own apple sheet cake, then follow the recipe above.
It's super easy and each step is carefully explained so you have that extra guidance to help you out. 
If you are in a rush and want to make an apple sheet cake as quickly as possible, then this recipe will help you out.
It's a great one bowl recipe which limits the amount of baking equipment you will need to use (so there's less to wash-up later). 
So, fly through this recipe with ease! 
Most apple sheet cake recipes include a lot of animal products like milk or eggs. If you are vegan and cannot bake traditional apple sheet cakes then here's a suitable recipe for you. 
It has substituted all of the animal products found in traditional apple sheet cake recipes with vegan-friendly alternatives. So, follow it so you can make a delicious apple sheet cake that is suitable for you! 
There are a lot of great flavors that work with apples in desserts. One of the most popular is caramel. 
Caramel apples are a popular treat enjoyed during the fall and if you follow this recipe, you can make your own sheet cake that infuses its delicious flavors!
This makes it a great dessert to serve up during the fall, especially around Halloween and Thanksgiving, to capture those classic flavors of the season. 
If you want to make an apple sheet cake that is truly indulgent, then try out this recipe for a salted caramel and apple sheet cake. 
The salted caramel enriches the flavor of the sheet cake, making it more luxurious than its plain caramel counterpart. This makes it a better choice for those hoping to serve it up as a fancy dessert! 
Most sheet cakes are topped with a layer of super sweet frosting – but what frosting works best with an apple sheet cake? 
This recipe will show you not only how to make a delicious apple sheet cake that is moist and crisp on the outside, but it will also help you make a spiced cream cheese frosting.
The frosting uses cinnamon to enhance and complement the apple flavor of the cake so it's a perfect fall cake combination to try out! 
Apple streusel is a popular dessert in Germany and it's also becoming a more common dessert enjoyed in the US.
It's crunchy and crumbly in texture, kind of like a cookie, so it contrasts wonderfully with the moist texture of a sheet cake. This is enhanced by the use of apple chunks and sauce in the cake, ensuring that moisture is locked in so the cake is nice and soft.
However, the apple flavor ties it all together beautifully! 
If you love nutty, down to earth cakes that are not so sickly sweet, then try out this recipe for an apple and walnut sheet cake. 
This is a great type of apple sheet cake to try out if you want to capture the classic flavors of fall. The roasted walnuts are rich and toasty, providing a lovely crunch to the sheet cake.
They also complement the apple chunks perfectly to create a sheet cake that is full of natural sweetness and flavor. 
Another great flavor to pair with apple in a soft, moist sheet cake is pear. 
Pears are another festive fruit that many people enjoy around the holidays. They also provide a tartness to your sheet cake along with a subtle sweetness that enhances the apple.
Like apples, pears also help keep the sheet cake nice and moist while the chunks provide a slight crispy crunch. 
So if you want an apple sheet cake that is tangy, tart and subtly sweet, this recipe for a pear and apple sheet cake combo is a great option for you to try. 
Apple cider is a classic treat to enjoy during the fall and it's possible for you to use it to make your apple sheet cake 
This apple cider sheet cake uses a spiced version of apple cider to help enhance the flavor and really capture that nostalgic fall feeling. This makes it a delicious type of sheet cake to try out. 
The apple cider also has an influence over the texture of the cake. It makes it much lighter and helps lock in moisture so it's sweet and soft in your mouth.
So, if you hate dry cake and want to cook an apple sheet cake that's nice and moist, you should give this recipe a try. 
Perhaps you want your cake to have a more crunchy texture. If so, then a simple apple sheet cake isn't going to suit your fancy as it's a pretty moist and soft cake.
However, this recipe adds toasted almonds to the mix to help give it a much more crisp texture. The almonds also bring an earthy sweetness to the cake too, working incredibly well with the subtle sweetness and tartness of the apples. 
One flavor a lot of people don't often mix with apple is lemon. Both may be fruit but lemons are very zesty and sharp due to their citrus status.
Apples, on the other hand, can range from super sweet to tangy and tart.Despite their very different flavor profiles, apples and lemons actually work very well together in a simple cake. 
This recipe is a great one to try if you want to explore this flavor combination for yourself. The subtle use of lemon zest adds just a touch of citrus flavor to help elevate any tartness in the apple, giving you a super tangy sheet cake! 
The final apple sheet cake recipe on our list is this apple dapple sheet cake recipe! 
Apple dapple cake is an indulgent type of cake that originates from the south of the US.
It's extremely sweet thanks to the use of sweet apples and plenty of rich, gooey caramel. There's also plenty of crunch in this cake too thanks to the addition of pecan nuts. 
The final result is a sticky caramel apple-infused sheet cake with plenty of crunch and moisture! Delicious!
Final Thoughts
And that's it! Those were 15 amazing apple sheet cakes for you to try! 
From plain and easy to make apple sheet cakes to ones coated in chocolate or lemon glaze, there are plenty of different apple sheet cake recipes for you to explore! Pick out the ones that jump out at you the most and enjoy! 
Frequently Asked Questions
Is A Sheet Cake The Same As A Regular Cake?
Sheet cakes and regular cakes differ when it comes to size. 
Sheet cake is made using a different type of take pan called a sheet cake pan. It's larger and shallower than a regular cake baking dish, resulting in a larger but thinner cake. 
How Thick Should A Sheet Cake Be?
Most sheet cakes are about 2 inches deep although they can be 3 inches deep in some cases. They are then heavily frosted – but you can leave your sheet cake plain if you wish.
Some apple sheet cake recipes work best without frosting!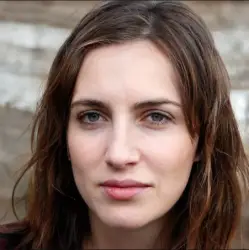 Latest posts by Anna Ingham
(see all)