Cookies make an excellent snack, dessert, or even a quick breakfast but they aren't always healthy.
As enjoyable as they can be, some cookie recipes contain too much sugar and fat for our diets.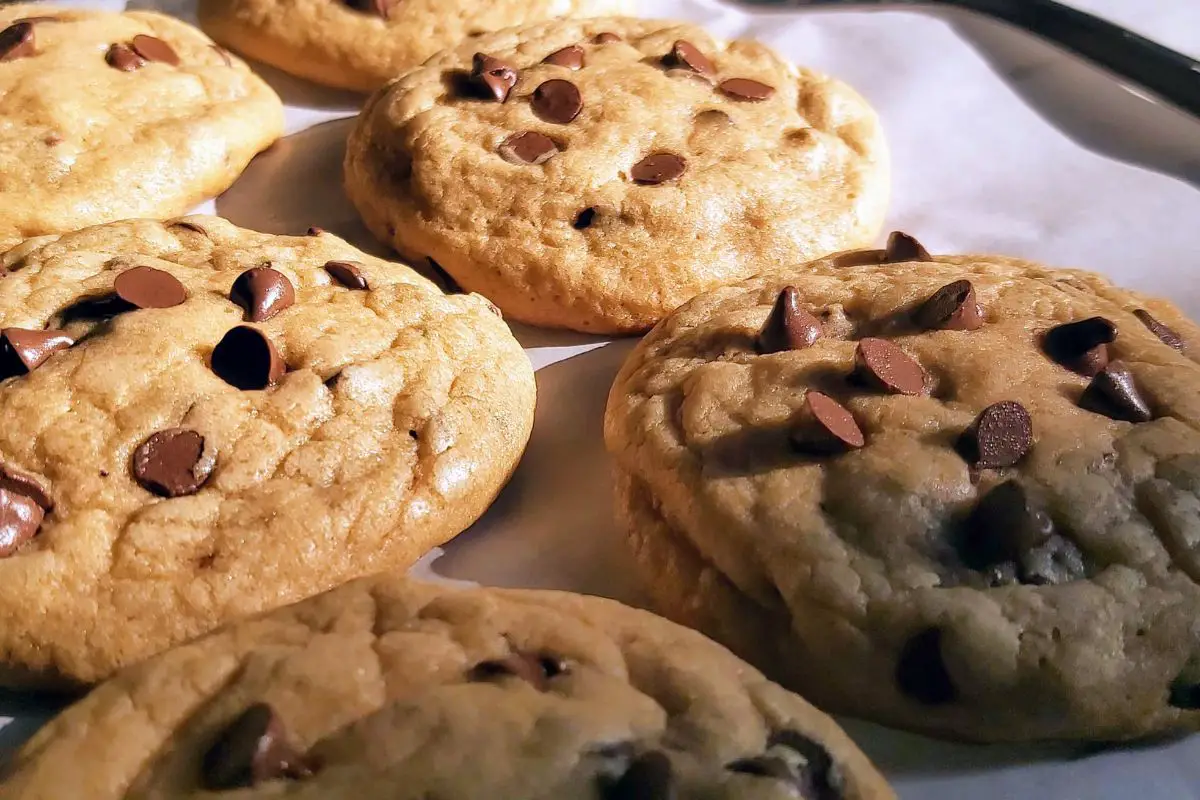 As a result, some people cut them out of their diet completely. However, they don't need to.
There are lots of healthy cookie recipes we can make to allow us to still eat cookies even when following a diet.
To prove that cookies can be a part of anyone's diet, we've compiled a list of the best low-fat cookie recipes.
If you're looking for a nutritious way to indulge in your favorite sweet treat, the recipes on our list are perfect for you.
We'll show you low-fat chocolate cookies, fruitcake cookies, nutty cookies, and so much more. Let's dive straight into our list!
We'll kick our list of low-fat cookie recipes off with a wonderful low-calorie chocolate chip cookie recipe that only contains 96 calories per cookie.
Aside from being low in calories, this decadent chocolate chip cookie recipe only contains 5 grams of fat.
This sweet, gooey, and rich cookie recipe goes to show that we can make an awesome batch of low-fat chocolate chip cookies by making a few simple adjustments.
Despite being low in calories, these cookies are still jam-packed with flavor.
This skinny oatmeal chocolate chip cookie recipe from the Food Charlatan also contains just 5 grams of fat.
If you're a fan of the oatmeal and chocolate combo, you'll love what this recipe has to offer.
The oats give the cookies a delightfully chewy texture that goes perfectly with the gooey chocolate.
It will only take you 30 minutes and 10 simple ingredients to make a batch of 12 skinny oatmeal chocolate chip cookies.
To reduce the amount of fat in the recipe, consider using low-fat butter instead.
This fruitcake cookie recipe is absolutely delicious.
Calling for the favorite parts of Grandma's fruit cake and putting it into a cookie, these cookies will transport you back to your childhood.
The recipe does call for unsalted butter but you can reduce the fat content by using low-fat or vegan butter instead.
The other ingredients needed to make these sweet and vibrant cookies include all-purpose flour, baking powder, kosher salt, egg, vanilla extract, candied citrus, pistachios, and cranberries.
As you can probably imagine, this recipe creates a taste sensation in your mouth.
One of the best low-fat cookie recipes you can make is the nearly no-fat cookies from Mary's Busy Kitchen.
This is a simple, yet tasty recipe that shows you how to make a batch of cookies with almost no fat while maintaining all the flavors we love.
Gluten-free and dairy-free too, this recipe is made without eggs and butter.
Instead, the recipe calls for dairy-free milk, unsweetened applesauce, dairy-free peanut butter, and several other ingredients.
In terms of flavor, these cookies still have that classic cookie sweetness to them and that gooey chocolate filling. 
One of the best ways to make low-fat cookies is to make them using bananas. Cookies made with a banana base typically contain very little to no fat.
They are also super easy to make.
A fine example of a low-fat banana cookie recipe is this 3-ingredient banana oatmeal cookie recipe.
Ready to eat in just 15 minutes, the only ingredients you need to make these cookies are banana, oats, and ground cinnamon.
Perfect for a low-calorie dessert, a quick snack, or even breakfast, these sweet banana-flavored cookies contain just 1 gram of fat.
If you prefer low-fat cookies with a bit more flavor and some extra sweetness, you could try this healthy banana cookie recipe instead.
One of the biggest drawbacks of banana cookies is that the banana flavor is too overpowering.
This recipe reduces that problem by including dates in the recipe.
This is a fantastic addition because it adds more sweetness and juiciness to the cookies, which in turn takes away some of the attention from the banana.
This recipe does take longer to make but the results are well worth your patience.
Next up, we have a gorgeous chocolate pecan cookie recipe from All Nutritious. This cookie recipe is also suitable for a keto-friendly diet as it only contains 2.8 grams of carbohydrates.
If you're looking for a super rich and chocolatey cookie, look no further. This recipe is seriously good.
Loaded with cocoa powder and dark chocolate, everything about this recipe is mouthwateringly tasty.
The pecans add a great crunch to the cookies too which is much appreciated. You'll find it hard to believe that each cookie only contains 50 calories.
This vanilla almond crescent cookie recipe is ideal for those of you seeking a healthier dessert.
The definition of healthy comfort food, this cookie recipe shows you how to make a batch of cookies that contain just 3 grams of fat and 52 calories.
Sweet, crispy, and chocolatey, these cookies can be made in 25 minutes using 10 ingredients.
To give the cookies a more luxurious flavor, they are dipped in a rich dark chocolate dip before being served.
With a name like the ultimate healthy cut-out sugar cookies you probably already know what to expect from this recipe.
One of the easiest cookie recipes to make on our list, each cookie only contains 41 calories and 1.1 grams of fat.
When it comes to flavor, these cookies are sweet and buttery.
The addition of chocolate chips or a chocolate dip would be welcome but this is a great option if you want to enjoy eating cookies without feeling guilty.
You might be pleased to hear that you can make healthy sugar cookies with more flavor by adding orange to the recipe.
This low-calorie orange sugar cookie recipe shows you how. Better still, this recipe doesn't contain any fat.
These orange cookies are made with light butter, orange juice concentrate, and orange rind. This helps give the cookies a citrusy flavor and a buttery texture.
The other ingredients needed to make a batch of orange sugar cookies include sugar, vanilla, cake flour, and baking soda.
The next low-fat cookie recipe we have for you is a quick and easy vegan chocolate chip cookie recipe from This Healthy Kitchen.
It only takes you 20 minutes and 8 basic ingredients to make a batch of these plant-friendly cookies.
Those ingredients include oat flour, soy milk, vanilla, applesauce, and dark chocolate chips.
The result is a batch of rich and sweet cookies that have a crispy edge and a divine chewy center. Of course, they're also oozing with chocolatey goodness.
This gluten-free chocolate cookie recipe is perfect. Fudgy in the middle and crispy on the outside, your sweet tooth will most definitely be satisfied.
Each serving contains 132 calories and 4 grams of fat.
Considering how rich and chocolatey these cookies are, we'd say that's quite impressive. What makes this recipe even better is that you only need 6 ingredients to make it. 
Those ingredients are powdered sugar, cocoa powder, kosher salt, egg whites, vanilla extract, and chocolate chips.
Despite what some people might think, it is possible to enjoy peanut butter without going over your daily fat intake.
While most people associate peanut butter with high-fat foods, this peanut butter cookie recipe tells a different story.
By following this recipe, you can make a batch of rich and creamy cookies that contain just 4 grams of fat.
The recipe calls for you to mix peanut butter with one egg and sugar. This helps create an irresistibly soft texture and a lovely chewy center.
You can make a batch of these cookies without whole nuts, grains, and flour. To reduce the fat content in the cookies, be sure to use low-fat or vegan peanut butter too.
The final cookie recipe on our list is a sugar-free cookie recipe that contains just 44 calories and 2 grams of fat per serving.
To ensure the cookies still have a sweet flavor, this recipe calls for zero-calorie powdered sugar.
You can also decorate the tops of the cookies with slices of strawberries and blueberries if you want to add some natural sweetness. 
It only takes 15 minutes to make a batch of 15 sugar-free cookies so give them a try and see what you think!
Final Thoughts
That concludes our list of low-fat cookie recipes. As you can see from the options we've presented to you, there are plenty of delicious low-fat cookie recipes to choose from.
It doesn't matter if you're looking for a classic chocolate chip cookie recipe, something unique, or a super quick and easy recipe, there's a low-fat recipe out there for you.
All you have to do now is decide which recipe you want to try first!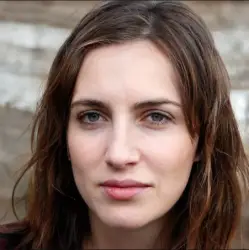 Latest posts by Anna Ingham
(see all)