Following a diet plan can often make it seem like you can no longer enjoy your favorite foods.
However, more often than not, there are simple variations you can make that allow you to still tuck into your favorite snacks and desserts.
Take the paleo diet for example. Compared to other diets, the paleo diet is quite strict. This can make it difficult to enjoy food like you used to.
However, by making some small changes to our recipes, we can still make delicious food.
Today, we want to show you how you can still make a tasty batch of cookies if you follow a paleo diet.
In this post, you'll find a list of 11 scrumptious paleo cookie recipes you can try this weekend.
We'll tell you what each recipe has to offer and why you might want to make them. Let's get started!
We'll start things off with a paleo cookie recipe that shows you how to make a traditional batch of cookies that are suitable for a paleo diet.
If you're looking for a delicious chocolate chip cookie recipe, this recipe is perfect.
The recipe calls for dark chocolate which is a much healthier ingredient to use instead of milk. It's also an important change to make for paleo-friendly cookies.
Other ingredients this recipe calls for include honey, apple cider vinegar, and almond milk.
Despite the changes made to a classic cookie recipe, these cookies still have a gooey chocolate filling, a divine sweet flavor, and crispy edges.
What's not to like?
If you love Snickerdoodles, you have to try this paleo Snickerdoodle recipe.
Staying true to the classic version, this paleo cookie recipe features a golden coating of cinnamon and coconut sugar.
There's just something so comforting and warming about cinnamon so including it in a cookie recipe is only going to make your batch of cookies more delicious.
Aside from a wonderful flavor and texture, one of the greatest things about this recipe is its small ingredients list.
You only need 8 basic pantry ingredients to make a batch of paleo Snickerdoodles.
Those ingredients are almond flour, salt, baking soda, coconut oil, honey, vanilla extract, cinnamon, and coconut sugar.
A wonderfully simple paleo cookie recipe you can make is this almond sugar flour cookie recipe. These paleo sugar cookies are made with almond flour and they don't contain any eggs.
Therefore, they are also vegan-friendly. Despite being adjusted to suit a paleo diet, these cookies still have an authentic texture and taste.
They feature a melt-in-your-mouth pillowy texture and a slightly crunchy exterior.
What makes this recipe even better is the addition of a sweet frosting.
This frosting is a beautiful honey buttercream that's made from natural ingredients like raw honey, arrowroot, and Nutiva red palm oil.
It will only take you 35 minutes to make a batch of 12 cookies if you follow this recipe.
The next paleo cookie recipe on our list is ideal for anyone that wants to make a more exciting batch of cookies.
Offering a great burst of fresh, minty flavor, and plenty of color, these bright green cookies will go down a treat with your guests.
Best served with a fresh cup of coffee, the only thing that makes these cookies better is the rich dark chocolate chips.
You might also be keen to know that this paleo cookie recipe is also vegan, grain-free, and gluten-free.
You can make a batch of matcha mint paleo chocolate chip cookies in under an hour.
All you have to do is mix the ingredients in a bowl, roll out your cookies, and back them in the oven.
In our opinion, the only thing better than a batch of chocolate chip cookies is a batch of double chocolate chip cookies.
Luckily for us, that's exactly what the next recipe on our list shows us how to make.
Decadent, rich, super sweet, and ridiculously chocolatey, this recipe will help you make a delicious batch of brownie-like chocolate cookies in just 35 minutes.
After baking the cookies, you'll be left with a sweet treat that has crispy and crunchy edges and a fudgy and chewy center.
If you want to blow your taste buds away, this has to be the first paleo cookie recipe you try to make. You only need 9 simple ingredients so you don't have an excuse not to.
One of the best paleo cookie recipes you can follow if you want to make a party-ready batch of cookies is this paleo fig Newton cookie recipe.
This recipe will teach you how to make the famous fig Newton cookie in a way that suits a paleo diet.
Despite the various changes the recipe calls for, you can still expect the same results.
You'll make cookies that have a soft and chewy date and fig filling, and a slightly crisp shell.
The ingredients list calls for 10 ingredients. Some of the ingredients you need include dried figs, Medjool dates, orange juice, eggs, and maple syrup. 
If you came here looking for a simple paleo cookie recipe, this next recipe is probably your best option.
Ready in less than 30 minutes, this is probably one of the healthiest cookie recipes you can make too. 
As its name would suggest, you only need 4 ingredients to make these cookies. Those ingredients are unsweetened coconut chips, almond flour, coconut oil, and maple syrup. 
When it comes down to taste, these cookies are phenomenal. They are packed with tropical flavors that will warm your soul.
You should consider making these cookies in the summer.
If you follow a vegan diet too, you should give this paleo vegan cashew butter cookie recipe a try. Like the recipe above, this paleo cookie recipe only calls for a handful of ingredients. 
You'll need 5 ingredients to make these cookies. This includes cashew butter, flax egg, coconut sugar, and baking soda.
You should be able to make a batch of 15 cookies in just over 30 minutes.
The result is a batch of super soft, buttery, flourless, and melt-in-your-mouth delicious cookies that will be gone in no time.
Another thing we love about this recipe is that it shows you how to make the cookies in 4 simple steps.
As a result, you might want to try making this recipe with your children.
An easy way to use up any overripe bananas you have is to turn them into banana bread cookies.
Banana bread is a delicious dessert, snack, or even breakfast so turning it into cookies is a great way to put a unique spin on a popular food item.
If you follow this fantastic paleo recipe, you'll be able to make banana bread cookies in less than 40 minutes, using just 6 ingredients.
To ensure the recipe follows a paleo diet, it calls for almond flour, baking soda, sea salt, cinnamon, pure maple syrup, and of course, mashed bananas.
The penultimate paleo cookie recipe on our list is a healthier version of a classic dessert. Magic cookie bars taste unbelievably good.
Satisfying even the sweetest of sweet tooths, this recipe consists of a shortbread crust topped with chopped pecans, shredded coconut, homemade sweetened condensed milk, and chocolate chips.
Not only do they taste great but they are also dairy-free, gluten-free, and naturally sweetened.
The fact this recipe even shows us how to make our own homemade condensed milk only makes things better.
You can make 16 servings of magic cookie bars in 40 minutes so give them a try.
The final paleo cookie recipe on our list is a simple, yet incredibly tasty gluten-free lemon cookie recipe. These lemon cookies are absolutely divine.
They have a delicious zesty flavor that's both tasty and refreshing.
The perfect summer treat, both the cookies and the frosting are infused with fresh lemon flavors. As you can probably imagine, these cookies also have a wonderfully vibrant color.
The ingredients list is quite extensive but the results are well worth it. You can make a batch of lemon cookies in 1 hour.
Final Thoughts
Now you've made your way through our list, you should have a recipe in mind that you want to make.
We've shown you 11 paleo cookie recipes that you can make, all of which have something slightly different to offer.
While most of the recipes on our list vary in flavor, they also vary in terms of how many ingredients you need and other diet plans they suit. 
Now, why don't you narrow our list down and pick out the recipe you want to try first?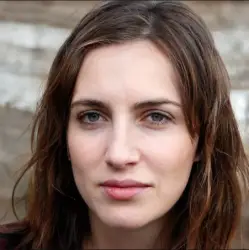 Latest posts by Anna Ingham
(see all)