You don't get better than a sheet cake. Sheet cakes are incredibly easy to make, take little to no time to bake, and are perfect for a party or barbecue.
These delicious cakes also come in a variety of flavors, including chocolate, peanut butter, pumpkin, strawberry, and a particularly favorite of ours, lemon. 
Lemon sheet cake is perfect for a summer's day. The citrus flavors are delicate but poignant, making for a sweet yet satisfyingly tangy cake.
There are also two types of frosting with a lemon sheet cake – a glaze or a butter frosting – making for lots of room to experiment and play with frosting types. 
So, if you're new to the world of baking, or you want to find your new favorite lemon sheet cake, you've come to the right place. Here are our 9 best lemon sheet cake recipes to try today, including different variations of lemon cake and even vegan options!
As the name suggests, this is a remarkably easy lemon sheet cake recipe that is ideal for beginner bakers, kids, or even those who just want something quick and easy to bake.
This recipe features a handful of ingredients that are probably already in your pantry, including the main event – two fresh lemons. 
This recipe calls for a stand mixer to create the fluffiest batter possible. However, if you have the upper body strength, you can just use a manual whisk.
For the glaze, use a mixture of powdered sugar and lemon juice to create a running icing. Allow it to set on the warm cake until it becomes slightly crunchy. 
If you don't want a lemon sheet cake with a glaze, check out this sheet cake recipe. Instead of a glaze like a lemon drizzle cake, this recipe features a lemon cream cheese frosting.
It's light, sweet, tangy, and perfect for making the sheet cake even fluffier. 
The key to using cream cheese frosting with a sheet cake is to wait for the cake to cool slightly before spreading the frosting.
This is to prevent the frosting from making the cake wet. It will also make spreading the frosting a lot easier! Just make sure to store this cake in the refrigerator and consume it within 2-3 days. 
If you're a big fan of lemon, you have to try this recipe. Featuring a lot of lemon zest and fresh lemon juice for both the cake and the glaze, this is a truly tangy and citrusy cake that will put you in a summery mood instantly.
Plus, the addition of Greek yogurt makes for a moist yet surprisingly light and fluffy cake. 
To really make this the perfect summer sheet cake, decorate the cake with lemon slices or candied lemons, mint leaves, and mixed berries.
Keep in mind that the addition of Greek yogurt means that this cake can only be kept in the refrigerator for 3 days. 
It's time to combine two of the most beloved desserts ever – lemon bars and lemon sheet cake.
This lemon bar sheet cake is just a typical lemon sheet cake at first, but instead of a glaze or frosting, it is covered with lemon curd and shortbread.
It's tangy, light, and a little bit crunchy, making for the perfect blend between lemon bars and sheet cake.
While you can use store bought lemon curd, this sheet cake recipe comes with a recipe to make your own lemon curd. Great for bakers who want to try something new!
If you're a fan of buttercream frosting, you'll be happy to know that it works very well on a lemon sheet cake.
This sheet cake recipe creates a zesty and fluffy lemon-flavored white sponge cake, topped with a light and creamy lemon buttercream frosting. It's the perfect afternoon tea cake!
The only downside to any cake covered in buttercream frosting is that the frosting impacts the storage time of the cake.
It only keeps well in room temperature or the refrigerator for 2 days, so this recipe is best for serving to a large group of people immediately. 
One of the best flavor combinations in the world of desserts is blueberries and lemon. So, it's time to try this tasty blueberry lemon sheet cake to truly impress your friends!
This is the ideal spring dessert, and isn't overly sweet, either. The tartness of the blueberries complements the lemon perfectly, making for a refreshing taste. 
This lemon sheet cake also comes with a mascarpone cheese frosting. It's velvety and rich, and provides just the right amount of sweetness alongside the tart lemon and blueberries. Of course, make sure to decorate the cake with blueberries and lemon slices. 
Another fantastic combination of flavors is lemon and raspberry. This recipe features a tasty lemon sheet cake sponge with a light and fluffy raspberry whipped cream frosting, making for a surprisingly refreshing afternoon treat.
Plus, the pinkish frosting is aesthetically pleasing against the yellow sponge, making for a great spring cake!
One of the key parts about this recipe is the first step, wherein you rub the lemon zest with the granulated sugar.
This movement helps to bring out the flavors and essential oils in the zest. Doing this step will result in a far more lemony flavor and aroma. 
Almost every kitchen in America has a pack of cake box mix in the pantry. Whether you're not confident in your baking abilities or if you want to keep a box mix safe for those late night cravings, you can use it in this lemon sheet cake recipe. 
You can use whatever lemon box mix you like, following the instructions and cooking it in a 9 x 13 pan. This is to ensure that the cake cooks like a sheet cake, rather than a regular sponge cake.
Once cool, spread a layer of cream cheese frosting over the cake. Ta-da, you've got yourself a quick and easy lemon sheet cake!
This is a fantastic vegan lemon sheet cake recipe. Using only plant-based ingredients, this sheet cake tastes no different from a sheet cake that uses dairy and eggs.
Perfect for vegans – or for tricking your meat-eating family into unknowingly eating a vegan cake!
This recipe calls for a mixture of sunflower oil and apple cider vinegar in replacement of an egg, and dairy-free milk of your choice.
The oil and apple cider vinegar works well as a binding agent and does not alter the taste of the cake. 
This recipe also comes with instructions on how to make your own vegan lemon curd, which can be saved for use another time. 
Summary
So, there you have it! Lemon is one of our favorite sheet cake flavors, and there are so many ways you can make a lemon sheet cake.
Whether it's with a glaze, buttercream frosting, or even blueberries, hopefully this list has inspired you to make a lemon sheet cake. 
Frequently Asked Questions
What's The Difference Between Sheet Cake And Regular Cake?
The main difference between sheet cake and regular cake is the type of pan you bake the cake in. Sheet cakes are baked in a shallow, large pan, which bakes a fairly large and short cake sponge.
Regular cakes are typically baked in round pans and typically come in two layers, whereas sheet cakes are a single-layered cake. 
Can You Use Lemon Juice Instead Of Water In A Lemon Cake Mix?
If you want to use lemon juice instead of water in a lemon cake mix, be careful with how much lemon juice you use.
You won't need more than the recipe's recommended amount of lemon juice to make a cake taste like lemon. If you use lemon juice as a substitute for water, you run the risk of the cake becoming overwhelmingly tart. 
So, it's best to stick to the recipe itself. If you wish to make the cake taste more like lemon, make sure to add lemon zest. 
Why Does My Lemon Cake Not Taste Like Lemon?
The main reason your lemon cake isn't tasting like lemon is likely because you haven't added lemon zest. While the juice is tart, fresh lemon zest is what packs the most flavor.
It's always best to add more lemon zest than lemon juice to a cake if you want it to taste more like lemon, because lemon juice will just disrupt the ratios and consistency of the batter. 
Instead, add fresh lemon zest on top of the cake. If you wish to start again, try rubbing the lemon zest with the sugar (preferably granulated, but it depends on the recipe).
This will help to bring out the essential oils and potent flavor. Then, add this to the batter and continue baking as usual.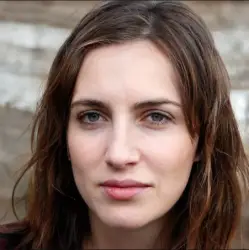 Latest posts by Anna Ingham
(see all)