Want something sweet to satisfy a craving? We all love cookies, but when you have to chill them and roll them out and cut little shapes, it might not seem worth the effort. 
Drop cookies take all the fuss out of making cookies. A drop cookie is basically what it sounds like. You make your cookie dough, scoop it into a spoon, and drop it onto a baking sheet.
They cook quickly, spreading into that perfect cookie shape for a crunchy exterior and a soft interior. 
Want to start making drop cookies? Check out our guide to 16 of the most delicious drop cookie recipes. 
Drop cookies are the easiest kind of cookie you can make. All you need to do is scoop up a ball of your prepared cookie dough, drop it onto a lined baking sheet, and bake!
In the oven, the cookie dough starts to spread, and you have a delicious cookie to enjoy when you want a snack!
If you want to get started with drop cookies, try this basic recipe. It makes the ideal cookie base for you to add your favorite flavorings. Once you've mastered the bake, let your imagination take over.
Some days it feels impossible to choose between brownies and cookies. Brownies have that deliciously fudgy interior, but cookies are just so easy to make!
When it comes to brownies and cookies, you can't pick wrong!
Luckily, you no longer have to choose between the two. Brownie drop cookies have that delectable interior of a brownie, in the convenient shape of a cookie.
You can keep them simple, or add chopped nuts for an interesting texture.
Lemon has such a cheerful flavor. It has that little bit of bite to it that pairs perfectly with the soft sweetness of a cookie. On a sunny day, there's nothing quite like a lemon cookie.
Lemon drop cookies have a soft and fluffy interior with a subtle touch of lemon and the fragrant taste of vanilla.
Use a small cookie scoop to ensure your cookies are perfectly positioned on the baking sheet. They won't have the spread you'd expect from other drop cookies, but the tall shape makes them easier to glaze.
Have you ever bought a bunch of bananas with the best intentions, only to find they've gone too brown for your planned smoothies and snacks?
Brown bananas aren't so nice on their own, but they are incredible when used in baking.
A new take on banana bread, banana drop cookies use overripe bananas to add flavor and texture. These are soft cookies with a light bite, rather than a crunch, and they're delicious with a glass of milk.
Cranberry is a favorite taste of the holiday season. It's both sweet and sharp, and anything you add cranberry to becomes instantly festive thanks to the bright red colors.
They're like little jewels in your cookies!
These cranberry drop cookies are lightly spiced and full of festive flavor. They're incredible with the cream cheese frosting, but they're also delicious when left unfrosted.
Want to make them extra special? Try throwing in a handful of white chocolate chips!
If there is one cookie that doesn't get the love it deserves, it's the oatmeal raisin cookie!
These cookies have that amazing combination of a chewy texture with a soft interior and the occasional burst of freshness from a raisin. 
Rolling the cookies into balls helps to keep them even, but you can also go for the easier scoop method.
To amp up the flavor of these cookies, don't forget the secret ingredient — molasses. Just a slight touch helps bring out all the tastes.
What could be better than a chocolate chip cookie? How about a chocolate chip cookie with two other types of chocolate?
A triple chocolate chip drop cookie is the perfect quick treat for anyone with a sweet tooth!
These cookies can spread quite a lot in the oven. Make sure each drop of dough is well-spaced out, so the cookies have room to grow freely.
Traditional sugar cookies are made by rolling the dough and cutting out your cookie shapes before baking.
They're great if you want to create themed cookies or cookies for decorating, and also a top choice for entertaining kids in the kitchen.
But rolled sugar cookies are fussy to make and time-consuming.
For a quick make with a crisp exterior and a chewy center, try drop sugar cookies instead. It's the same amazing flavor, but with less effort.
Need a new holiday cookie to dazzle friends and family (or just to enjoy at home in front of the fire)? Why not have a go at chocolate drop peppermint cookies?
Topped with peppermint cream cheese icing and a peppermint candy, they have an old-fashioned softness that's just right for the festive season.
If you don't have peppermint candy drops, you can always top the cookies with crushed candy canes.
Place your candy canes under a piece of parchment paper and bash with a rolling pin. It will form a pretty dust that adds sparkle to your cookie.
Because you don't have to carefully roll and slice drop cookies, you're free to experiment with mix-ins and flavors.
For example — these chunky drop cookies. Featuring delicious additions like pretzels, peanuts, and chocolate chunks they're a cookie for when you want to spoil yourself.
Chunky drop cookies might not be the most aesthetically pleasing cookie, but when they taste this good, who cares about looks?
It's really hard not to fall in love with white chocolate macadamia cookies. They taste sort of sophisticated, thanks to the nuttiness of the macadamias.
But they're also fun because they have huge chunks of chocolate stirred through!
To make the most amazing white chocolate macadamia nut drop cookies, use brown butter in the dough.
Browning the butter gives it a complex and nutty flavor, helping the ingredient to stand out in your cookie.
When the weather starts turning chilly and fall is approaching, you can't resist the allure of pumpkin.
If you want a new way to use your favorite fall flavor, have a go at a pumpkin drop cookie. The recipe is so incredibly easy that it's almost impossible to mess up!
Pumpkin puree is used to add flavor and moisture, while pumpkin spices add the hint of warmth that makes these cookies such an excellent comfort food.
Pumpkin cookies are a great choice for a Thanksgiving get-together!
Apple pie spice drop cookies are like a shortcut to making an apple pie.
It won't have quite the same texture and flavor, but you'll still get that comforting warmth you expect from a good apple pie! And you can make them in a fraction of the time.
What makes these cookies stand out is the spice mix. Against the traditional cookie background flavor, the spices come alive.
The cookies are easy to make, so try mixing up a big batch to share with your friends and family over the holidays.
Every bite of these maple pecan drop cookies is rich with the subtle sweetness of maple. This is because the recipe uses real maple syrup, instead of maple extract.
Maple syrup is used in both the cookie dough and the frosting, so make sure to get the good stuff!
There's one other surprise ingredient to look out for — unsweetened applesauce. It acts as a binder and helps to keep the cookie nice and soft. 
Molasses is an underappreciated ingredient, but one that you need to add to your pantry. It has a dark, almost smokey flavor, with just a touch of bitterness.
You don't need a huge amount of molasses to impart flavor, and it also adds softness to the final dough. In this recipe that softness is enhanced by the addition of sour cream.
If you want to get the classic drop cookie shape, use an ice cream scoop to drop the cookie dough. 
If you're looking for the perfect cookie for a birthday party, then look no further than this drop sugar cookie with sprinkles recipe.
The addition of sprinkles adds colorful decoration to a crowd-pleasing cookie recipe, and no kid will be able to resist.
The drop cookie method transforms regular sugar cookies into an easy recipe. To reduce spread, keep the dough chilled for 2 hours before baking.
That's lots of hands-off baking time, which is what any parent needs when planning a party!
Final Thoughts
Once you know how to make a drop cookie, a whole new world of sweet treats opens up for you. Drop cookies are adaptable and varied, so there's a drop cookie for every taste.
You can make them big or small, keep them simple, or pack them full of flavor!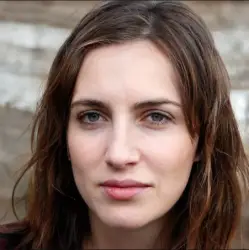 Latest posts by Anna Ingham
(see all)