Dirty icing has recently become highly popular as a way of decorating all sorts of cakes, even for wedding cakes.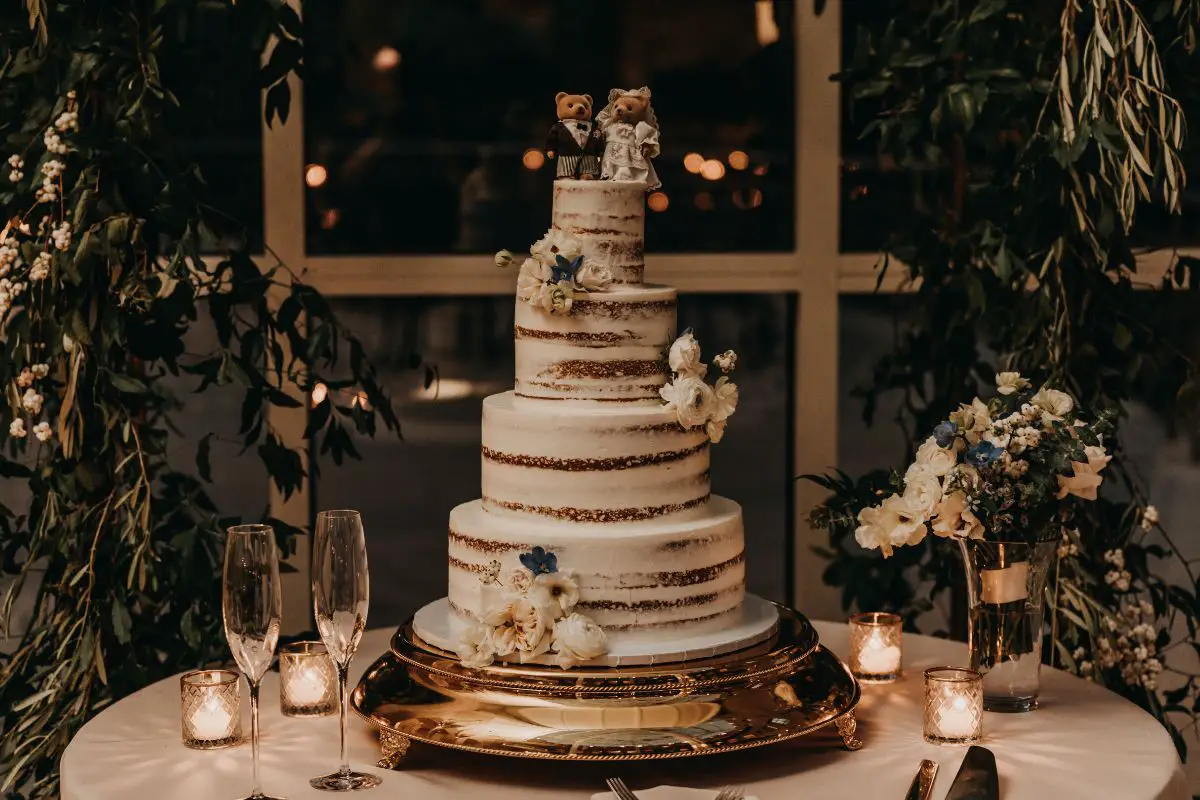 While you may believe that a wedding cake should be decadently decorated, that's not often the case.
Some just-married couples prefer a naked cake that comes with little decoration and has an unfinished vibe.
These wedding cakes can still look glorious and match the overall aesthetic of the wedding itself with specific decorations.
In this guide, we will detail the ten best dirty icing wedding cake recipe ideas for your special day.  This will include tips on the frosting as well as what to decorate each wedding cake with. 
Basic Semi-Naked Cake
A Floral Dirty Icing Cake
A Stacked Semi-Naked Cake
Vanilla And Fresh Berries Semi-Naked Cake
Semi-Naked Chocolate Cake With Roses
Naked Cake With Mascarpone Cream
Sweetheart Wedding Cake
Pink Macaron Semi-Naked Wedding Cake
Tilted Tiers Semi-Naked Wedding Cake
Sliced Figs Semi-Naked Wedding Cake
1. Basic Semi-Naked Cake
On a basic level, a dirty icing wedding cake is one where the decoration looks a little unfinished.
Rather than totally covering the cake in icing, the frosting is spread thin so the layers of cake look exposed and naked.
It's pretty simple to do as a cake decorating technique, even if you apply too much frosting initially.
Simply scrape the excess frosting and smooth it out at the same time but make sure that you have enough for the top.
Vanilla buttercream frosting works really well as dirty icing as you can really see the cake crumbs.
Place a healthy dollop of the frosting in the middle of a serving plate then place a cake layer on top.
That's your first layer underneath the cake which will prevent it from sliding off. You do not need much frosting for the bottom, just enough to fix the cake in place.  
The second layer uses around a cup of the frosting and is placed on top of that layer of cake sponge.
Spread the frosting out evenly on the top and just beyond the edges of the layer.
For the second layer of cake, place it upside-down and on top of that initial layer then repeat the frosting. If you have a third cake layer, place this on top.
For that final layer of cake, spoon around one and a half cups of frosting on top. You will need that extra frosting to apply a light frosting to the entire cake.
That starts at the top and goes down the sides so that the layers are left exposed. 
Make sure that with each turn of the cake, you pick up some crumbs in the frosting. That creates the dirty icing look but it should still be smooth.
To set the dirty icing, place the finished cake in the freezer for around 20 minutes. 
2. A Floral Dirty Icing Cake
Even though the decoration for a dirty icing wedding cake is supposed to be minimal it can still be pretty. Depending on the color scheme of the wedding, add the appropriately colored flowers.
If you are using vanilla buttercream frosting, go for white-colored flowers. The green leaves and stems also provide a welcome contrast.
3. A Stacked Semi-Naked Cake
Why stick to one cake flavor when you have two or three? For this recipe idea, you need two cakes, one bigger than the other.
At the bottom, you should have a dense cake like an indulgent chocolate fudge cake or a fruit cake. On top of that cake, stack a lighter cake that weighs less and has a purer color. 
4. Vanilla And Berries Semi-Naked Cake
Once the cake sponge is baked, apply the rather limited decoration which begins with the frosting.
You can then use a mixture of fresh berries or just stick to one type like raspberries but liberally dot them between each layer.
This is on top of some evenly spread vanilla buttercream so the next layer sits on top. Try to leave the decoration as late as possible as berries can leak after a day or so. 
The berries should sink into the buttercream but keep their shape and their juice intact. Add the next layer of cake and repeat the process.
You may want to mix up the berries between each layer. On the second layer, you may want a full coating of berries for more consistency. 
On top of the final cake layer, apply a sizable dollop of buttercream and apply the dirty icing method to fully expose those sides as you rotate the cake.
For that final touch, add more berries on top of the cake and a few more at the bottom of the cake stand. Perhaps a few flowers for that romantic touch too.
5. Semi-Naked Chocolate Cake With Roses
Having a chocolate cake as your wedding cake should mean some particularly dirty icing. To create a more pronounced contrast, add blush pink and white roses as decoration.
As long as the icing is consistently light and the layers peek out, this is a subtle trick that works really well.
Go for even more roses by using vanilla and rose buttercream to go between the layers too. 
6. Naked Cake With Mascarpone Cream
For some variation on the frosting, consider using mascarpone cream. Of course, you will have to be wary of the conditions and how far in advance you prepare it.
In this recipe idea, you can have mascarpone cheese frosting on the outside and on the top then decorate it with berries.
Meanwhile, you can have vanilla buttercream frosting between the layers for an interesting overall flavor. 
7. Sweetheart Wedding Cake
By definition, a Sweetheart Wedding Cake is decidedly more refined yet can still be considered to have dirty icing.
To offset the nakedness, smooth out the edges and decorate the cake with sugar flowers. Keep the presentation simple by using a clear glass plinth.
8. Pink Macaron Semi-Naked Wedding Cake
For that touch of Parisian finesse to your dirty icing wedding cake, consider some pink macarons.
You can either go for vanilla buttercream frosting or add a touch of rose extract to make that pink too.
Only a handful of macarons is required as you want to dot them around the cake and its layers responsibly.
Plus, while you are waiting for the cake to be cut they can act as tiny snacks.
9. Tilted Tiers Semi-Naked Wedding Cake
With a few dollops of buttercream frosting you can create a stunning and whimsical dirty icing wedding cake design.
Carefully place each cake layer on top of a wedge that produces a slope. Offset the slope as you go up layer by layer and the finished cake will look tilted.
Obviously, the more cake layers you use the more impressive the tilted effect should be. 
10. Sliced Figs Semi-Naked Wedding Cake
If the wedding is due in fall, you can apply your dirty icing accordingly. That can mean freshly-picked figs that are simply sliced in half and placed around each layer of cake.
To go further with those fall vibes, add a few dustings of ground cinnamon and nutmeg to the buttercream frosting too.
Not only will the speckles of spice enhance the dirty icing effect but also add to the final taste.
Final Thoughts
These dirty icing wedding cake recipe ideas go beyond simply the decorative effect. You can work them into the frosting too to create color contrasts.
Try to make it seasonal too with flowers for spring and summer but figs for a wedding in fall.
While the semi-naked effect should be a winning one, a few subtly-placed decorative elements should complement the cake too.
To fully embrace the dirty icing, make sure that you turn the cake as you apply the frosting. The effect should only have a thin layer of icing going around it.
However, make sure that you have enough frosting to completely cover the cake.
Frequently Asked Questions
What Is The Most Popular Flavor Of Wedding Cake?
Due to its versatility and ability to incorporate other frostings and flavors, vanilla is the most popular flavor for wedding cake.
While fruit cake does hold its shape admirably well, vanilla bakes easily. With a vanilla flavored sponge, you can rely on it as a tasty, blank canvas.
The color also works for dirty icing as the light brown crumbs blend in nicely with vanilla buttercream frosting in particular. 
What Is The Most Stable Buttercream To Use For A Wedding Cake?
The most stable and impressive buttercream options to go with a wedding cake are Italian and Swiss meringue buttercream.
They are tricky to create but do create a stunning look that holds its shape well.
The buttercream may be lighter than you expect yet it should remain fluffy and beautifully smooth. Finally, the taste should be a lot less sweet than regular buttercream.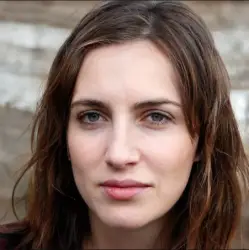 Latest posts by Anna Ingham
(see all)