Have you ever heard of a chandelier cake? No? Well, prepare to be amazed! These cakes are awesome!
Chandelier cakes sometimes hang from the ceiling sitting on a chandelier; they may hang upside down as if they are a chandelier. 
Some of these cakes even have incredible crystal work to make them look like they are a chandelier! 
These cakes are extravagant, beautiful, and jaw-dropping. They will surely take up a hefty chunk of your budget, but they will also most certainly be worth it.
It is not often you see a cake that looks like a chandelier is it? 
Check out our 12 favorite chandelier cake designs, and get some inspiration for your wedding cake! 
1. 2-Tier Glamorous Chandelier Cake
This chandelier cake looks like it is a chandelier itself. It has beautiful crystals that hang off of it much like a chandelier does.
With 2-tiers it isn't going to serve a massive crowd, but it certainly will wow everyone. 
It sits on a podium, as this gives plenty of space for the crystals to hang off of it. 
This type of cake is ideal for people who want a cake that is going to be the talk of the evening, but who may also not have many guests who will want a slice. 
It will be costly, due to the delicate nature of the crystals, but it is also a served-up photo opportunity too! 
2. Upside-Down Floral Chandelier Cake 
Florals always go well at a wedding, and they go amazingly well on cakes, but who ever thought of having a floral display on their wedding cake, upside down?
This cake is something of a marvel, and a baker's attempt to actively work against gravity. 
The cake itself is upside down, with the largest tier at the top and the smallest at the bottom. Hanging off of a stand for an elegant presentation.
This cake will certainly capture a lot of attention due to its unusual but gorgeous presentation. 
A cake like this does take a lot of effort to present, so expect a hefty price for assembly! 
3. Elegant Chandelier Cake 
This cake is incredible, and it seems that it is sitting on a chandelier base, hanging off the floor.
It is a beautiful plain white cake, decorated by chandelier-like crystals, beading, and hoops. 
It even has lighting underneath it. For anyone who has ever wondered what it would look like to have an edible chandelier, this probably answers that for you! 
This is a chandelier that won't just drop jaws but will daze people in amazement. It is elegant, beautiful, and outright incredible.
If you are after the wow factor in your wedding cake, this is it! 
4. Crystal Beaded White Chandelier Cake
This is a chandelier cake, sat on a chandelier. Slathered in red roses to emphasize the love you and your partner share, this white cake stands out from the crowd.
It sits atop an actual chandelier, making it even more beautiful.
The cake itself is simple, with 4 tiers, plain white with no detailing. However, it is the decoration that jumps out, the roses and chandelier it balances on. 
While the cost of a simple cake like this will be lower, the actual cost of hanging a cake on a chandelier for a presentation will be higher, but for something like this, it is so worth it! 
5. Icicle-Style Chandelier Cake
For fans of the Arctic, the movie Frozen, and anything else ice, cold, and strangely romantic, we found the perfect cake for you! 
This cake is a wonderful 5 tiers, but not all the tiers sit on top of each other, instead, many of the tiers of this cake are separated and floating with beautiful icicles dripping between them to create the mirage of a frozen cake. 
While the love at your wedding should be anything but icy, this cake will look like it, but it will surely taste divine. If you are having a themed wedding, this style of chandelier cake is bound to fit in! 
6. Floral/Forest-Style Upside-Down Chandelier Cake
This cake is not so different from the one that we looked at earlier, however, this does have the bonus that it has 4 tiers, more florals, and a decorated stand too! 
This kind of cake is ideal for more rustic weddings, with a more woodland-style of theme. 
We also love how it looks like it is hanging off of an ivy vine, this takes the whole concept of a chandelier cake to another level as it makes it more than just a chandelier, but a natural spectral that will intrigue guests at your wedding.
7. Regal Crystalized 4-Tier Chandelier Wedding Cake
If you are someone who has a penchant for the dramatic, this cake might just be ideal for you, but be aware, it could take your place as the belle of the ball.
This cake is the chandelier cake of all chandelier cakes. 
Not only does it have those dazzling gems and crystals hanging down from it, but it is 4 tiers tall, 3 of which are separated, with crystals between them, making a cake that would otherwise be a couple of feet tall, a couple of meters tall! 
To have something like this you will need quite a large amount of space, but it will look incredible! 
8. Suspended Floral Chandelier Wedding Cake 
Most of the floral cakes we have looked at so far have been very simple but colorful.
However, this one is gorgeous, and it is hard to tell just how many tiers there are to this cake because it is so beautifully decorated. 
This is another chandelier cake that has been suspended from a stand and has also been decorated with beautiful flowers.
The best thing about this design is the varying shapes of the cake. 
It is a unique style of cake that is worth taking inspiration from! 
9. Pedant Upside-Down Chandelier Cake
This cake is… Amazing. It is possibly even gravity defiance right before your very eyes!
This cake, amazingly, is completely upside down and suspended from an actual chandelier. How this is possible we do not know. 
However, what we do know is that if you do this at your wedding, everyone will be amazed, and it will most certainly be the conversation piece of the evening!
The cake itself features beautiful designs, with decor, pearls, flowers, and rhinestones. 
Altogether, this cake is incredible, and is the ultimate example of everything a chandelier cake should and could be! 
10. Black & White Jeweled Chandelier Cake
This is yet another chandelier cake hung completely upside down and suspended from an actual chandelier. 
This one has workings of black and gold in with the white, making it very eye-capturing… Not that it is not eye-capturing enough with it being hung upside down!
It has jewels and lace work as well to convey elegance. 
It is much like our previous cake, however, we like the design on this one, many chandelier cakes include flowers or are just white, and this one adds a bit more color and intrigue which is worthwhile keeping in mind! 
11. Hanging Blue Floral Chandelier Cake
Speaking of adding some color, this chandelier cake functions a lot like the other ones we have seen on stands but the blue florals make it POP!
Including extra color into the mix of this already awesome design makes it something special.
However, we also love how, unlike the other chandelier cakes we have seen suspended from a stand, this cake has each tier separated, so it is a whole cake, separated into three by its sections, with blue flowers in between filling the space. 
This is definitely something that will brighten up the room and everyone's faces!
12. Floral Chandelier Cake On A Chandelier 
Finally, we love the floral theme of many of these chandelier cakes, but this one takes the cake!
The simple white design of the cake itself, with some exquisite detailing, makes it very beautiful. 
This is another cake that sits on an actual chandelier, although you almost can't tell for the best of flowers it also sits on. 
The flowers added to the top make it even better and even out the whole design.
Conclusion
These are our top 12 chandelier cakes you can have for your wedding. Some of these are incredible and will certainly cost you a pretty penny.
However, even with how much effort they take to make and sustain, you know that no one will ever forget seeing it! 
Chandelier cakes are a feat of baking genius, and people will always be fascinated by them.
We have looked at a variety of examples, and all types of chandelier cakes you can have. 
Whether you want it to look like a chandelier or sit on one is up to you. Anything is possible! Especially with cake!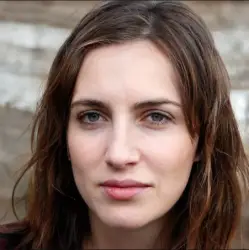 Latest posts by Anna Ingham
(see all)