Finding the perfect wedding cake can be a real challenge. There are so many options to choose from – vanilla, chocolate, banana, heck, anything you can think of!
However, one of those winning cakes is, and will always be, a black forest cake (or gâteau if it has more layers).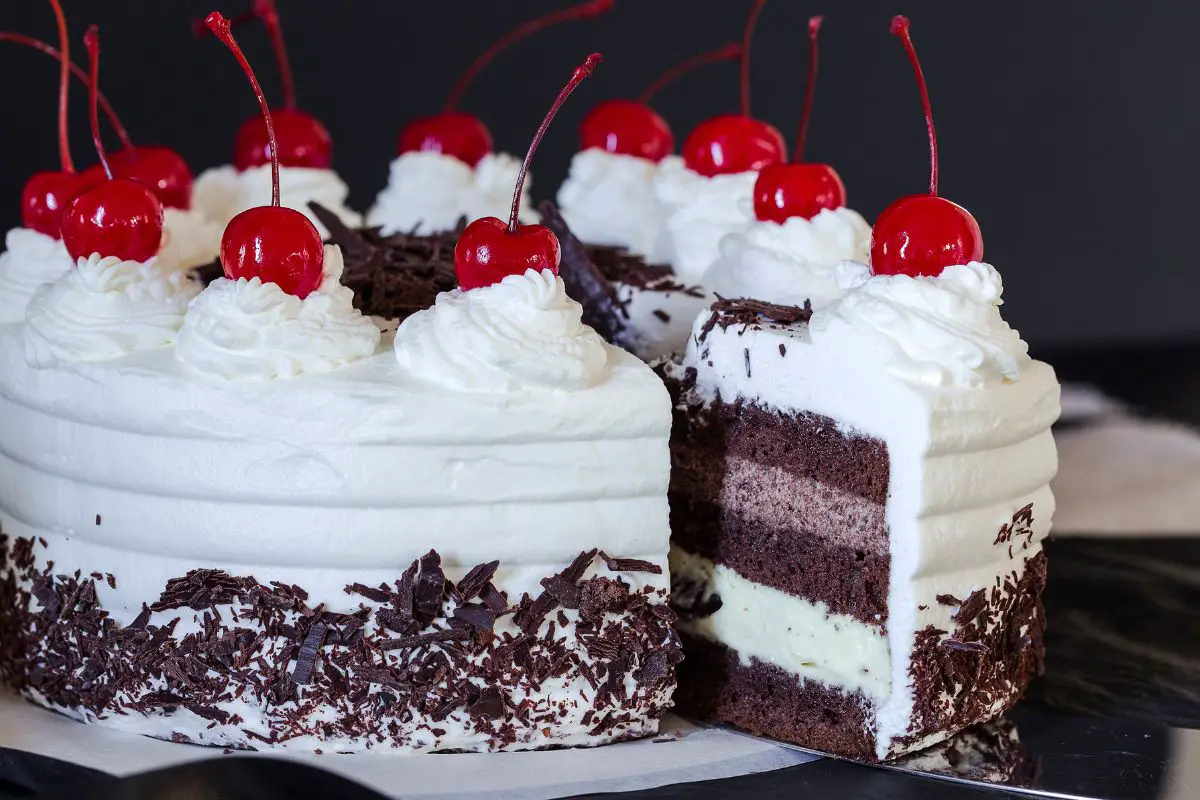 These cakes are packed full of delightful flavors that you can fall in love with no matter the time of year. From summer to winter, there is always space for a black forest cake.
You get the delightful chocolate from the sponge, creaminess from the heavy whipped cream, and the sweet (or sour) sensation from the cherries. 
There really is nothing not to love about this cake. It's moist, flavorful, and always stunning, no matter the style you choose to go for.
You can even opt out of any alcohol in this cake and replace it with something else if you like – so it can be altered to suit anyone's needs. 
This black forest wedding cake is breathtaking in every way. There is nothing more you could possibly want with a recipe like this. The flavors are impeccable, and the appearance is stunning.
With rich layers of chocolate sponge and whipped cream, it's easy to imagine enjoying this at any special event.
The naked black forest cake seems to be becoming increasingly popular, and it's not hard to see why. This minimalist cake option is simple, but still so beautiful.
There's something calming about seeing such simplicity being appreciated when there is no frosting to cover the entire creation. Topped with fresh cherries, there is nothing not to love about the naked look. 
This traditional black forest cake is the polar opposite of the naked cake – with beautiful white whipped cream all over with chocolate shavings in the bottom.
The top of the cake gets a delightful chocolate drip to make it pop even more, and stabilized whipped cream is piped on the top with beautifully glazed cherries. What's not to love?
Another stunning traditional black forest cake that is worthy of a wedding! Moist chocolate cake layers, rich whipped cream filling and frosting, and fresh cherries on top.
Up the size of this mouthwatering recipe, and you have something that will be perfect for any wedding, no matter the season. 
Looking for a vegan option to sink your teeth into? This delicious vegan black forest cake is made using soy milk instead of cream, and you still get all the authentic flavors you would expect!
The cherry brandy pulls everything together like a dream, but there are options to go with if you would like to keep everything alcohol-free, too! 
Just imagine this cake, but three times the size. Now that would be a wedding cake worthy of your special day!
This cake has a crisp white outer layer made from sweet cream, and chocolate shavings gently pressed near the base.
You will find some beautiful fresh cherries on the top with even more chocolate shavings, so you will be wanting nothing.  
This modern black forest cake is another naked-style cake. Minimalist, beautiful, and so tasty, you will get everything you want from this cake without all the additional mess.
Decreasing the amount of cream in the cake amplifies the chocolate and cherry flavors of a black forest cake, creating a more potent and delightful summer wedding cake. 
Already worthy of being a wedding cake, this recipe is perfect as-is. It's a four-layer black forest cake with a beautiful white chocolate drip to top things off and really make it stand above the rest.
You still get all your favorite flavors with chocolate and cherries, and even a beautiful ganache to make it look like it's from a dream.
A mix between a naked cake and a normal, this black forest cake is rustic and altogether gorgeous. Layered with whipped cream and fresh cherries, there is nothing more you could want.
The outside is not overpowering, with just a thin layer of whipped cream to keep everything smooth and together. The chocolate dripping takes it a step further to create a heavenly and wedding-worthy cake. 
Looking for a black forest cake with a little twist? This simple and rustic cake is everything you could want and more.
With thick layers of whipped cream and fresh cherries, this cake is perfectly moist and delightful. The white chocolate shavings really pull this dessert together to make it wedding-worthy.
Everyone loves a black forest cake with gorgeous chocolate bark, right?
This crisp cake has a smooth layer of whipped cream on the outside, as well as thick chocolate bark all around it to really pull it together.
Fresh cherries add a pop of color to an already beautiful cake to make it something you will never forget. 
Not everything needs to be authentic – it can be nearly authentic, too! This wonderful black forest cake is one that will certainly catch your attention if you walk by.
With chocolate shavings all around it and sour cherries inside and out, there is nothing not to love about this wonderful dessert. 
This fault-line black forest cake is one like no other, and it would be perfect for any special event.
The buttercream frosting pulls the moist chocolate layers together wonderfully, and the fresh cherries give you a wonderful hint of sweetness.
You could even use gold paint to get your make to look as beautiful as this recipe!
Single chocolate is never enough – go double or go home. This double chocolate black forest cake is delightfully moist, has a rich chocolate drip and even piped whipped cream with fresh cherries on top.
There is nothing else you could want (except for it to be bigger for that wedding). It truly is a delight, and you will savor every mouthful. 
This recipe might be super easy, but that doesn't mean that it is not wedding-worthy!
The classic chocolate sponge is soaked in Kirsch syrup and a wonderful vanilla buttercream combined with cherry jam to bring you the ultimate wedding cake for any season.
You get a lot more than you bargained for with the delightful black forest cake! It's packed full of chocolate and whipped cream, and a variety of berries to really kick it up a notch.
There are wonderful sour cherries in the mascarpone cream filling, and the use of coffee brings out the flavors perfectly. 
Looking for a black forest cake that doesn't skimp on the chocolate? This cake is packed full of chocolate shavings!
The maraschino cherries that top this cake bring out the flavors perfectly, and the whipped cream adds that delightful creaminess this cake needs.
This cake is a work of art, but it is so simple. The chocolate ganache really adds a sense of sophistication to the piece, and you will not be wanting for flavor, either!
With cherry liquor, syrupy cherries, and plenty of chocolate to go around, this is a cake that you will not be able to get enough of. 
With thick layers of moist chocolate cake with cherry syrup and delightful whipped cream, this recipe truly is perfect.
You can use fresh cherries or maraschino for the top of the cake, and don't forget to get the base packed with chocolate shavings! This is a wedding cake that you will want everyone to see. 
Final Thoughts
If you never thought of enjoying a black forest cake for your wedding, we bet you're rethinking that now!
These cakes can be more versatile than you may initially think, and they can be a lot of fun. 
It's easy to imagine a black forest wedding cake no matter the time of year.
They are wonderfully refreshing in the summer, and warm and comforting in the winter, so you really can't go wrong!
The problem is finding the right recipe to use. There are thousands of options out there, so how are you supposed to know what to pick? 
There is some good news, though! Once you pick your favorite recipe, you can get it turned into something that is worthy of a wedding cake.
Some of these cakes are already wedding-worthy! 
Which black forest cake recipe is your favorite? Which one is worthy of being at your wedding?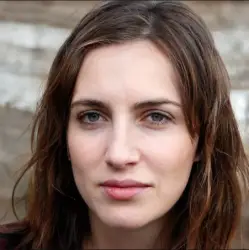 Latest posts by Anna Ingham
(see all)