Whether you are hosting a Mexican themed dinner party, or you just want to try something different, these Mexican dessert recipes are ideal.
You can make them from your own kitchen to impress your family and friends with something delicious and unusual. Check out this list of the best Mexican dessert recipes for you to make today.
Churros are one of the most well known Mexican desserts. They are like donuts, but in a long thin shape rather than a wide round shape.
They also have more eggs in the batter than a classic donut, which gives them a richer flavor. They are usually dusted with cinnamon sugar and served with dipping sauces like chocolate and dulce de leche.
They have a crispy outside and a soft fluffy inside that is slightly chewy. Melted butter is used on the dough for the churros to make them flavor even more mouth-watering.
Chocolate flan still has the rich, indulgent flavor of chocolate cake, but with a lighter texture. It is topped with fresh fruit.
This recipe uses mango slices, but you can use whatever fruit you prefer – strawberries, raspberries, bananas – or whatever is in season.
The flan is flavored with cinnamon with the chocolate to give it a slightly warm, spiced flavor. You can also use a chili flavored chocolate for more of a kick.
It takes 30 minutes to prepare the flan and another hour to cook it, then you will have a very impressive dessert to serve to your family or friends.
Tres leches means three milks, because this cake is made with three different types of milk- condensed milk. Evaporated milk, and whole milk.
When the sponge has been cooked it is removed from the oven. Holes are poked into the cake and the mixture of three cakes is poured over the top.
The milk soaks into the sponge which makes it moist and creamy. The cake is topped with whipped cream and a sprinkle of cinnamon to finish it off.
You can make this cake ahead of time and keep it in the refrigerator until you're ready to serve it.
Snowball cookies are also called Mexican wedding cookies because they are eaten at joyous celebrations like weddings. They are covered in powdered sugar which gives them a snowy effect, and also makes them quite messy and fun to eat.
It only takes half an hour to make these sweet, crumbly, nutty cookies. When you make the cookies, make sure the butter is softened but not melted. This will make it easier to mix, but will prevent the cookies from being too flat.
If you are looking for a Mexican dessert recipe that is pure indulgence then it doesn't get much better than fried ice cream.
Fried ice cream is actually very difficult to make at home because you need to get the temperatures and the frying times just right.
However, this recipe gives you a 'cheat' version of fried ice cream with a similar flavor. The vanilla ice cream is shaped into balls and then rolled in a mixture of buttery, cinnamon corn flakes.
The melted butter gives the flavor of frying without having to bother with the oil. You can then drizzle chocolate or caramel sauce over the ice cream balls and serve immediately (before the ice cream melts).
These fritters are similar to donuts and are traditionally enjoyed at Christmas time. They taste a lot like churros but are served in ball shapes rather than sticks.
They are coated in cinnamon sugar and have a wonderfully soft center. The outside is crisp and golden.
The smell that will waft through your house as you cook these bunuelos will be so irresistible that you will want to eat them all at once.
Sopapillas are a type of fried Mexican bread. This recipe takes those tasty fried treads and uses them to make this delicious cheesecake pie.
Crescent roll dough is rolled out and used for the base and the top of the pie. The crescent roll is filled with a cheesecake mixture of cream cheese, sugar, and vanilla extract.
Some butter, cinnamon and sugar is mixed together and dotted over the top of the lid of the pie. The butter melts and spreads the delicious mixture over the top of the pie and creates a crispy topping.
This recipe is like a mug of cocoa in a pie. The crust is made from crushed graham crackers granulated with melted butter.
Next is the chocolate layer which is made with rich Hershey's dark chocolate, egg yolks, whole milk, cinnamon, cayenne pepper, butter and vanilla extract.
This creates a silky smooth pie filling that is indulgent and decadent. The final layer of the pie is a whipped marshmallow topping that is sweet and fluffy.
Finish the pie off with chocolate shavings and maybe some crushed graham cracker crumbs.
Traditional Mexican flan is a set custard made with vanilla. This recipe adds some orange zest to give it a festive twist, perfect for any Christmas parties or gatherings.
You can also experiment with other flavors like almond or honey. You will need plenty of eggs to make the custard nice and rich, along with condensed milk for sweetness and whole milk for creaminess.
The custard mixture is poured over a cooled caramel syrup. This caramel becomes the topping of the flan when it is served.
Sweet Corn is often used on savory recipes but it can also be a fantastic ingredient in sweet dishes and desserts. This corn cake uses three different types of corn to get the best flavor – corn flour, corn kernels and corn meal.
Fresh corn will be more flavorsome, but if you don't have it then you can use thawed frozen corn or canned corn.
Whether you are preparing a Mexican feast or you just have a craving for corn, this recipe is one that you need to try. The cake is gluten free, moist, and totally delicious.
These Mexican chili pots are inspired by the spicy Mexican flavors of chili and the dark, rich Mexican chocolate.
These two ingredients come together perfectly to create this masterpiece of a dessert that will leave your guests super impressed and wanting more.
The cream is heated up with the chili so the flavors can infuse. The chocolate is then melted into the cream, and butter, sugar and egg yolks are added.
The mixture is poured into individual ramekins and left to set in the refrigerator. Before serving, sprinkle the chocolate pots with dried chili flakes for an extra kick and an eye catching garnish.
Carlota de limon is Mexican lemon icebox cake. It sounds complicated but it's actually very easy to make. Crushed maria cookies are layered up with a mixture of evaporated milk, condensed milk, and lemon juice.
Finish with a layer of milk mixture, and then leave the cake in the refrigerator to set for at least 6 hours or overnight if possible. Remove it just before serving and cut it into slices.
You could class this recipe as a drink or a dessert, or a combination of both. Tequila and coffee liquor are mixed with a shot of strong espresso. The shot is then topped with a scoop of rich vanilla ice cream.
Serve immediately. This is the perfect way to round off a meal and combine an after-dinner coffee with a dessert. It's very easy to prepare and makes a very impressive course for your dinner party.
Arroz Con Leche is Mexican rice pudding that is simple but very satisfying. It can be served hot or cold and with whatever toppings you fancy. You will need long grain rice, ruger, milk, and cinnamon.
It is best to use whole milk rather than low fat milk, as your rice pudding will be thicker and creamier. If you have a sweet tooth then you can use condensed milk instead of or as well as regular milk to introduce that caramelized flavor.
You can also add more sweetness with the toppings that you choose – dulce de leche sauce, chopped bananas, chocolate sauce, cinnamon, chopped nuts – or whatever else you fancy.
Avocado is a different type of ice cream to serve at your next dinner party. Avocado is high in fat and is very creamy which makes it an ideal choice for ice cream.
Make sure the avocados are ripe so they are soft and not bitter. This recipe will be much easier to make if you have an ice cream machine, as it will churn the mixture for you.
Along with avocado you will need lime juice, caster sugar, thick cream and vanilla extract. Avocado and chocolate is a great combination, so you could serve it with chocolate sauce.
Summary
Whether you want something chocolatey, creamy, traditional or modern, we have something for everyone on this list.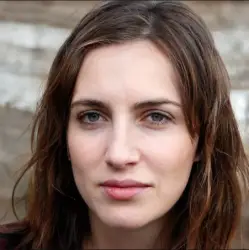 Latest posts by Anna Ingham
(see all)