China is currently the most populated state and largest communist nation in the world right now. 
The Great Wall of China, Suzhou's exquisite water town, Hong Kong, Beijing with its numerous dynasties, palaces, and other attractions are just a few of the top tourist attractions in China, the 4th most frequently visited country in the world.
But what about Chinese desserts? There is no doubt that Chinese food is some of the world's healthiest and tastiest. Chinese cuisine is not only scrumptious and filling, it is also remarkably quick and simple to prepare.
If you enjoy making and eating Chinese food, it's likely that you've wondered what kinds of desserts this amazing nation has to offer. 
Despite the fact that the majority of us love eating Chinese food, relatively few people have ever had an actual Chinese dessert, which really is unfortunate since there are numerous mouth watering options. 
Chinese cuisine has long been a favorite around the globe. In reality, Chinese food is being so widely consumed that it frequently gets mistakenly referred to as any Asian cuisine (see also '15 Delicious Vietnamese Desserts You'll Love To Make!'). 
There is a lot more to Chinese cuisine than inexpensive fortune cookies or sugar cookies when it relates to sweets.
Most Chinese desserts only have a few ingredients, and cooking ingredients at high temperatures helps shorten cooking times.
However, a feature of Chinese cooking that's also frequently disregarded, particularly in Western nations, is the variety of exquisite desserts that are served there.
We have put together a list of 10 delectable Chinese desserts that you can make at home to sate your sweet tooth.
10 Most Delicious Chinese Desserts To Make At Home
These are 10 of the tastiest Chinese desserts that you can make yourself. Each recipe is so delicious and easy to prepare that you will become addicted to making them for your friends and family!
Pumpkin pancakes are delicious year-round, but they are especially comforting on chilly winter mornings. You can cook fresh pumpkin or use canned pumpkin.
When served hot, these crisp Chinese pancakes become incredibly tender and delicate. Although they are not overly sweet, they can become slightly sweet when fillings such as red bean paste are added. 
They are deep-fried pancakes made primarily of wheat, sugar, and pumpkin. They go best with warming beverages like coffee or tea and are extremely popular during the winter. In China, they are among the tastiest foods available.
For those who enjoy Cantonese dim sum, Hong Kong egg tarts should be known to you. The Hong Kong egg tart is the most lovable dessert, even if BBQ meat buns are the specialty of Chinese bakeries and dim sum establishments. 
Portuguese monks brought these delectable tarts to China for the first time more than 200 years ago. This tasty custard cup with cream is actually a tiny custard tart with a crisp, sweet shell. 
They are an excellent souvenir if you are planning a trip because they are so popular that some stores even specialize in them.
They are typically available in Cantonese-style restaurants, where they are best enjoyed warm and considered an all-time wonderful snack.
Chinese cotton candy is another name for this ancient Chinese craft, which was first used in the Han Dynasty.
The origin of this delicious treat was among the Chinese community, but it quickly spread to other areas of East Asia, Canada, Singapore, the US, Macau, and Japan.
These thread-like sugar stands that resemble dragon whiskers make up this antiquated delight. 
The ingredients of Dragon's Beard candy are sugar and maltose syrup, or corn syrup; the candy's thread-like texture melts in your mouth and transforms into a gooey layer that combines with the crunchy core.
The method to magically transform a solid ball of sugar together into a consistency resembling cotton candy is actually the trickiest part; the candy's formula is actually ridiculously simple to produce.
These delicious steamed custard buns are another well-liked sweet treat that is frequently found in dim sum restaurants. These buns have a light, fluffy, and unbelievably soft steamed dough.
The dim sum carts' steamed custard buns are a fan favorite. They were a huge hit with many individuals. Holding that warm, exquisite bun is like entering  a world of wonderful memories.
You'll want to prepare this dish every week because of the deliciousness of the steaming custard filling and the smoothness of the buns.
These buns are given a genuine appearance by adding a tiny red dot on the top. If you're also having savory bun fillings, this can be helpful for identifying them.
In China, these delicious cakes are a classic and well-liked dessert alternative. Many Chinese cuisines, both savory and sweet, contain mung beans. These delicate, lovely cakes are created in intricate cake molds that resemble mooncakes.
Like many Chinese desserts, a substantial amount of sugar is added to make the dish delicious. Matcha is an ingredient that gives cakes their beautiful green color. For an additional delight, you can also put a little red bean paste in the middle of your cakes.
Mung bean cakes come in a wide range of flavors, colors, and shapes in China. However, generally, they are formed using various cake molds, such as mooncake molds. Utilize unshelled green beans if you want a smoother, finer flavor.
The durian fruit is particularly well-liked throughout Asia, and despite not being a native of China, both Hong Kong and China are significant importers of this unusual-looking fruit. It is even referred to as "the king of fruits" in Asia (see also '10 Tasty Filipino Desserts To Make This Weekend').
This unusual fruit has several protrusions that resemble thorns, but it is most well-known for its potent aroma. The fruit is ideal for ice cream because of its sweet taste and thick consistency. 
This ice cream is the ideal combination of milk, sugar, cream, sometimes custard cream, and durian pulp. This ice cream smells almost exactly like a fruit, except creamier and colder.
Mai Lai, a light brown sponge cake, is also referred to as Chinese steamed cake. Ma lai here means "Malay," as in Malaysia, and goa means "cake," making this phrase "Malaysia cake." 
Through British influence, the dish Ma Lai Go made its way from Malaysia to Hong Kong, where the dish was altered to become what it is today. 
This sponge cake's secret is that it's steamed rather than baked, which makes it incredibly moist. Although fresh fruit toppings are occasionally found, most people prefer to eat it plain.
Mango pudding is a traditional Chinese dessert which you might have heard of before. Since it is served cold, this dessert, like others, is excellent in the summer.
However, the dish works wonderfully all year round for some people for whom the flavor is quite comfortable.
The act of disintegrating the gelatin in liquid has to be among the trickiest steps in this recipe, which is one of the easiest on the list.
An excellent last-minute dessert is mango pudding, which can be done quickly and chilled for 2-4 hours as you cook and eat your main dish.
In every element of Chinese cooking, sesame seed is a staple component. Sesame seeds generate a flavor that is distinct but not overbearing, which is why they are such a good choice.
Sesame is a terrific ingredient for dessert recipes because of its all-around pleasant and warming flavor. These explanations explain why sesame seed balls are so well-liked in China.
The fact that you can use a different paste each time for the filling is among the greatest parts about this dish. You can opt for mung bean paste, red bean paste, and sesame paste.
You've probably already observed that Chinese desserts frequently contain gelatin or bean paste of some type. 
Another typical and well-liked delicacy in China is this straightforward recipe for almond tofu. Fresh fruit salad or even other fruit treats are frequently served with it.
Almond tofu may be made easily with simply gelatin, milk, and ground almonds. 
It is frequently chopped into cubes prior to being added to certain other meals and is occasionally referred to as almond tofu because of the way it looks.
Other nuts, such as chestnuts and walnuts, can also be used to make this delicious dessert.
Final Thoughts
There are numerous delectable Chinese snacks that will broaden your appetite in addition to the fortune cookies which come with takeout. 
There are a ton of delectable and straightforward Chinese dessert options, but they are hard to find in Chinese restaurants. 
Fortunately, most of these dishes can be prepared at home with few special tools. We hope you enjoy cooking up some of these delectable desserts.
No matter which dessert you decide to try first – you're in for an authentic Chinese treat!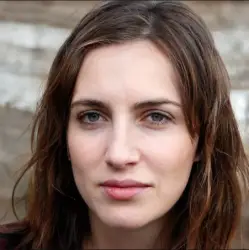 Latest posts by Anna Ingham
(see all)