When it comes to Christmas, eggnog is usually the drink of choice. In fact, Christmas isn't complete without a warm mug of eggnog – whether you like it or not!
When you break the ingredients down – a combination of cream, milk, sugar, eggs, and alcohol – eggnog doesn't sound too appealing. Therefore, you may be wondering how this concoction became such a holiday tradition.
Well, it started with 13th-century British monks where the drink was reserved for the wealthy.
Then, the drink traveled across the pond with American colonists – to a land rich in milk and rum – to become what it is known as today.
Today, eggnog is usually composed of a combination of cream, milk, eggs (either with just the yolks or the yolks and whipped egg whites), nutmeg, sugar, and sometimes alcohol.
You may already be familiar with the store-bought variations – however, did you know it is super simple to make?
Once you've mastered the basics, you can start incorporating eggnog into all your favorite recipes. For instance, cheesecake!
With this in mind, we have compiled a list of scrumptious eggnog cheesecake recipes (see also: 10 Scrumptious Japanese Cheesecake Recipes To Make This Weekend)that you're sure to love.
This recipe is the result of combining two holiday favorite recipes: eggnog and cheesecake. You'll be rewarded with a cheesecake that is creamy, thick, and packed with eggnog!
If you're looking for a fun way to enjoy a holiday classic, then you're sure to love this eggnog cheesecake recipe.
Don't worry, with more than 1 full cup of eggnog, you won't be missing out on any of the festive flavors!
The base of this cheesecake consists of a graham cracker crust, however, there's a hidden twist.
For some holiday fun, you'll find a sprinkling of nutmeg – providing more flavor and balancing out the eggnog perfectly.
Next, you'll find the cheesecake filling. This consists of a creamy and thick cheesecake with hints of nutmeg and plenty of eggnog.
When baking your cheesecake, keep in mind that one requires a little more time than other cheesecake recipes(see also: 15 Scrumptious Diabetic Cheesecake Recipes You Will Love). Since the eggnog thins the batter, you'll want to increase the baking time.
However, that being said, it will certainly be worth it in the end!
Combine all the iconic holiday flavors into one dish with this pumpkin eggnog cheesecake. The result is an all-in-one, creamy, decadent, and insanely delicious cheesecake.
This recipe is a cross between a chiffon pie, custard, pumpkin pie, and cheesecake, with plenty of nutmeg spice throughout to ensure the eggnog is vibrant.
Unlike typical cheesecake recipes, this pumpkin eggnog cheesecake isn't too dense. Instead, you're provided with a moist cheesecake with sweet pumpkin, tangy cream cheese, and subtle eggnog flavors.
Whether you're serving this recipe on Christmas, Thanksgiving, or any other time of the year – this recipe is sure to be a hit among all your friends and family.
This eggnog cheesecake pie combines delicious layers of no-bake cheesecake and eggnog pudding to create this simple, yet insanely delicious dessert that is sure to impress all your holiday party guests.
With only a few simple ingredients and under 40 minutes of your time (with only 20 minutes of preparation!), you'll have this recipe whipped up in no time – perfect for the busy holiday season.
In this recipe, the pie stays inside, complete with swirls and added cookies. Not only does this recipe look impressive but tastes delicious, too.
Cranberry cheesecake is always a go-to recipe around the holiday season. However, one way to heighten the festivities is with added eggnog! The result is a delicious cranberry-eggnog cheesecake.
These flavors bridge the gap between Thanksgiving and Christmas, providing you with the perfect dessert to enjoy on whatever occasion.
Typically, cranberries are associated with Thanksgiving, whereas eggnog is known as a Christmas beverage – the result is a dessert that can be enjoyed all season round!
Plus, there is no denying that these flavors aren't made for each other – put them together in whatever recipe and it is sure to be a hit.
Here, the creamy smooth cheesecake filling is spiked with a generous amount of eggnog, while a combination of cranberries, cranberry juice, and sugar is mixed with cornstarch to create a thick mixture that is incorporated into the filling. Plus, extra for the topping!
While you could use regular graham crackers for the crust, here, the recipe opts for cinnamon graham crackers which perfectly complement all the different flavors.
Once the Christmas decorations go up, the eggnog comes out.
Throughout the holiday season, eggnog in all forms – dessert or liquid – is acceptable. Therefore, you can't go wrong with the eggnog cheesecake with dark rum and a Biscoff cookie base!
Since eggnog itself is essentially a custard, it couldn't be easier to transform it into a cheesecake!
Simply combine cream cheese, eggs, nutmeg, and Myers's Dark Rum to create the creamy filling.
For the base, Biscoff cookies – with their already crispy texture and light gingery texture – makes for the perfect addition to your eggnog cheesecake. However, regular graham crackers work too if you can't find Biscoff ones.
The beauty of this recipe is that you can add whatever toppings you want, however, it tastes delicious on its own too, with a simple dollop of whipped cream – it'll look almost too pretty to eat!
Whatever the occasion, cheesecake is always a go-to recipe. The combination of taste and texture makes it one of the best desserts.
With this in mind, we bring you this mini eggnog cheesecake bite recipe – perfect for sharing with friends and family around the holiday season.
With just the right amount of eggnog, these make the perfect treat.
Bite-sized anything makes for a delicious treat, and these mini eggnog cheesecakes are no exception. Featuring a creamy texture and a perfect level of sweetness, it'll be hard to resist just one of these bites.
In addition to this, the recipe couldn't be easier to make. With minimal effort and a few ingredients, you'll have these whipped up in no time.
However, be warned, these won't last long – they are sure to be a hit among all your friends and family.
Making this deliciously creamy eggnog cheesecake couldn't be easier in an Instant Pot! Winter flavors of cinnamon, ginger, nutmeg, and, of course, eggnog combine to create a scrumptious holiday dessert.
If you're an eggnog lover, then this Instant Pot recipe is sure to become one of your favorites. You'll find the perfect combination of creamy eggnog with festive spices, including nutmeg and cinnamon.
In addition to this, the base consists of a gingersnap and toasted pecan crust – perfectly complementing the winter flavors.
Not only does it taste delicious, but when using an Instant Pot, it makes the whole process a lot easier and faster, too.
Since you're cooking it in an enclosed, moist environment, you don't have to worry about any cracking.
The result is a super creamy and delicious cheesecake, free from any fuss and cracks!
These eggnog brownies consist of layers of creamy eggnog cheesecake and gooey
brownies all baked within one delicious dessert.
If you're looking for something to whip up this holiday season, then you can never go wrong with brownies and cheesecake. Plus, the holidays aren't complete without eggnog, either.
So, when all combined, you're rewarded with the ultimate dessert: eggnog cheesecake brownies.
If you're looking for something fresh and new, then you can't go wrong with this gluten-free eggnog cheesecake recipe.
This recipe starts with a classic graham cracker crust, topped with a classic cheesecake filling that contains an eggnog twist.
For an extra-creamy treat, this cheesecake is then topped with eggnog-based pudding – you can never have too much eggnog!
These keto eggnog cheesecake bars are made up of a gingersnap crust and topped with a rich spiced whipped cream for the ultimate decadent treat perfect for the holidays.
Even if you don't like eggnog on its own, chances are you're going to love this recipe. Plus, thanks to this recipe's low sugar and carb content, you can enjoy it guilt-free.
Don't worry, even those following a keto diet can take part in enjoying all the Christmas treats while maintaining your diet with this recipe.
Final Thoughts
With Christmas right around the corner, this only means one thing: eggnog everything!
If you're anything like us – and can't get enough eggnog during the holiday season –, then you're going to love the cheesecake variation.
Since eggnog already contains a creamy texture, this is only enhanced when incorporated into a cheesecake – creating the ultimate decadent dessert.
Hopefully, this guide has provided you with some eggnog inspiration for your next cheesecake creations.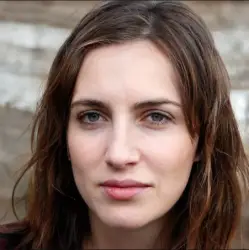 Latest posts by Anna Ingham
(see all)