It's hard not to love a red velvet cake. Combining chocolate and vanilla, these cakes are known for their distinctive coloring and a super soft and gooey interior.
With a smooth cream cheese finishing the cake perfectly, red velvet is an irresistible treat.
Red velvet cookies take all of that and transform it into a convenient cookie!
Chewy and soft with the same bright red coloring and subtle chocolate flavoring, red velvet cookies look gorgeous and taste even better. 
They might seem like a difficult bake, but red velvet cookies can be quite easy to put together (especially if you use the cake mix hack).
They're also surprisingly versatile, as you'll discover with this list of the best red velvet cookies recipes!
The red velvet cookie is an immediately eye-catching dessert. Just a glance at the bright red coloring and you know this is a cookie that you're going to devour.
The perfect red velvet cookie with white chocolate chunks is just crisp on the outside, while chewy and soft on the inside.
With every bite, you should get a delicious white chocolate chunk, slightly gooey but with a touch of texture.
They're great for gifting, but only if you can manage to resist eating them all yourself!
The Waldorf-Astoria hotel in New York claims to be the originator of the red velvet cake.
Wherever it comes from, NYC is the place to go if you want a truly exceptional red velvet cookie, as you can find amazing examples of the dessert on almost every corner.
But if you can't quite manage NYC, this red velvet cookie recipe is just as good.
Loaded with chocolate chips, the cookies are delightfully oozy and a comforting treat anytime you need a pick-me-up.
Lacking some skill (or time) in the kitchen? Red velvet cookies might seem like an initially tricky bake, but there's an effective shortcut to making incredible red velvet cookies — cake mix.
If you have a box of red velvet cake mix, you can make delicious red velvet cookies with just 3 extra ingredients: eggs, oil, and powdered sugar.
That really is all you need! Before you bake the cookies, roll each ball of dough in powdered sugar to create a fabulous effect when finished.
Everyone will think you've been in the kitchen for hours!
We're not going to say that cream cheese frosting is the best part of red velvet cake, but we could eat it with a spoon.
If you're making red velvet cookies, you don't need to abandon your favorite frosting! In fact, a touch of cream cheese frosting is the best way to finish a red velvet cookie.
If you're used to making red velvet cake, you can use your favorite frosting recipe on the cookies.
Otherwise, try out this recipe for a simple cream cheese finish.
Crinkle cookies are already visually impressive cookies, so when you add red velvet into the mix, you're sure to have something special.
The layer of white powdered sugar on top gives way to these bright bursts of red coloring, for a cookie that's just perfect for a special occasion.
Just as a heads up — these cookies are very messy to eat! Prepare for sugar to go everywhere. But it's so worth it for such a delicious cookie.
Why not take a red velvet and cream cheese cookie and turn it inside out?
That's the thinking behind these ingenious cream cheese stuffed red velvet cookies, an utterly indulgent treat that you won't be able to resist. 
These cookies require a little extra work to get that filling just right.
Before baking, make sure the filling is firm and cold, and shape your dough around the frosting ball. That way, the frosting stays in the cookie, even when baked!
Need a treat that's easy to snack on but delivers amazing flavor?
This recipe sandwiches two layers of red velvet cookies around a smear of cream cheese frosting for a delectable on-the-go snack.
The cookies that make up the outer layers of this red velvet sandwich are a little thinner than your traditional bake, so be careful with the baking times.
When the cookie starts to look firm at the edges, take them out of the oven. 
You already use cocoa to make red velvet cookie dough, so it seems natural to add some chocolate chips to the mix.
Most red velvet cookie recipes opt for white chocolate chips, to match the cream cheese frosting traditionally used in red velvet.
But what we like about this recipe is that it uses milk chocolate chips!
That's right, this is a mixture of red velvet and chocolate chip — a red velvet chocolate chip cookie recipe. This is a recipe that's almost guaranteed to please everyone!
A play on the classic peanut butter blossoms, these red velvet kiss cookies are topped with a Hershey's Kiss, for an adorable addition to your holiday cookie plate. 
To create the visually impressive cookie, make sure to use a good quality food dye. Gel is best, as it spreads evenly and packs a punch.
The dough is rolled into a ball and dusted with granulated sugar, which forms a glittering crust when baked (like snickerdoodles).
When the cookies are still warm, press a Hershey's Kiss into the top of each one.
White chocolate chunks are a traditional addition to a red velvet cookie, but they can make the dough a little tricky to work with.
Instead of incorporating white chocolate into the dough, why not try dipping your cookies instead?
Dipped in melted white chocolate, the contrast of red and white makes these cookies ideal for the holiday season.
The cookies are soft when baked, so be careful as you dip to avoid breaking your cookie in two.
Red velvet cookies are traditionally thick and gooey, with only the lightest of crisping around the edges. But not everyone likes their cookies soft!
If you think the best cookies are thin and crispy, then this is the red velvet recipe for you.
These cookies are designed to spread, helping achieve that crunch in the finish.
Be careful when arranging your cookies on the baking sheet, and give them plenty of room to expand as they bake.
Red velvet cookies are an amazing Valentine's Treat. First, everyone knows a handmade present is the best present!
Second, the red coloring is deliciously romantic. And third, with a touch of chocolate to finish them off, this is a heartfelt alternative to a box of chocolates.
This recipe for red velvet cookies comes with a Valentine's Day surprise, and they're quick and easy to throw together.
For a sophisticated twist on the recipe, try switching the milk chocolate addition for a dark alternative. 
Just because you can't eat gluten doesn't mean you have to miss out on red velvet cookies! The chewy and soft texture of the red velvet cookie is easy to adapt for a gluten-free diet.
Gluten-free flour can be a little tricky to work with, so if you want to achieve the perfect texture, make sure to follow the recipe closely.
Chill the dough completely before baking so that they avoid spreading too much, and keep a close eye on the cookies as they bake to ensure they aren't going crispy.
Can you think of anything better than combining red velvet cookies with Oreos?
The creme filling and chocolate flavor of Oreos work amazingly well with red velvet dough, adding new textures and enhancing the taste of your favorite cookie.
To make these cookies, crushed Oreos are mixed into the dough (so you get an extra cookie in every bite of your cookie).
For the best finish, save a few larger pieces of broken Oreo to press into the top before baking. This acts as decoration — and even more cookie! 
Vegan baking has really improved over recent years, with clever substitutes ensuring vegan bakes are as good as (and sometimes better than) the standard versions!
But vegan baking isn't always quick and easy, which means you might default to your favorite store-bought snack rather than making your own treats.
Luckily, these vegan red velvet cookies hit all the spots. They're soft and chewy and take hardly any time to make!
Final Thoughts
A good red velvet cookie recipe manages to capture that perfectly soft and moist texture of a red velvet cake and transfer it to a cookie!
With a rich flavor and gorgeous coloring, these cookies are ideal for special occasions, but the simple recipes are also great for whipping up a quick treat at home.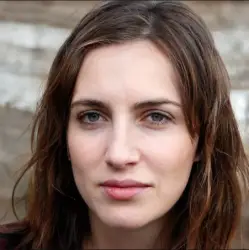 Latest posts by Anna Ingham
(see all)